==================
A Caveat and Affiliates
First off, a little caveat: within my articles you will find affiliate links, meaning if you buy them, I get a small commission. Your cost is not affected. In addition, I am an Amazon Associate and I earn from qualifying purchases on Amazon.
And yes, if I say that I recommend a product here, it means I truly believe it is a good product. I refuse to recommend any product that I have not researched and believe to be a good value.
Even better, I provide you with a very clear picture of the product, it's use, and the probable value.
Earning your trust is important to me. I run this website myself and the commissions and donations help support the site.
Sound reasonable and fair enough? Let's continue to the article.
==================
Healthy, Quick, and Easy Meals include our Asian Rice and Veggies
This Asian Rice and Veggies dish might be just the quick and easy meal you seek. We often have leftover rice and vegetables to use. But for those rare times, I don't, my quick-cooking brown rice and frozen vegetable blends come to the rescue!
Many stir fry recipes include the traditional egg, butter, and chicken. You won't find those options here. Our version stays vegan healthy. In fact, the nutritional boost it provides with the delicious flavors means you may enjoy it often!
The recipe provided is really more of a basic structure, a plan of sorts. Consider it just a basic structure to start your own creation.
Select Your Ingredients
The essentials are a base, usually brown rice, but you certainly can substitute barley, buckwheat, whole-grain orzo, or couscous. For a lower-carb option, choose riced cauliflower.
Next, I look for my vegetable of the day. Leftovers in the fridge are my first option, followed by my supply of fresh vegetables. For a real time-saver, I grab a package of frozen vegetables from the freezer. Interestingly, frozen vegetables are often nearly as nutritious as freshly harvested. In fact, most are blanched and frozen within a short time from harvest.
I keep dried seaweed in the pantry and might include it in this dish. Fresh or frozen spinach is another easy option.
I include mung bean sprouts whenever possible. They just bring this good dish to a new level of excellence for me. Just don't overcook them. Mushy bean sprouts lack that almost crisp texture and flavor. In fact, when overcooked, they taste bitter to me. Fresh they are sweet and crunchy. Slightly warmed, they retain that sweetness. Yum!
Seasonings
Possible seasoning additives include garlic and ginger.  Use some, all, or none, according to your preferences and what's on hand.
My soy sauce or Braggs Liquid Aminoes is always within reach. I might use it as I'm cooking but usually wait until I'm plating the food.
Before cooking, I set out my sesame seeds. I can't forget these flavorful little nuggets! Not only do I love the flavor, but they add such a nutritional boost that they are a must-have ingredient!
The Cooking Base
Use your choice of oil as a base. Olive works nicely but so does the more Asian influence such as peanut oil. With a higher smoke point, peanut oil makes a nice base for stir fry cooking.
However, you have another option, no oil. That's right. You might consider using a little water or a vegetable broth as your base. It does alter the flavor and texture somewhat, but for a healthier version, it's worth considering.
Make Your Meal
Assuming your rice is already cooked, this part is quite simple. Add the oil or broth first, then stir your seasonings I have a griddle, making this a bit like a smaller version of those "cook at the table" Japanese restaurants. I add a few of the sesame seeds here but save many more for the topping.
Put the rice and veggies next to each other on your pre-heated griddle or wok. Keep them moving about lightly to heat evenly. No need to cook them as they are already pre-cooked making this a very quick meal.
When they are nearly done, I add the bean sprouts and stir everything together. If you want your sprouts more tender, add them sooner.
Let the plating begin!
Scoop it onto your plate, top with soy sauce and sesame seeds, and enjoy!
This usually comes together in under 10 minutes, a little longer if I have to use the quick-cooking rice.
I've included the basic recipe. Of course, the nutritional analysis varies according to your choice of ingredients. But you can see how incredibly healthy this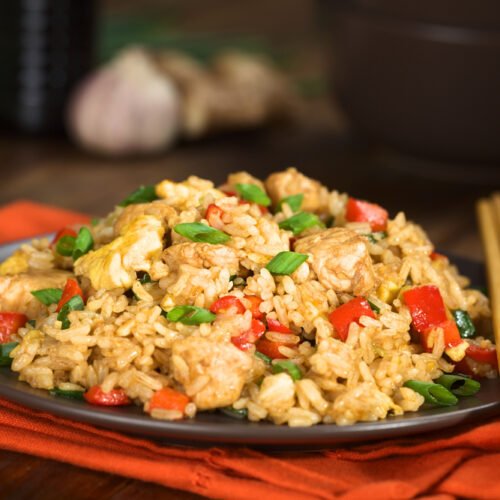 Veggie Rice
a quick meal with rice, veggies, and bean sprouts
Ingredients
½

cup

cooked brown rice

1

cup

frozen mixed vegetables

½

cup

edamame beans

or use tofu cubes

1

cup

mung bean sprouts

2

tbsp

vegetable broth

1

tbsp

soy sauce

2

tbsp

sesame seeds

1

tsp

seaweed crumbles

Nori, Wakame, or your favorite
Instructions
In a wok or on a griddle, heat broth or oil, then add seasonings. Stir to heat.

Add rice and vegetables. Stir lightly to warm thoroughly.

When hot, add the bean sprouts.

Cook, stirring to mix, just until sprouts are hot.

Add soy sauce. Top with sesame seeds, and serve immediately
Nutrition
Calories:
455
kcal
Carbohydrates:
66
g
Protein:
25
g
Fat:
14
g
Saturated Fat:
2
g
Trans Fat:
1
g
Sodium:
1225
mg
Potassium:
1069
mg
Fiber:
17
g
Sugar:
7
g
Vitamin A:
9329
IU
Vitamin C:
37
mg
Calcium:
277
mg
Iron:
8
mg