==================
A Caveat and Affiliates
First off, a little caveat: within my articles you will find affiliate links, meaning if you buy them, I get a small commission. Your cost is not affected. In addition, I am an Amazon Associate and I earn from qualifying purchases on Amazon.
And yes, if I say that I recommend a product here, it means I truly believe it is a good product. I refuse to recommend any product that I have not researched and believe to be a good value. Even better, I provide you with a very clear picture of the product, it's use, and the probable value. Earning your trust is important to me. I run this website myself and the commissions and donations help support the site. Sound reasonable and fair enough? Let's continue to the article.
==================
Andhra Brinjal Pachadi
Spicy and bursting with wonderful flavors, Andhra Brinjal Pachadi often appears at celebrations and festivals.  The Andhra region hosts many rich, flavorful dishes. The Andhra region hosts many rich, flavorful dishes. Mustard seeds often make an appearance in dishes and bring a unique flavor.
Some of these ingredients may prove challenging to find, unless you have a specialty grocery. We've included links here and on our food product page. This should help to retain the true authenticity of this beloved dish.
Also, please note that even if you have not enjoyed eggplant (brinjals) in other dishes, try this one. Roasting eggplant brings out a very satisfying flavor. In addition, combining with the other flavors, it takes on a new characteristic with a flavor medley.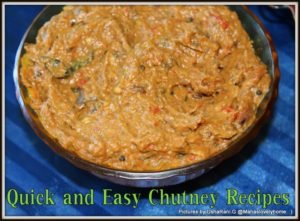 Ingredients for Andhra Brinjal Pachadi Recipe
Directions:
To make Andhra Brinjal Pachadi,
Rub 1/2 tsp oil on the eggplant and roast until they are softened and skin is completely charred. Put into a bowl, cover, and set aside to cool.
Make a spice powder:

Heat oil in a small pan. Add Bengal gram, black gram, coriander seeds and red chilies.
Sauté over medium heat until it turns light golden brown and is fragrant.
Remove from heat and cool.
Grind or blend to a coarse powder.

Peel roasted eggplant. Cut into small cubes.
Heat remaining oil in a skillet. Add mustard seeds and heat until they crackle.
Add the split black gram and sauté until they turn golden brown.
Put curry leaves and brinjals into skillet. Sauté for 1 minute.
Add spice powder and sauté an additional minute.
Sprinkle lemon juice and salt over mixture.
Mix well and remove from heat.
Serve Andhra Brinjal Rachadi very hot.