Vegan Globetrotter is supported by our audience. When you purchase through one of our links, we may earn a small affiliate commission.  As an Amazon Associate I earn from qualifying purchases. Your cost is not affected.
==================
Vegetable Jalfrezi – Lightly Spiced Vegetables in Tomato based gravy.
A favorite with vegetable lovers, Vegetable Jalfrezi offers a quick, but nutrient-rich meal. Serve with your favorite rice.
Bright and colorful, the aromas from Vegetable Jalfrezi create enticement at dinnertime. In fact, the aroma helps stir the taste buds before the first taste!
Most believe that this dish originated at the time of the British Raj. This dish and similar ones offered an inexpensive and easy meal. Many used spicey foods such as chili peppers to hide off flavored meats or old vegetables.
However, we encourage you to use fresh vegetables for best flavor and nutrients. In addition, you might consider adding a meat substitute to increase flavors and textures.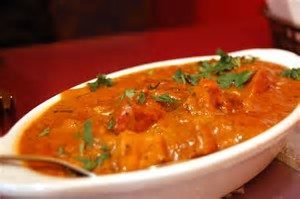 Vegetable Jalfrezi Ingredients:
2 green bell peppers, seeded and cubed
1 cup cauliflower florets, blanched
2 medium potatoes, cut into 1/4″ slices
1 cup green beans, cut into 2″ pieces
2 medium carrots, sliced and boiled
1 tsp cumin seed
2 T coconut oil
2 large onions, quartered and layers separated
1/2 T red chili powder
1 tsp turmeric powder
2 whole red chili peppers, dried and broken
1 cup tomato puree
1 tsp organic apple cider vinegar
salt to taste
2-inch piece of ginger, cut into thin strips
3 T fresh coriander leaves, chopped
8 ounces firm tofu, water squeezed out, cut into small cubes
********************
Directions:
In a large pot, boil or steam all vegetables until crisp tender.
Heat oil in a large pan. Add cumin seeds and sauté until they begin to change color.
Stir in onions.
Add peppers, potato, carrots, beans, and cauliflower.
Stir in red chili powder, turmeric powder, red chilis.
Add tomato puree, vinegar, salt, ginger strips, and coriander leaves.
Stir to combine well.
Add tofu and lightly stir to combine.
Cook until all is heated through.
Serve hot.
Serves 4 moderate appetites. 
Creative ideas:
For those who enjoy a spicier version, you might consider increasing the chili powder and the chili peppers. However, most find this a delicate balance.
This recipe cooks up quickly and easily. However, your slow cooker may also be used for even more convenience.
Change up the vegetables according to what you have available.