==================
A Caveat and Affiliates
First off, a little caveat: within my articles you will find affiliate links, meaning if you buy them, I get a small commission. Your cost is not affected. In addition, I am an Amazon Associate and I earn from qualifying purchases on Amazon.
And yes, if I say that I recommend a product here, it means I truly believe it is a good product. I refuse to recommend any product that I have not researched and believe to be a good value. Even better, I provide you with a very clear picture of the product, it's use, and the probable value. Earning your trust is important to me. I run this website myself and the commissions and donations help support the site. Sound reasonable and fair enough? Let's continue to the article.
==================
Kerabu Mangga – Malaysian Salad
Kerabu Mangga, also known as Malaysian Salad, is a very healthy side dish.  It directly translates to Mango Salad. Usually, the mangos used for this salad include the unripe and young ones. In fact, most prefer the unripe, mainly due to the firm texture and the less sweet taste. However, be sure not to buy too unripe mangos. Indeed, the sour flavors in the very unripe may prove too sour to handle.
Malaysians eat this not on its own as with the usual Greek Salad. Instead, Malaysians eat Kerabu Mangga to complete their meal. Malaysian Salads show some variety. In fact, many salads consist of a vegetable side dish. The Malaysian Salad, Kerabu Mangga differs from the rest, with the inclusion of the mango itself, and the crushed dried shrimps and the fish sauce used. These two ingredients really rich in flavor.  However, to make the vegan recipe, we just need to remove these two. In fact, the mango provides a rich, flavorful salad without them.
Vegan Kerabu Mangga
***********************************
Ingredients for Kerabu Mangga
1 mango
5 shallots
1 cucumber
4  chili eye bird peppers
1/2 cup Calamansi juice
1/3 cup ground peanuts
1 T oil (optional)
salt
Directions
Skin and shred the mango and cucumber into long thin slices.
Slice thinly shallots and chili bird.
Mix all the ingredients together.
Serve immediately for best flavors!
Bird's Eye Chili Pepper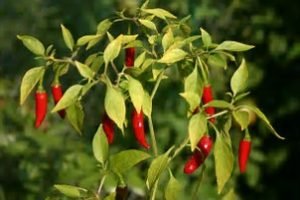 <see article>
These little peppers boast a hot scoville rating of 100,000 to 225,000 units, making them about half as hot as Habanero, but many times hotter than the jalapeno. If you can't find these locally, you may substitute dry crushed chili pepper (use about twice the amount) or ground cayenne pepper. Of course, you might choose to use half as much Habanero pepper instead.
Interested in Useful Cooking Tips?