Vegan Globetrotter is supported by our audience. When you purchase through one of our links, we may earn a small affiliate commission.  As an Amazon Associate I earn from qualifying purchases. Your cost is not affected.
==================
What is a tomatillo?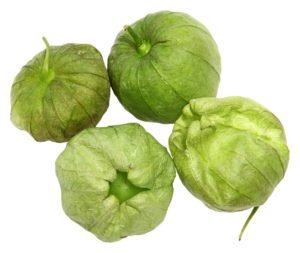 Mexican sauces often contain the tomatillo, also known as the Mexican Husk Tomato.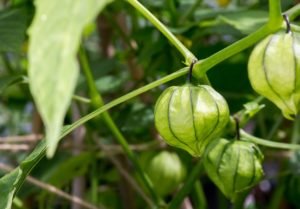 Although the tomatillo is related to the tomato, they do not share flavors. Tomatillos taste quite tart and add great flavor complexity to salsas. While tomatoes contain the very useful lycopene, the tomatillo does not. However, it does contain a different kind of antioxidant phytochemicals known as withanolide which has been found to have many health benefits. 
ROASTED TOMATILLO SERRANO SALSA
Traditionalists use a molcajete to pound this earthy roasted salsa into a smooth paste. However, we find our food processor works just as well.
Roasted Tomatillo Serrano Salsa provides a depth of flavor that greatly enhances any Mexican dish. Use it as a sauce for enchiladas or other dishes. It also shines as a condiment with a bit of zip!
Serrano Peppers
for Roasted Tomatillo Serrano Salsa
One of the types of chili pepper, the serrano pepper originated in the mountainous regions of the Mexican states of Puebla and Hidalgo. The Serrano pepper was named after the mountains of these regions.
A smaller version of the jalapeno pepper, serrano pepper boasts a Scoville rating between 5,000 and 23,000.  Serrano peppers are very meaty, compared to other peppers, and range in size from 1-4 inches long and 1/2 inch wide.
You may find them in red, brown, orange, yellow or green. The great color variations allow for a beautiful sauce.

Roasted Tomatillo Serrano Salsa
Ingredients
1 lb. tomatillos, husked and rinsed
4 serrano chiles, stems removed
3 cloves garlic, peeled
1 tsp salt
1⁄4 cup finely chopped cilantro
1 small white onion. minced
1 T fresh lime juice
2 tsp olive oil (optional)
Directions
Position your oven rack 4″ from broiler and heat to high.
Put tomatillos, chiles, and garlic on a lined baking sheet and broil, turning often until blackened in spots and cooked through. Garlic and chiles take about 10 minutes. Tomatillos take about 15 minutes.
Remove each when it is finished cooking.
Use your molcajete to pound chilis, garlic, and salt into a smooth mixture. Alternatively, place in your food processor and puree until smooth.
Add tomatillos, cilantro, onion, and lime juice.
Pound or pulse until roughly chopped.
Transfer to a bowl and stir in oil, if desired
Makes about 1 cup