Vegan Globetrotter is supported by our audience. When you purchase through one of our links, we may earn a small affiliate commission.  As an Amazon Associate I earn from qualifying purchases. Your cost is not affected.
==================
Russian Beet Salad Vinegret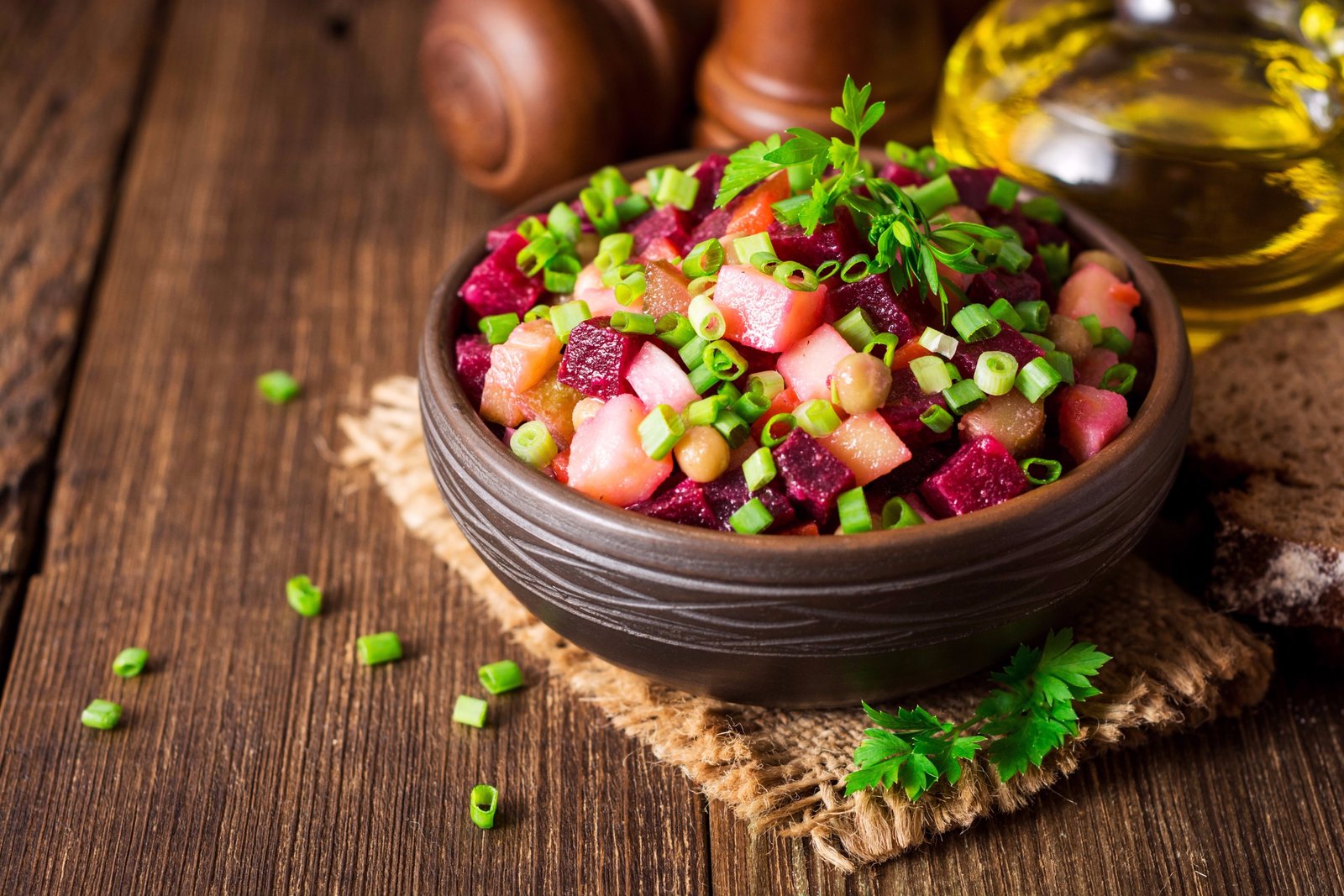 You know you're Russian if you recognize this salad! At most holidays, special occasions and parties, you will see a bowl of this Russian Beet Salad vinegret make an appearance. Even though it's called "Vinegret" in Russian, which sounds like a vinaigrette, it's an actual salad, not the dressing. When I look at the list of ingredients for Russian beet salad, it's easy to see why it was so popular – it's made up of all things that were readily available  during the big holidays – Christmas, New Year's and Easter for our ancestors.
*health benefits of beets*
Back in the days of the Soviet Union, our parents and grandparents didn't have anything available except what was in season or local, so they had to make do with whatever they had canned or brined during the summer and fall as well the vegetables that could be stored in the root cellar during the long, cold winter months. I still remember going down into my grandparents' dark root cellar and seeing the cans neatly stacked on the shelves and the bins with beets, potatoes and carrots. The ingenuity of creating so many tasty dishes with such a limited pantry has always impressed me.
I love Russian beet salad. The beets and carrots give sweetness, the potatoes – heartiness and the pickles and sauerkraut give tartness and flavor. It's beautiful and one of the best things about this salad is that it can be made in advance and even gets better the longer all the flavors get to hang out together. What are some of your favorite recipes from your heritage?
Ingredients:
2 medium-large beets, cooked and finely chopped
2 medium-large potatoes, cooked and finely chopped
3 medium-large carrots, cooked and finely chopped
3/4-1 cup sauerkraut, drained
6 baby dill pickles, finely chopped
1 small shallot (you can also use 1/4 of a red or yellow onion), finely minced
salt, ground black pepper, to taste
1/4 – 1/3 cup sunflower oil (or any oil you prefer)
1 – 1 1/2 Tablespoons white vinegar
****************************
Instructions
Cook the beets in boiling water or roast the beets until tender. I prefer roasted beets. To see step by step tutorial on how to roast beets, click HERE.
In another pot, place potatoes and carrots. Cover vegetables with cold water. Cover pot, bring water to a boil, reduce heat to a simmer and cook until carrots and potatoes are both cooked through and you are able to pierce them with a fork. make sure they are cooked through all the way, not too much, since they will otherwise fall apart and turn to mush when mixed later on with the rest of the ingredients.
Cool beets, carrots and potatoes until cool enough to handle. I use a paper towel to help remove the skin from the cooked beets, use a butter knife to peel off skin from carrots and potatoes.
Chop beets, carrots and potatoes finely, so they are about the same size. You can chop them larger than I did if prefered.
Chop pickles approximately same size as beets, carrots and potatoes. Finely mince shallot or onion.
Drain sauerkraut. If sauerkraut has long pieces, you can chop them in half or thirds.
You can adjust amount of vegetables to taste preference. I like my vinegret to have a nice briny and tart flavor, so I add lots of pickles, sauerkraut and vinegar. In fact, I would add more of twice the amount, but I try to restrict myself, since I'm not the only one eating this salad. You can add more or less vegetables , for example. It's totally up to you.
Mix all vegetables, including sauerkraut and pickles in large bowl. Season to taste with salt and pepper.
Pour in the sunflower oil and vinegar. Mix to combine. Serve or store in refrigerator until serving.
*Notes
You can make this salad up to 3 days in advance. You can also add fresh herbs right before serving, such as dill, green onions or parsley.
Can also add white beans!