==================
A Caveat and Affiliates
First off, a little caveat: within my articles you will find affiliate links, meaning if you buy them, I get a small commission. Your cost is not affected. In addition, I am an Amazon Associate and I earn from qualifying purchases on Amazon.
And yes, if I say that I recommend a product here, it means I truly believe it is a good product. I refuse to recommend any product that I have not researched and believe to be a good value. Even better, I provide you with a very clear picture of the product, it's use, and the probable value. Earning your trust is important to me. I run this website myself and the commissions and donations help support the site. Sound reasonable and fair enough? Let's continue to the article.
==================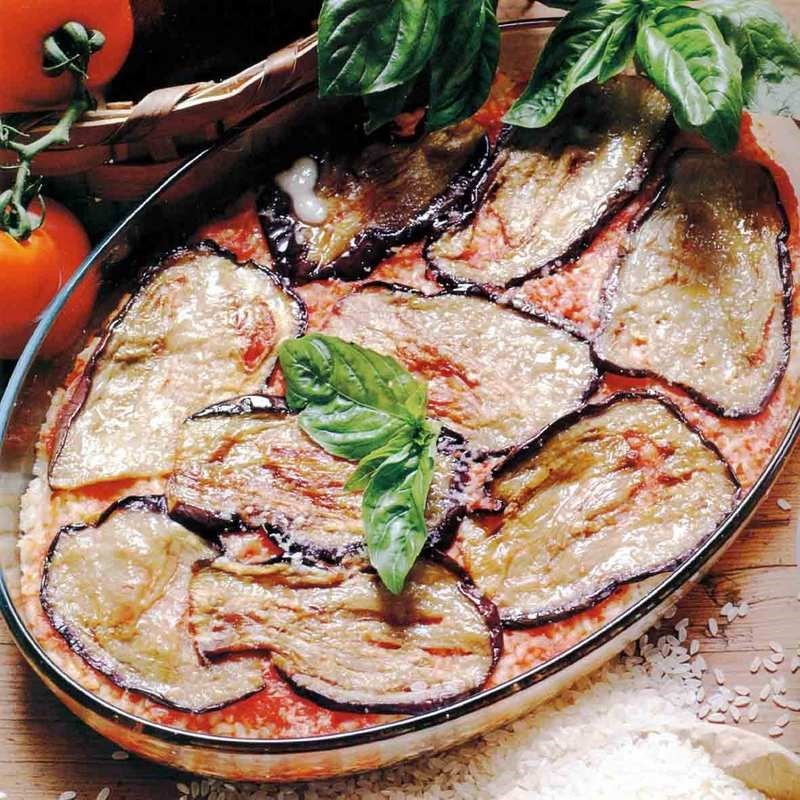 Vegan eggplants parmigiana  is a variant of the classic eggplant parmigiana but, this recipe can really fit everyone's meal plans and needs.
Eggplant parmigiana is one of the most popular and appreciated recipes throughout Italy. Typical especially in the south, from Campania to Sicily there are numerous forms of this dish. There are those who only do it with the Parmesan, the mozzarella, or who only use the caciocavallo (a type of cheese), there are those who fry the eggplants, or those who fry them with eggs and flour, and so many other alterations of the recipe. There are those who, in order to make it in a healthier lighter version prefer to grill the eggplants rather than fry them. Let's find out how to recreate a vegan yummy version of this traditional Italian recipe and, most of all, how to make it healthier!
Recipe
Vegan eggplant parmigiana
Preparation
20min
Cooking
55min
The vegan eggplant parmigiana is a variation of the classic lighter eggplant parmesan but is suitable for everyone. So in this recipe the eggplants will be grilled without oil, lightly.
In place of the Parmesan we will use the flake yeast and in place of the cheeses the vegetable mozzarella. This recipe is very easy to prepare and is really lightweight. Vegan parmigiana with vegetable mozzarella is healthy and very good and you will find it hard to notice the difference with the classic one!
Ingredients (4 servings)
3 eggplants
1 carrot
1 onion
1 clove of garlic
3 cups of vegetable mozzarella
1 cup of flake yeast
salt
Extra virgin olive oil
3/4 + 2 tbs tomato paste
Preparation
First of all, wash the eggplants and cut them into slices of about 1/3 inch.
Place them in a bowl, salt them and toss. Put eggplant slices in colander with bowl underneath and put a weight on eggplant (a pot with water) so that they spin losing part of their spicy flavor sometimes too pungent. Leave the eggplants under the weight for at least 30 minutes.
Now, dedicate yourself to the sauce. Peel the onion and garlic and finely chop them, grate the carrot. Put extra virgin olive oil in a frying pan and add warm onion, garlic and grated carrots and fry. After that add the tomato paste, adjust salt and let cook the sauce in low heat for 20 minutes, will be ready when it will be a bit dense and less watery
Put the pan or griddle on the fire, warm it well and start to grill the eggplants 2/3 minutes on the side. As they are ready lay them on a plate and take pan off heat. Dip them in tomato sauce, put some tomato sauce on the bottom of the pan, place eggplant in pan, flake yeast and vegetable mozzarella.
Continue to make these layers until you have finished your ingredients. Finally, sprinkle top with flake yeast.
Preheated oven at 400 ° F and let it cook for about 30 minutes. Your eggplants parmigiana will be ready when it will be golden on the surface. Let vegan eggplant parmigiana rest a few minutes before serving.
Curiosity:
We still don't know the exact origins of this delicious traditional recipe:
the present spread of the plate, the eggplants were imported by the Arabs and all the possible assonances let propose for a Sicilian origin, a subsequent disembarkation in Naples as a natural consequence of the Parthenopean influence on the island (similar to rice and almond paste). And, why not, a further connection with the Bourbons, the Spanish-born dynasty who ruled the Duchy of Parma and Piacenza before entering Naples (1734) for a complex game of dynastic alliances. So, this recipe is basically a real piece of national history!
Benefits of the eggplants
Eggplants are vegetables with diuretic and draining power because of the large amount of water they are composed of. They also contain minerals such as potassium, magnesium and phosphorus, as well as vitamins, especially A, B and C. The eggplants are therefore a natural system to assure these substances to our body. Thanks to fiber richness, eggplants are a useful vegetable to keep cholesterol away and, above all, regularize bowel functions. The fiber also stimulates the production of gastric juices that help digestion. Eggplants are a low-calorie food and, if cooked in a light manner, they are also recommended to dieters. They help liver work by stimulating bile production and have antioxidant power. The popular medicine finally considers them endowed with anti-inflammatory properties.