Vegan Globetrotter is supported by our audience. When you purchase through one of our links, we may earn a small affiliate commission.  As an Amazon Associate I earn from qualifying purchases. Your cost is not affected.
==================
Magnet Strip for Holding Knives
I am sure you know the importance of using knives. But, owning great knives isn't enough. Storing them well will make sure they won't become dull. One of the best way to do this would be by switching to a magnet strip for holding knives. In this article, I'll try my best to give you the best reasons for getting a magnet strip for holding knives. If you want to learn more, please keep on reading!
Kitchen knives are important in any kitchen. But, organizing your knives can often difficult. Dumping them in a drawer without any care will lead to delays and even accidents when cooking. When I first started cooking, I regret never storing my knives well. Some of my best knives often broke because I stored them without any care. That is why I hope you actually invest in a knife holder for your kitchen.
Getting a Good Knife Holder
A knife holder protects your knives. I'm not only talking about how your knives look but how they can stay sharp and sanitized for use. For me, knife holders are one of the most essential tools to get and have!
To be honest, there are many knife holders available in the market. A great tip is to keep in mind that each of them has their own advantages and disadvantages.
But, based on my personal experience, none of them can even come close to magnet strips for holding knives. Magnet strips are sleek and modern looking and will allow easy access to your knives.
Getting a Magnet Strip Knife Holder
Magnetic strip knife holders have become more popular since its
first release
. A magnet strip is a block or strip of metal that is magnetic on one side. A lot of people have said that the design was revolutionary and modern!
Magnet Strip or Traditional Knife Block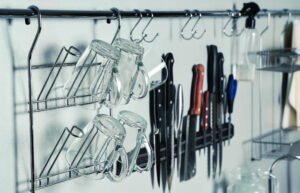 As a home cook, I understand the importance of having a well-stocked and organized kitchen! One essential tool in any kitchen is a good set of knives. But, storing them can be a challenge. A magnet strip is a great way to hold your knives in place.
A traditional knife block takes up valuable counter space and it can be difficult to keep clean. That's why I recommend upgrading your kitchen with a magnet strip for holding knives. Plus, it looks great in my kitchen!
If you want to know the pros and cons of using a knife block vs. a magnet strip, here is a table I made to summarize
Easy to Clean
No Assembly Needed
Aesthetically Pleasing
Lightweight
Requires Some Maintenance
No Assembly Required
Easily Movable
Heavier Than Magnetic Strip Knife
Advantages of Using a Magnet Strip
Traditional knife blocks may have its benefits but a magnet strip can offer more. Many home cooks have already made the switch to a magnet strip for holding knives. Here are some of the advantages in using a magnet strip that can convince you to get one:
More Storage Space
As mentioned, a magnet strip can save a lot of counter space. Traditional knife blocks take up a surprising amount of table or countertop space. As I mentioned earlier, you can mount magnet strips on any metal surface! Even if you have a big enough table or countertop, no one can say no to more kitchen space.
A magnet strip allows you to see all your knives at once, making it easier to select the right one for the job. This saves a lot of time. By keeping all your knives lined up
neatly
, you'll never have to dig around for something as long as it's right at hand!
While a knife block can only hold a limited number of knives, a magnet strip can hold as many knives as you need! A magnetic strip can generally hold more knives, as there is no pre-determined slot for each knife. Instead, you can put your knives wherever you want on the strip. You'll be able to maximize the space you have available.
Easy to Clean
One of the benefits of using a magnetic strip to store your knives is that it is simple to clean. In contrast, a knife block can accumulate dust and debris in its slots, making it hard to maintain. While you can wipe a magnetic strip down and keep it clean. It can prevent cross-contamination in the kitchen!
Not Just for Knives
You can also slap on other tools like scissors, spoons and forks. You can put on other tools that you often use in the kitchen. You'll never have to worry about losing or spending a lot of time looking for these tools!
Place Them Anywhere
You can put your magnet strip anywhere that's convenient. I've seen people install them over their sinks. They do so because its easy to clean and maintain that way. People also put them near their cutting station for easy access as well.
Fits Right In
A magnet strip is a stylish and modern addition to any kitchen! They come in various materials – from sleek stainless steel to natural wood. They can complement any decoration style you have for your kitchen.
Things to Consider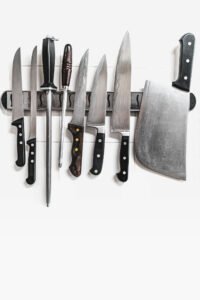 Here are some of the things that you need to keep in mind:
Check the Magnet Strength
The strength of the magnet in the strip will determine how well it can hold your knives. Make sure that the magnet is strong enough to hold your knives! A weak magnet may not be able to support heavier knives or may not hold them well. This flaw could lead to accidents.
Longer Is Not Always Better
Consider magnet strength when choosing a magnetic strip for storing knives. The strength of the magnet will determine its ability to hold your knives well in place. If it is weak, it may not be able to support heavier knives or may not hold them well, which could lead to accidents! Thus, it's important to choose a magnetic strip with a strong magnet. Both to ensure the safety of your knives and to those using them.
Choose the Best Materials for You
Magnetic strips are often made of wood, stainless steel, or plastic. When choosing the best strip for you, it's best to consider the material that fits your kitchen décor. If you want to opt for durability then invest in a strip made from stainless steel. But, if aesthetics is your main consideration, a strip made from wood might work well for you.
When looking for a magnetic strip, you need to find one that's simple to install. It should come with all the necessary things for installation. Depending on the strip you choose, you may need to drill it into the wall or use adhesives.
Another thing you need to consider is your knife compatibility. You need to consider the type of knives you have. Make sure that the magnetic strip you choose is compatible with them. If you have certain types of knives, ones with a curved blade or thick spine, then magnet strips aren't for you!
Safety and Other Features
Last but
certainly
not the least, you need to consider safety and other features. You should try to get magnetic strips that come with covers or guards. It can protect you and your family from accidental cuts. This feature is especially important if you have children in your home!
Installing a Magnet Strip for Holding Knives

Now, let's talk about installing a magnetic strip for storing knives. The process is straightforward. First, choose a location for the strip that is accessible and within reach of your work area. Once you've selected the location, use a level tool to ensure that the strip will be straight when mounted.
Next, mark the location of the screw holes using a pencil. It's important to do this with care to ensure that you mount the strip correctly. Then, drill pilot holes for the screws to make it easier to screw the strip into place. Do this to avoid splitting the wood. Finally, it's time to attach the magnetic strip to the wall using screws. Make sure to follow the manufacturer's instructions to ensure a secure installation!
How Long Does Magnet Strips Last
Anything can last long if you take good care of it! Most magnet strips are from high-quality materials, such as stainless steel or bamboo. This makes them very resistant against rust and corrosion. Additionally, a magnet strip is unlikely to wear out or become damaged over time. It can stay in good condition for years to come with proper care and maintenance. This makes it a worthwhile investment for any home cook!
Maintaining Your Magnet Strip
Taking care of your magnetic strip is like taking care of a relationship. Maintenance will always be important, especially when it comes to tools. Make sure your magnetic strip for holding knives remains effective and safe to use. Here are some tips for maintaining your magnet strip:
Always Remember to Clean the Strip!
Keep your magnetic strip clean to ensure it maintains its magnetic hold over time. To do this, it's recommended to clean the strip often by using a soft, damp cloth. You can also use a mild detergent if necessary to clean the surface of the strip. Avoid using harsh chemicals or abrasive sponges. You'll end up scratching the strip or even damaging the magnet. After cleaning, make sure to dry the strip to prevent rusting. If you're not sure when to clean your magnet strip, a good rule of thumb is to check for the presence of dust and debris. Keep your magnetic strip clean and well-maintained. Your family and even your future self will thank you for it.
Get Rid of Metal Filings!
Also, avoid placing recently sharpened knives on the magnet. In fact, if you sharpened your knives near the magnetic strip, be sure to clean the surface well. Wipe away any metal filings or shavings that may have accumulated on the strip. These can scratch the surface of the strip or interfere with its magnetic hold.
Check for Nicks or Damage!
You should also often inspect the magnet strip for signs of damage or wear. If the strip becomes warped, cracked, or loses its magnetic hold, it may be time to replace it.
Use the Right Ones!
When it comes to using a magnetic strip for knife storage, it's important to choose the right knives. As I said earlier, you need to remember that some knives may not be suitable for use with a magnetic strip. Using incompatible knives can cause them to slip or scratch the surface of the strip. You can avoid any mishaps by sticking to knives that are flat and have a straight spine.
Keep Dry and Clean Knives!
The condition of your knives can also affect the holding power of your magnetic strip. If your knives are dirty or wet, they can transfer moisture and residue onto the surface of the magnet. This can interfere with its magnetic effect and cause your knives to slip or fall. Never forget to wipe down your knives with a dry cloth or paper towel to remove any excess moisture or residue. By doing these simple steps, you can make sure that your magnetic strip remains strong and secure.
Safe and Out of Reach!
If you have young kids at home, you need to be careful when installing a magnetic strip for your knives. To avoid any accidental cuts or injuries, it's best to mount the strip at a height that's out of their reach. One good option is to install the strip on your cutting station or above your sink. These areas are often only used by adults and are less accessible to children. Also, remember to mount the strip at a safe height. By doing this tip, you can have a safe and welcoming kitchen space for everyone in your family.
Keep it Secured!
You need to check your magnetic strip often to ensure that it's still securely attached to the wall. This is especially important because a loose strip could potentially cause accidents. By doing this simple tip, you can prevent any potential mishaps. If you notice that the strip is not as secure or the screws have become loose over time, you may need to re-attach it. You can do this by removing the screws and then re-mounting the strip.
Upgrade to a Magnet Strip for Holding Knives
As you can probably tell, I very much love having a magnetic knife holder in my kitchen. A magnet strip for holding knives is a must-have in any household. Always keep in mind the tips mentioned above if you do choose to use a magnet strip for holding knives.
But, I understand that not everybody has money to spare. If you don't have the budget to switch to a magnet strip for holding knives, that's fine. What's important is that you work with what you have. Although a magnet strip for holding knives is good, saving money is more important.
My Last Minute Tips
Here are some last-minute tips from me to you. These are easy to remember but people often neglect them. As I said earlier, you don't have to know, remember or do much when getting magnetic knife holders.
Always get a high-quality magnet strip that is strong enough to hold your knives.
Mount the strip securely on the wall, making sure it is level and at a convenient height.
Clean your knives thoroughly before attaching them to the strip. Prevent any dirt or debris from interfering with the magnet's grip.
Place the knives on the strip carefully. Make sure that the blades are facing away from you and that they are evenly spaced.
Be cautious when removing knives from the strip. Use a firm but gentle grip to avoid accidentally taking out any neighboring knives.
Don't purchase because of hype. Invest in kitchen tools that you intend to use for a long time.
Don't overthink. This is the most important tip I have. All you need are the basics first and not every kitchen tool out there.
Try Magnet Strip for Holding Knives
Are you someone who loves to cook and wants to keep your kitchen organized and looking stylish? Then a magnet strip for holding knives is the perfect investment for you! It's a simple and efficient way to organize your knives, free up your counter space, and add a trendy touch to your kitchen decor.
Gone are the days of rummaging through cluttered drawers to find the right knife. With a magnet strip, you can easily access your knives without the hassle. It's a practical solution that not only makes your kitchen look more organized but also helps to keep your knives separated from other utensils, preventing accidental damage or dulling.
Plus, the magnet strip is a trendy and modern way to display your knife collection, adding a touch of sophistication to your kitchen. You can choose from a variety of sizes and styles to match your personal style and kitchen decor.
At Vegan Globetrotter, we're passionate about kitchen organization, cooking tips, and vegan lifestyle. That's why we invite you to explore our blog for more great content. Whether you're a beginner or a seasoned vegan chef, we've got plenty of tips and tricks to help you enhance your skills and make the most out of your time in the kitchen.
We value your opinions and experiences, so please feel free to leave a comment on our blog and join the conversation about vegan cooking, kitchen organization, and everything in between. With our collection of articles and resources, you'll be sure to find inspiration and guidance to elevate your culinary game.
So, what are you waiting for? Head over to our blog now and explore our content. Let's start cooking, organizing, and living a vegan lifestyle together!
How do I know if switching to a magnet strip is right for me?
Please refer to the table of the pros and cons of a magnet strip. I made sure everything is easy to understand in a tabular form.
Are magnet strips expensive?
No! Actually, magnet strips are cheap. So don't hesitate to change to magnet strips if you want.
Why are magnet strips better?
Magnet strips are better since it saves up a lot of space and can store more knives. Aside from that, magnet strips look better overall.
Do I need to change to a magnet strip?
If you want more space, then changing to a magnet strip is advisable. But if you don't have extra money, you can always use what you have at home.
Additional Articles Worth Exploring
Other Readings That May Be Helpful