THE MIDDLE EASTERN CUISINE
Middle Eastern cuisine reflects the region, long recognized for its hospitality and mannerism. The area constitutes many countries along the Mediterranean Sea. Egypt, Cyprus, Bahrain, Kuwait, Turkey, UAE, Qatar, Syria, Iran, Iraq, Israel, Jordan, Saudi Arabia and the adjoining territories make up the magnificent Middle East. Middle Eastern cuisine is diverse, rich and vibrant. Since the olden times, dates are being related to the Middle Eastern region. According to multiple authentic sources, Olives were also the favorites of the natives; they would consume it with meals on daily basis. The Middle Eastern people can be called fundamentalists, not just because they are still holding up to their religious values but also because they stuck to their original cuisines.
Since the olden times, foods such as dates relate to the Middle Eastern region. According to multiple authentic sources,  Middle Eastern natives have enjoyed olives. They consume these highly favored foods with meals on daily basis.  Many consider Middle Eastern people fundamentalist as they hold their basic religious values close. Likewise, they hold fast to their authentic, original Middle Eastern Cuisine.
Grains
An essential ingredient of the Middle Eastern cuisine since the beginning, oats create a base in many recipes. Grains constitute the basic food in all meals, especially wheat and rice. Bread takes on many forms, as it has since ancient times. Besides bread, wheat provides nutrition in different forms, such as Bulghur. Also called cracked wheat;  the wheat grain is soaked in water and later dried naturally in the sun or baked and served in pieces. Freekeh, the immature green wheat, also finds its way into Middle Eastern Cuisine.
Spices and Herbs
The Middle Eastern cuisine, popular for its diversity, also highlights the use of spices. Cinnamon, nutmeg, cumin, cloves, and coriander create many of the flavors in regional favorites. Another favorite spice, black pepper flavors some particular meals in various regions of the Middle East. Chilies, although not commonly used in dishes, serve as occasional seasonings. In addition, pickles and sauces often contain these seasonings. Traditions remain highly important.  in cooking, serving and presentation are still followed in the Middle East.
Traditions remain highly important.  Authentic ways of cooking, serving, and presentation continue in most regions and homes of the Middle East.
Apart from spices, some herbs offer additional flavors in many dishes of Middle Eastern cuisine. Parsley and mint flavor salads and dishes. In some areas like Lebanon, Jordan, Syria, and Palestine, Thyme seasons and flavors many dishes. Also, garlic forms the base of many parts of cooking in most of the Middle East.
Vegetables
Vegetables and pulses continue as the principal ingredients of Middle Eastern cooking. Rice and stews contain a variety of vegetables. Boiled, grilled, or otherwise cooked vegetables blend into different sauces and gravies, used in a variety of dishes.
Most common produce used in the middle eastern region prehistorically include tomatoes, garlic, and lime. Also, green leafy vegetables such as spinach and chard, remain staples. However, not all of these vegetables originated in the Middle Eastern region. Many were imported from the neighboring areas.
Later in the Middle Eastern region, Hummus and Baba Ganoush became popular. Hummus, made with chickpeas, garlic, parsley and olive oils, differs from Baba ganoush, made from eggplants, parsley, mint, and oils. Both of these dips accompany many popular cuisines such as Falafel. Now famous globally,  many in Europe and USA enjoy Falafel.
Sweets
Arabic, Palestinian and Jordanian sweets are particularly popular due to their taste and ingredients. Palestinian Kunafah and Arabian Baklavas are particularly enjoyed in the region during festive seasons such as Ramadan. Kunafah is made with vermicelli, butter, and cheese, and in the modern versions, the fillings may include fruits like bananas, apples, and apricots. For a vegan and healthier version of Kunafah, replace the cheese and butter with almond or coconut milk. Alternatively, use one of our vegan cheese recipes.
Baklavas, mainly made from pastry, include a filling of dates with cinnamon and nutmeg seasonings. After frying or baking the pastries, bakers pour sugar syrup over them. For a healthier version of baklava, avoid sugar syrup and replace it with blueberry or strawberry sauces.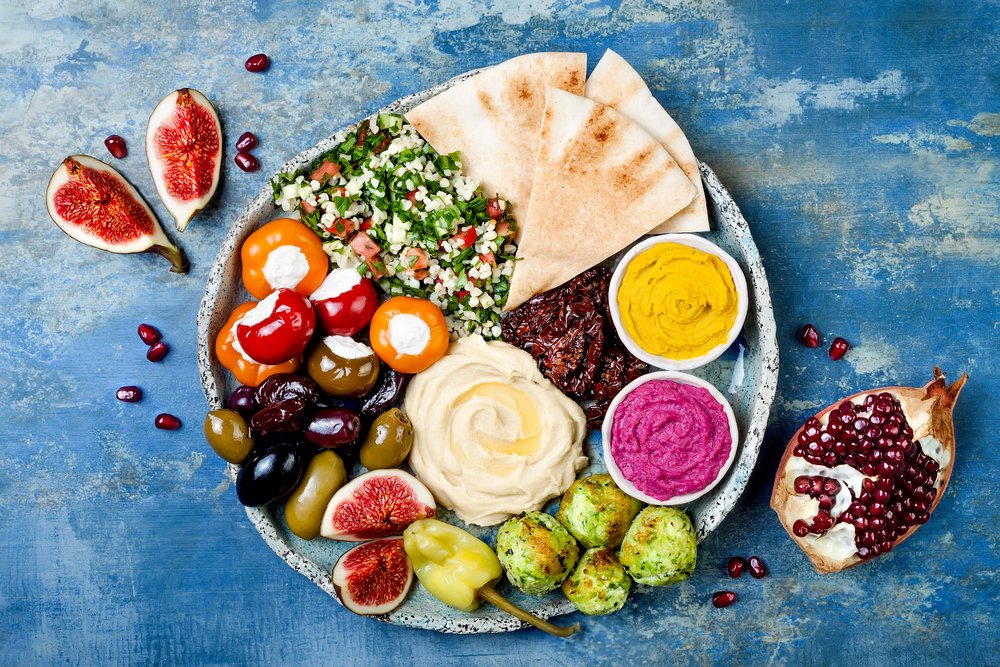 RAMADAN, The Holy Month, The Festive Season
In the Islamic culture, Ramadan has a place like no other. The Muslims all around the world, fast during the whole day and open it after the sunset. The meals being called Suhoor and Iftar, the fast ends with Iftar. The tables are filled with scrumptious meals throughout the month. At the end of the month, the Muslims celebrate their Eid, known as Eid-ul-Fitr, a reward of their Fasts. Sweets and relishes are specifically prepared for the auspicious day of Eid.
Authentic Recipes Coming Soon!
Subscribe to Vegan Globetrotter
We will notify you of
updates,
new recipes,
& special offers!
***Our subscribers receive notice of our site updates and new recipes.
+++In addition, VeganGlobetrotter subscribers receive special offers from time to time.
However, we will never sell your information, nor will we ever spam.