==================
A Caveat and Affiliates
First off, a little caveat: within my articles you will find affiliate links, meaning if you buy them, I get a small commission. Your cost is not affected. In addition, I am an Amazon Associate and I earn from qualifying purchases on Amazon.
And yes, if I say that I recommend a product here, it means I truly believe it is a good product. I refuse to recommend any product that I have not researched and believe to be a good value. Even better, I provide you with a very clear picture of the product, it's use, and the probable value. Earning your trust is important to me. I run this website myself and the commissions and donations help support the site. Sound reasonable and fair enough? Let's continue to the article.
==================
Authentic Mexican Taco Recipe
Many restaurants serve Tacos. Americans and others around the world love the flavors and crunch. However, most don't use an authentic Mexican taco recipe. In fact, some American made tacos hardly resemble the traditional Mexican variety.
However, we'd like to introduce you to our authentic Mexican taco recipe. Even better, ours contain healthy vegan ingredients. Keep the basic ingredients handy for a quick lunch or dinner.
Although most of us consider tacos to be the hard, crunchy shell, you might try the soft taco, too. Although it lacks the crunch, it does create fewer crumbs than it's often preferred hard taco shell.
Ingredients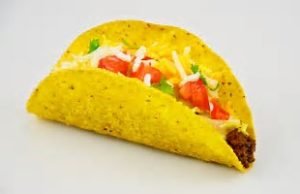 Directions
If using fresh tortillas, you may use as is for soft tacos or prepare into taco shells

(see video below for a baked version)

You may use beans, meat substitute, or both. Heat thoroughly.
Put the beans and/or meat into the taco shell first.
Add cheese.
Place tomato and avocado into the shell.
Add lettuce, onion, olives, and peppers.
Top with salsa and a sprinkling of lime juice.
Add sour cream.
Top with cilantro.
Serve very warm.
Taco stands
These make putting tacos together and serving them much easier and neater. The following stainless steel holders are large enough for the most stuffed taco. In addition, the stainless steel are safe for the oven. However, remember to use oven-safe mitts as they do get hot!
Kids love their own stands. The dinosaur and the truck appeal to kids and even adults. While they may not be traditional Mexican type themselves, they hold our authentic tacos and provide a festive note to dinner.
I am a participant in the Amazon Services LLC Associates Program, an affiliate advertising program designed to provide a means for sites to earn advertising fees by advertising and linking to VeganGlobetrotter.com and ChristmasCountryMom.com
Please Note: I use affiliate links on my website. When you click on a link and make a purchase, I receive a small commission to support my website. Your purchase price is not affected.
I only recommend products that I have actually tried and am confident of the quality.
Thank you for helping support Vegan Globetrotter!