Vegan Globetrotter is supported by our audience. When you purchase through one of our links, we may earn a small affiliate commission.  As an Amazon Associate I earn from qualifying purchases. Your cost is not affected.
==================
Tunisian Salad
Like many of our recipes, our Tunisian Salad recipe and its description come from a native of Tunisia.  This Mediterranean country filled with history and natural beauty offers delicious food, too! In addition, many of the Tunisian dishes offer great nutrition.

However, Tunisia rests in North Africa on the Mediterranean Sea. In fact, you will recognize the Mediterranean influence in the simple ingredients listed. Further, the flavors combined with nutrition encourage you to enjoy this often.
As told by the Tunisian author:
A fresh Tunisian Salad is always welcomed in the hottest days of summer, or even in everyday meals, as an entry right before the main course.
This is a Tunisian salad, as it name does show. And it is as basic and simple to prepare as you never imagined it to be.
In fact, no more than 10 minutes and everything is ready. Nice option for your lazy days !
So, how about trying it ? Doesn't it seem as a good idea to eat something both simple and healthy ?
Here we go then ! This is the recipe for this savory meal !
Tunisian Salad Recipe (4 servings)
Ingredients :
2 cucumbers
4 tomatoes
2 large onions (white or yellow)
3 green peppers (use red and yellow, too for more color!)
4 tbs olive oil
2 tbs lemon juice (fresh squeezed is best!)
1 tsp salt
Some olives for decoration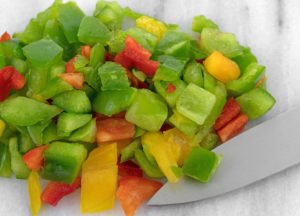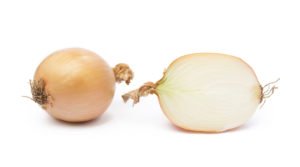 Preparation :
Simply cut all the vegetables into small cubes
Combine into a bowl.
Add the olive oil, the lemon juice, and the salt.
Mix everything to combine well.
Add the decoration olives
Eat it now and enjoy it !
Our Note:  Americans often look for complicated meals and then turn to processed foods to create them more easily. Instead, consider some of these more simple dishes. And, not only will your health benefit. Your budget will, too! In fact, often healthier foods cost less than those less so.
This recipe creates quickly and makes a delicious summer salad or side salad. In fact, you might enjoy it throughout the year.
For more healthy, vegan recipes from around the world, see our main recipe page.