Chinese Cuisine For Vegans
<Scroll Down for Links to Recipes>
The Chinese culture, derived from its ancient roots, showcases its richness worldwide. Vegan Chinese cuisine offers authentic flavors and iconic ingredients. Further, Chinese Cuisine for vegans offers complete nutrition.
Rice, perhaps the first crop that was planted on the Chinese soil forms a staple in vegan Chinese cuisine. Indeed, even non-vegan options usually feature rice. And to date, Chinese restaurants continue to include authentic rice recipes in their menu.
Often, Chinese ate boiled rice with fish. Rice wine provides another dimension to Chinese cuisine for vegans and non-vegans, alike.  However, colder regions of China cannot produce rice. In northern China, natives enjoyed millet, usually in the form of porridge. Later in Chinese history, the Chinese grew wheat. Noodles came later but quickly became popular among the natives. Tea is also largely associated with China. Since it grew wildly in the country and thus easily accessible. Therefore, Chinese people of all descents drank tea.
Tea Aids Digestion of Vegan Chinese Cuisine
Plants providing leaves for tea grow in most areas of China and appears with nearly all meals. Chinese people of all descents enjoy tea, normally served hot. Others might consider copying this habit. Some teas enjoyed with vegan Chinese cuisine, including oolong tea, have been shown to aid digestion. Additionally, these teas might provide other health benefits.
Chinese Cuisine for Vegans, the Basics
Even though today most of us regard noodles and chow mien as Chinese, some ingredients of the seem almost mandatory.
Garlic
Most meals in China, including the vegan Chinese Cuisine, utilize garlic in some form. The  Chinese people's favorite for more than 5,000 years, garlic also appears in traditional herbal medicines as well as meals.  Also, historical research reveals garlic as an essential element in all kinds of Chinese cuisine for vegans and non-vegans.
Ginger
Fresh ginger has never been away from the Chinese pantry. Some of the ancient drafts revealed ginger's use for tenderizing meat and eliminating the odor from fish. Apart from the aroma and flavor, ginger, like garlic, was also used in herbal remedies.  Indeed, the people of China have depended on its medicinal properties since ancient times.
Sauces and Condiments
Chinese meals seem incomplete without sauces today. However, Chinese cuisine has always had a place for rich condiments. For instance, consumption of rice vinegar, rice wine, and others originated long ago in the Chinese culture.
Interestingly, tofu and bean curd replaced meat in many dishes. The expense of meat added to cultural and religious choices against it created a need for the substitute. For example, Buddhists don't eat meat and to fill in for the proteins, tofu provided a suitable choice.
Soybeans found their way into stocks and sauces, too. The wide availability and health benefits led to its popularity. Indeed, it continues to be used in soy sauce, oyster sauce and hot sauces today in countless Chinese cuisines.
Vegetables And Fruits
Chinese food is known for spring onions and chilies, but initially, the native vegetables in China included cucumber and bok choy. The Chinese people used to eat them with rice to enhance the flavors. Today, with more variety available, these vegetables remain popular ingredients in most authentic Chinese meals, including vegan Chinese cuisine.
When it comes to fruit, the Chinese grow quite a treat when possible. The native fruits include citrons, peaches, and apricots. Some of these find their way into sauces to help sweeten and flavor.
Chinese Cuisine, the Tradition, the History
The Chinese cuisine holds an intriguing history, a history purely based on tradition. The preparation of food requires an absolute art that consists of specific dishes and unique preparation techniques. Traditionally, only chefs or highly trained experts perform these tactics. One such masterpiece, noodle pulling, comes to perfection after the accurate fusion of technique and practice.
The art of Chinese cuisine and its presentation mainly rests upon two philosophies, Confucianism and Taoism.
Confucianism and the Chinese Cuisine
In addition to all his teachings, Confucius established a few table etiquettes. According to him, the food must be cut down to small pieces prior to serving the dish. Still followed at the authentic Chinese restaurants today, it remains a distinctive element of the Chinese culture.
Confucius wasn't in favor of knives; he rather disapproved them on the dinner table. He preferred to focus on the herbs and condiments and the texture of the food. According to him, the food must be presented well. Thus, authentic Chinese restaurants and chefs will serve meals with a specific touch of delicacy.  Serving Chinese cuisine for vegans includes maintaining this presentation, as well.
Taoism and the Chinese Cuisine
In Taoism, the primary focus remains on the health benefits of foods rather than on the presentation. Taoist's interest in finding the right foods requires foods that would heal, promote health, and ensure longevity. They call these advantages as life-giving. Taoist's discovered that Ginger provided more than just a garnish. Indeed, ginger often heals the stomach ailments and cold and cough simultaneously.
Chinese New Year Festival
China celebrates the Chinese New Year with the new moon that falls between 21st Jan and 20th Feb. Also known as the Spring Festival, it showcases the Chinese ethnicity, culture, and vibrancy. The celebration encompasses famous attractions such as the lanterns, dragon dance, lion dance, decorations and fortune goods. However, the traditional reunion dinner includes a huge feast for the participants. The dinner features a variety of foods including a vegan dish called the Buddha's delight.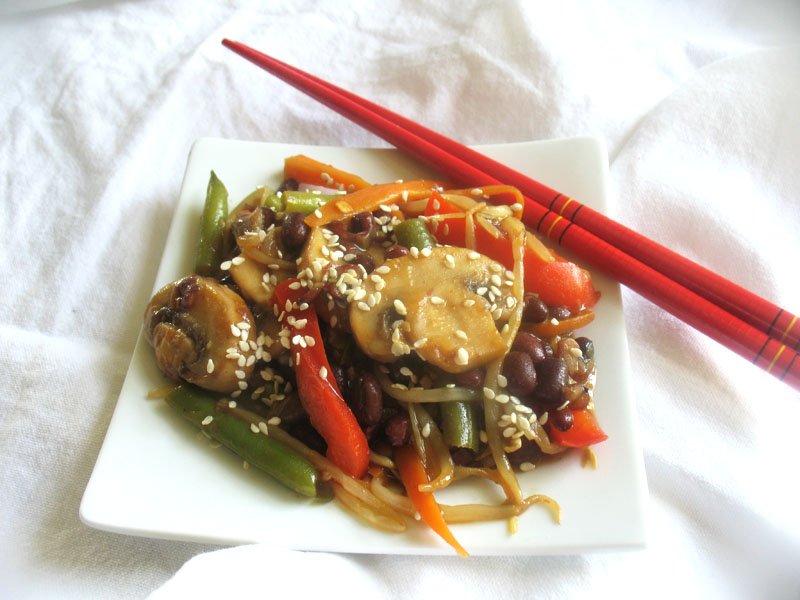 To View a Recipe
Click on the Title 
More Authentic Recipes Coming Soon!
Subscribe to Vegan Globetrotter
We will notify you of
updates,
new recipes,
& special offers!
***Our subscribers receive notice of our site updates and new recipes.
+++In addition, VeganGlobetrotter subscribers receive special offers from time to time.
However, we will never sell your information, nor will we ever spam.