Vegan Globetrotter is supported by our audience. When you purchase through one of our links, we may earn a small affiliate commission.  As an Amazon Associate I earn from qualifying purchases. Your cost is not affected.
==================
Mince pies are a British holiday tradition that most Americans have never heard of. But trust me, they're delicious! Plus, they're vegan-friendly, so you can enjoy them guilt-free! If you want to try this traditional British treat, I've included a recipe below. Happy holidays!
British Mince Pie
The British mince pie is a traditional Christmas dessert that dates back to the Middle Ages. These pies are typically made with a mixture of dried fruits, spices, and vegan beef, and they are encased in a flaky pastry crust. And this pie remains the same: to create a rich and flavorful dessert that is sure to please even the most discerning palate.
So, If you're feeling adventurous, why not try your hand at making your own mince pies? With a little planning and preparation, you can create a delicious dessert that will be sure to impress your family and friends.
You Will Love British Mince Pie
You can't go wrong with this mince pie they are a healthy and delicious treat for Christmas day and any occasion. I'm sure you will love this mince pie too. So, here are the reasons why this tasty treat is loved by all.
1. Traditional British Recipe
Mince pies are a traditionally British recipe that dates back to the 13th century. These pies are made with a filling of vegan minced meat alternatives, fruit, and spices, and are typically served around the holidays. While mince pies are traditionally made with beef, they can also be made with vegan
2. Delicious and Festive
Mince pies are delicious and festive treats that are perfect for the holiday season. The sweet and savory flavors of the filling are perfectly balanced, and the flaky pastry crust is simply irresistible. Whether you enjoy them on their own or with a dollop of whipped cream, mince pies are sure to please.
What you will need?
No matter what time of year it is, there's always room for a classic vegan British mince pie. These handheld pies are filled with a sweet and spicy mix of dried fruits and nuts, and they're the perfect treat for any occasion. If you're looking to make your own vegan British mince pies, the first step is to gather the ingredients. Here's what you'll need:
1. Pastry: You will need all-purpose flour, vegan butter, kosher salt, cold water, and a flax seed meal.
2. Vegan Mince meat: Start gathering tofu or your favorite meal alternative, cinnamon, nuts, raisins, and carrots.
With these ingredients on hand, you're well on your way to making delicious vegan British mince pies. Just be sure to follow the recipe carefully to ensure that your pies turn out perfectly every time.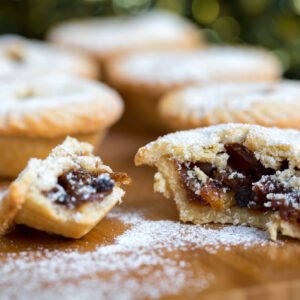 British Mince Pie (Vegan Version)
These vegan handheld pies are filled with a sweet and spicy mix of dried fruits and nuts, and they're the perfect treat for any occasion and on Christmas day!
Ingredients
Pastry:
2

cups

all-purpose flour

2

stick

vegan butter

unsalted

salt

pinch

3

tbsp

flax seed meal

stir into 3 tbsp of warm water

water

cold
Vegan mince meat:
2

cups

tofu

minced

1

medium

carrot

minced

1/2

cup

nuts

1

tsp

cinnamon

ground

1/4

cup

raisins

confectioners' sugar

for sprinkle
Instructions
Make the pastry:
In a large mixing bowl, mix together the all-purpose flour, vegan butter, and kosher salt.

Then add the flax seed meal and water at a time. Mix them well until everything is incorporated.

Wrap the dough with plastic wrap and refrigerate for 20 to 30 minutes.
Prepare the vegan minced meat:
In a food processor, pulse together the tofu, nuts, vegetables, and spices until crumble then stir the raisins and transfer them into a jar. Set them aside.
Now, it's time to assemble:
Preheat the oven to 300°F and dust with flour the muffin tin.

Cut the dough into circles and line them to the muffin tin. Cut the remaining dough into stars.

Using a spoon, fill the dough with prepared vegan minced meat and covered it with stars dough; repeat on the remaining dough.

Bake for 20 minutes or until golden brown. Remove from the oven and allow them to cool.

Sprinkle with confectioners' sugar. Serve and enjoy!
Nutrition
Calories:
3065
kcal
Carbohydrates:
231
g
Protein:
80
g
Fat:
204
g
Saturated Fat:
45
g
Polyunsaturated Fat:
60
g
Monounsaturated Fat:
85
g
Trans Fat:
1
g
Sodium:
1834
mg
Potassium:
1890
mg
Fiber:
21
g
Sugar:
9
g
Vitamin A:
18832
IU
Vitamin C:
4
mg
Calcium:
315
mg
Iron:
22
mg
For More Vegan Holiday Recipes
I've provided a list of vegan dishes that are all made completely of ingredients from plants. Additionally, they make a wonderful addition to any vegan dish. These are tasty even for meat eaters, and for more vegan recipes subscribe to our newsletter.
Cherry Chocolate Muffins Vegan
Try This Mince Pie Today!
If you're looking for a delicious and unique pie this holiday season, look no further than the British mince pie. This sweet and savory dish is sure to please everyone at your holiday gathering. So why not give it a try? You may just find that you love it as much as we do!
Connect With Us
If you tried this British Mince Pie take a ?  and tag us on our social media: Facebook, Twitter, and Pinterest, and subscribed to our YouTube Channel. I'd be delighted to see it!
To make sure you don't miss any recipes, remember to subscribe to our email newsletter which will be delivered to your inbox every week. ? In addition to this, if you are looking for vegan baking recipes visit Best Baking Tips they also published a lot of healthy baking recipes
Read More