Vegan Globetrotter is supported by our audience. When you purchase through one of our links, we may earn a small affiliate commission.  As an Amazon Associate I earn from qualifying purchases. Your cost is not affected.
==================
Orange Mustard (Vegan Dijon Vinaigrette)
This Orange Mustard (Vegan Dijon Vinaigrette) recipe will quickly become a favorite if you need a quick oil-free and fat-free vegan salad dressing. The majority of salad dressing recipes use oil as a base, which adds a lot of fat as well as flavor. This one, however, is different because it uses rice vinegar instead of white vinegar for a delicious, tangy, and fat-free dressing that you can make over and over.
This salad dressing is adaptable and goes well with a variety of salads. Because of the Dijon and vinegar, the flavor is slightly tangy, but the latter also adds a hint of sweetness. A vinegar-based salad dressing may come as a shock if you're used to creamy, heavier-tasting salad dressings like blue cheese or ranch.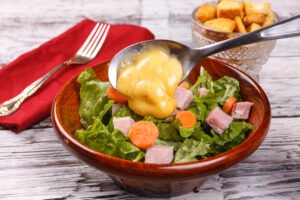 Varieties
The type of vinegar you use in this recipe is up to you. Use apple cider vinegar instead of rice vinegar for a more refreshing and tangy rendition.
For a different take on this mustard-flavored dressing, try using infused vinegar (lemon is particularly good).
Feel free to add or substitute finely minced shallots for the minced garlic.
You can add a couple of teaspoons of honey to this dressing if you're not on a vegan diet.
If you have any finely chopped fresh herbs on hand, feel free to use them. Combine parsley, chives, or thyme, or use a combination of all three.
Recipe Tips
Aside from dressing your favorite fresh green salad, salad dressing can be used in a variety of ways. Use a salad dressing to dress a side dish of fresh steamed vegetables like broccoli as well as kale, or even frozen vegetables straight from the bag.
Well with the addition of any salad dressing, you can make a simple vegetarian pasta salad out of any leftover cooked pasta and some vegetables, or a high-protein bean salad out of the same method.
Are you having a cookout? Use this dressing to marinate tofu or seitan for grilling, or drizzle it over a baked potato or oven-roasted new potatoes. It's a quick and simple way to jazz up a side dish.
What's The Best Way To Make  Creamy Orange Mustard?
Emulsify the salad dressing to make it extra creamy. Becau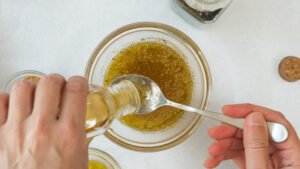 se dijon mustard is a natural emulsifier, thoroughly whisking the mixture should suffice.
Pro tip: Instead of mixing, use your immersion blender or food processor to take it to the next level. I don't do this very often because it seems time-consuming, but when I do, the results are always fantastic.
It also purees the minced garlic, resulting in a completely smooth dressing. This is entirely optional and will have no bearing on the outcome of the recipe.
Try Our Orange Mustard Salad Dressing Recipe: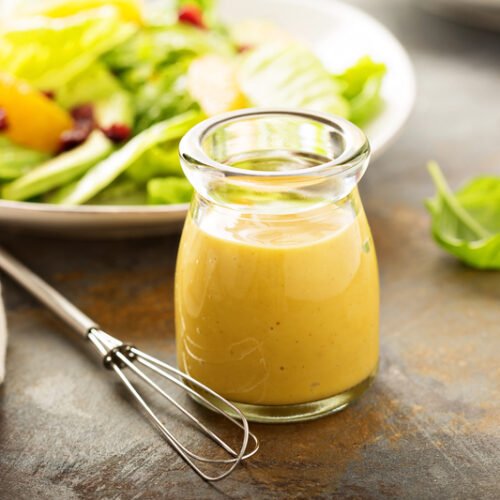 Orange Mustard (Vegan Dijon Vinaigrette)
With only four ingredients, you can make classic Orange Mustard (Vegan Dijon Vinaigrette) in minutes. Vegetables, salad, sandwiches, and other dishes will benefit from this zesty dressing and marinade.
Ingredients
4

oz

rice vinegar

1

tbsp

dijon mustard

2-3

cloves

garlic

minced

kosher salt

to taste

black pepper

to taste
Instructions
Collect the necessary ingredients.

In a small mixing bowl, combine all of the ingredients.

Whisk together to completely combine.

Season to taste and adjust seasonings as needed.

Use as preferred and have fun with it!
Nutrition
Calories:
8
kcal
Carbohydrates:
1
g
Protein:
1
g
Fat:
1
g
Saturated Fat:
1
g
Polyunsaturated Fat:
1
g
Monounsaturated Fat:
1
g
Sodium:
35
mg
Potassium:
9
mg
Fiber:
1
g
Sugar:
1
g
Vitamin A:
2
IU
Vitamin C:
1
mg
Calcium:
5
mg
Iron:
1
mg
I sincerely hope you enjoyed this salad dressing!
If you enjoyed it, please give it a star rating and comment below so that others can find and enjoy it as well.
READ MORE:
Raspberry Vinaigrette Dressing
Poc-Chuc, Signature Dish of the Yucatan