Vegan Globetrotter is supported by our audience. When you purchase through one of our links, we may earn a small affiliate commission.  As an Amazon Associate I earn from qualifying purchases. Your cost is not affected.
==================
Vegan Ranch Dressing, Healthy Style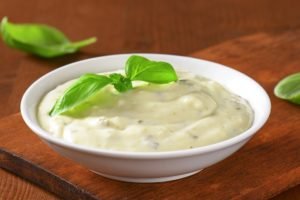 While Ranch Dressing often is loaded with dairy fat, cholesterol, and unhealthy additives, our Vegan Ranch Dressing is super healthy and delicious! We've reconfigured our recipe to offer a very healthy and flavorful version. Enjoy this on a salad, or with our, Buffalo Cauliflower Bites for a great Buffalo Wing replacement.
Our vegan ranch dressing recipe calls for raw cashews. If you prefer, you can substitute cashew butter or silken tofu for the base. Many recipes suggest soaking the cashews and while this does help them blend more smoothly if you are short on time, it does work with unsoaked cashews.
As always, consider this a starting point. Adjust the flavors to suit your taste buds!
Ingredients
3/4 cup raw cashews (soaked for 3-4 hours, if you wish)
1/4 cup sunflower seeds
3/4 cup unsweetened soy milk (or your favorite plant milk)
1/4 cup lemon juice
2 tablespoons white wine vinegar
1 teaspoon onion powder  (or use 1/4 cup chopped scallions)
2 cloves of garlic, chopped (or 1 teaspoon garlic powder)
1 teaspoon dried dill weed
2 teaspoons dried parsley
1 teaspoon dried basil
1/2 teaspoon black pepper
1 tablespoon nutritional yeast
Directions:
In a blender, combine the cashews, seeds, and milk. Blend until smooth. Add remaining ingredients and continue blending until well mixed. Chill until ready to use.
Simple, yet Delicious Vegan Ranch Dressing
Yes, it really is that simple! Blend together, chill, and enjoy! Our low-carb vegan ranch dressing can be enjoyed by Keto diet friends, diabetics, and those just looking for a delicious, healthy dressing or dip.
Suggestions:
Looking to dress up your dressing or dip? While our vegan ranch dressing is delicious as is, we often customize it to our taste of the day!
Longing for a cool cucumber flavor? Peel and slice a cucumber. Blend it with the cashews. Increase the dill, if you like, too!
For a zesty dressing or dip, consider adding a bit of cayenne pepper and paprika with the herbs.
Smokey bacon soy bits provide a great dressing that tops a salad or even your favorite veggie burger.
Read More: