Vegan Globetrotter is supported by our audience. When you purchase through one of our links, we may earn a small affiliate commission.  As an Amazon Associate I earn from qualifying purchases. Your cost is not affected.
==================
Vegan Tofu Ranch Salad Dressing (Oil-Free Optional) 
When you hear the word tofu, what is the first thing that comes to mind? Well, for me the first thing that comes to my mind tofu is healthy, plant-based, vegan, and adaptable food. It can be prepared in a variety of ways, including mixing with vegetables, roasting tofu, or substituting for meat. But this time we will make salad dressings that are made with silken tofu. Yes, you read it right!
This vegan tofu ranch salad dressing (oil-free optional) will perk up your favorite greens. Vegan tofu ranch salad dressing is based on silken tofu and is ideal for dipping everything from peppers and carrots to cherry tomatoes and radishes. It's filled with herbs, delicious, and can be made oil-free. Dressings that are made at home are healthy than store-bought one, especially this vegan tofu ranch dressing because you can control the amount of the oil and you can substitute any vegan ingredients based on your liking.
Ingredients You Will Need
The best part about this homemade vegan tofu ranch salad dressing is that the majority of the ingredients are pantry staples. You probably already have the oil, vinegar, and spices in your cupboard, so tofu is the only thing you'll need on your next shopping trip!
Silken Tofu: Use silken tofu instead of firm tofu to become more creamy and silky.
Olive Oil: You can substitute water with little oil, or extra virgin oil.
Garlic Powder: Can be used with garlic cloves.
Onion Powder: You may use fresh slices of onion.
Apple Cider Vinegar: If you don't have apple cider you can substitute red wine vinegar or white wine vinegar.
Fresh Herbs: Such as parsley, tarragon, dill, or use dry oregano.
Kosher Salt: Add a few pinch of them for a good taste.
Seasoning: You can also use any vegan seasoning.
Soy Milk: Add for your desired consistency.
Vegan Globetrotter Tips
I recommend using extra virgin olive oil for its health benefits and low acidity.
Other herbs you can try are cilantro (for a Mexican touch), plus a few jalapeño slices, fresh basil, fresh dill, and so on.
This dressing can be added to 2 tablespoons of white miso paste for more depth, such as to make a "dip."
Storage Tip
Vegan tofu ranch salad dressing should be kept refrigerated in a sealed jar. It will keep for up one to week.
For More Tofu Recipes
Are you excited to make this salad dressing? A vegan tofu ranch salad dressing recipe card is included below. Simply follow the instructions to make this versatile dressing!
Try Our Vegan Tofu Ranch Salad Dressing: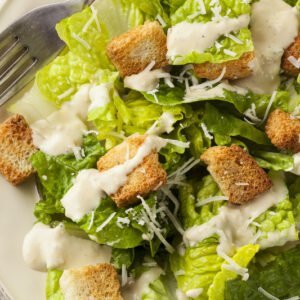 Vegan Tofu Ranch Salad Dressing (Oil-free Optional)
This low-fat silken tofu ranch is flavorful with fresh parsley. It's zesty, rich in proteins, and ready to serve in 10 minutes.
Ingredients
1

carton

silken tofu

2

tbsp

olive oil

extra-virgin

2-3

tbsp

apple cider vinegar

1-2

tbsp

onion

powder

2-3

tsp

garlic

powder

1

tsp

seasoning

Mrs. Dash, original

3

tbsp

parsley

fresh

kosher salt

to taste

soy milk

your desired consistency
Instructions
In a food processor, combine all the ingredients. Blend well.

Serve with your choice of salad or favorite vegan air-fried recipes. Enjoy!
Nutrition
Calories:
285
kcal
Carbohydrates:
7
g
Protein:
1
g
Fat:
28
g
Saturated Fat:
4
g
Polyunsaturated Fat:
3
g
Monounsaturated Fat:
21
g
Sodium:
11
mg
Potassium:
191
mg
Fiber:
3
g
Sugar:
1
g
Vitamin A:
1095
IU
Vitamin C:
19
mg
Calcium:
111
mg
Iron:
3
mg
If you make this vegan tofu ranch salad dressing share with us your experience and tag us on our social media page.
READ MORE:
How to Make Crispy Pan-Fried Tofu
Meat Substitutes, Recipes We Use
Silken Tofu-Guide To Do with Them