Vegan Globetrotter is supported by our audience. When you purchase through one of our links, we may earn a small affiliate commission.  As an Amazon Associate I earn from qualifying purchases. Your cost is not affected.
==================
Thousand Island Dressing
This vegan Thousand Island Salad Dressing is easy to make and tastes just like the original. It's flavorful, tangy, and sweet. This only requires one bowl and five minutes to make this healthy vegan dressing. It's nut-free, dairy-free, gluten-free, and oil-free! This dressing is made with ingredients that you almost certainly already have in your kitchen. We think this is so much better than the Thousand Island dressing from the store.
Thousand Island Dressing already exists. This dressing was named after Thousand Island, New York, where it was first created. However, greats about its origins abound, and it's possible that it was inspired by a similar French dressing.
In this recipe, we make them vegan. I can confidently say that no one will ever know that it's vegan or nutritious! It's frighteningly close to the real thing. It is simple to make.

How To Make:
Simply combine the ingredients in a mixing bowl.
Taste and adjust as needed.
Store in the fridge until readily available to use.
I told you it was simple.
Don't be afraid to experiment with the ingredients to see what works best for you.
How To Store:
It can be stored in the refrigerator for up to ten days. To be honest, it won't last long in our house because it disappears so quickly.
It may thicken as it sits, so just stir in a little water and you're good to go!
Vegan Dressings with a Twist
If you like this Vegan Thousand Island Dressing recipe, try any of these other salad dressing recipes. They're all plant-based, oil-free, tasty, nutritious, and simple to prepare.
Try Our Thousand Island Dressing Recipe: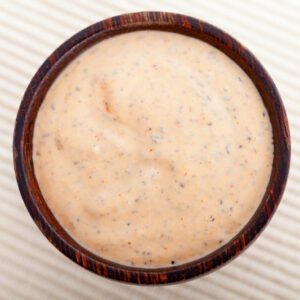 Thousand Island Dressing
In 6 minutes, you can make a delicious vegan thousand island dressing. An easy 6-ingredient recipe that can be used as a salad dressing, topping, or dip.
Ingredients
8

oz

mayonnaise

vegan

3

oz

ketchup

⅓

tsp

onion powder

optional

kosher salt

2-3

tbsp

sweet pickle relish

optional
Instructions
In a mixing bowl combine all the ingredients. Add sweet prickles, if desired. Mix well till creamy and smooth.
Nutrition
Calories:
168
kcal
Carbohydrates:
3
g
Protein:
1
g
Fat:
17
g
Saturated Fat:
3
g
Polyunsaturated Fat:
10
g
Monounsaturated Fat:
4
g
Trans Fat:
1
g
Cholesterol:
10
mg
Sodium:
246
mg
Potassium:
33
mg
Fiber:
1
g
Sugar:
3
g
Vitamin A:
95
IU
Vitamin C:
1
mg
Calcium:
4
mg
Iron:
1
mg
Leave a comment below and rate the recipe on the recipe card if you make this vegan thousand island dressing.
Also, please share your photos on our social media with me. I enjoy looking at your recreations!
READ MORE:
5 Delectable Uses of this Dressing