Vegan Globetrotter is supported by our audience. When you purchase through one of our links, we may earn a small affiliate commission.  As an Amazon Associate I earn from qualifying purchases. Your cost is not affected.
==================
Vegan Ranch Dressing
This vegan ranch dressing is a great alternative for those who can't or don't want to eat eggs or dairy. Our easy ranch dressing recipe is creamy and delicious, with the right blend of seasonings, and it might just make you stop buying packaged ranch dressing. Our ranch dressing, made with vegan mayonnaise, herbs, and seasonings, has the perfect mouthfeel and bold flavors you'd expect from the ranch. This sauce is great for dipping chips and crudités, but it can also be used as a salad dressing. Furthermore, it keeps well in the refrigerator, so you can make it ahead of time and eat it throughout the week—if you can resist eating it all in one sitting!
You'll never buy anything from a store again. It's incredibly tasty, and the ingredients are far superior. Some store-bought vegan ranch dressings have an odd flavor to them. Let's be honest. This recipe tastes exactly like the original. No, I'm not some sort of dressing wizard. It's all about finding your favorite vegan mayo and seasoning it correctly.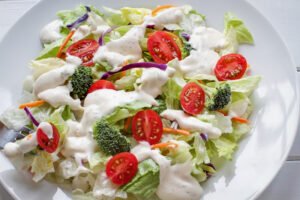 Vegan Ranch Dressing: How to Make It
This vegan ranch's instructions are as simple as mixing all of the ingredients together. To achieve the desired consistency, add more (or less) non-dairy milk. You can eat it right away, but the flavors really come out after it sits in the fridge for a couple of hours.
Vegan Ranch Dressing: How to Use It
Vegan ranch goes well with a variety of vegan dishes, or as a dip for veggies or snacks. Other ways to make the most of this tasty dressing are as follows:
To make a quick and delicious vegan pasta salad, combine your favorite cooked pasta with vegan ranch, finely diced peppers, red onions, black olives, cherry tomatoes, and diced celery. Similarly, it can be used to make a vegan potato salad with cubed cooked potatoes and other vegetables.
To make a deliciously creamy salad, pour a generous amount of dressing over chopped romaine hearts and top with vegan parmesan cheese. This dressing also goes well with radicchio and endives.
Serve the dressing alongside hot dogs or vegan burgers, or spread it on wraps and vegan sandwiches.
Make a refreshing rice salad with leftover rice, canned garbanzos, cooked peas and carrots, and ranch dressing.
To make a thicker dressing for vegan empanadas or turnovers, add a little more mayonnaise and less soy milk.
If you've never made homemade ranch before, get in your kitchen RIGHT NOW and make it!
Try Our Vegan Ranch Dressing Recipe: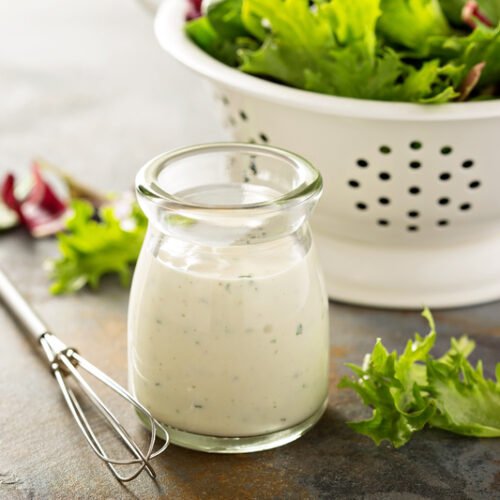 Vegan Ranch Dressing
Vegan Ranch Dressing is oil-free, smooth, and only requires ingredients and 1 bowl to make. For veggies, salad, and more, this dairy-free dressing is ideal.
Ingredients
2

oz

vegan mayonnaise

4

tbsp

soy milk

1-2

tsp

garlic

powder

1-2

tsp

onion

powder

kosher salt

to taste

black pepper

ground, to taste

2

tsp

vinegar

apple cider or white

1

tbsp

parsley

fresh, finely chopped

⅓

tsp

fresh dill

fresh or dried dill; finely chopped
Instructions
In a blender, combine all the ingredients, excluding the dill and parsley. Blend till creamy and smooth.

After they combined. Pulse in the dill and parsley till they are both minced.

Taste and adjust the seasoning as required.

Put in a small bowl then fridge.
Nutrition
Calories:
164
kcal
Carbohydrates:
2
g
Protein:
1
g
Fat:
16
g
Saturated Fat:
2
g
Polyunsaturated Fat:
1
g
Monounsaturated Fat:
1
g
Sodium:
146
mg
Potassium:
14
mg
Fiber:
1
g
Sugar:
1
g
Vitamin A:
64
IU
Vitamin C:
1
mg
Calcium:
11
mg
Iron:
1
mg
If you make this vegan ranch dressing, please leave a comment below and rate the recipe on the recipe card.
Also, please tag us in your photos on our social media pages. I like seeing your recreations!
READ MORE:
Vegan Ranch vs. Original