Vegan Globetrotter is supported by our audience. When you purchase through one of our links, we may earn a small affiliate commission.  As an Amazon Associate I earn from qualifying purchases. Your cost is not affected.
==================
Crispy Potato Vegan Cheese Sticks 
These Crispy Potato Vegan Cheese Sticks are delicious, crunchy, and melty inside with mozzarella cheese and marinara sauce. It's simple to make with a minimal bowl and requires only a few ingredients. -If you are looking for vegan potato cheese sticks, Well, this recipe is for you! You will enjoy eating this while chatting with your family, friends, even with your kids. Oh yeah, I'm sure with that. This is a good tasty treat for your snack, party games, kids, especially remembering St. Patricks Day in Ireland. We all know that potatoes are one of their traditional food of them. During St. Patrick's Day, you planted potatoes or any green veggies. But this time you will harvest them and cook them.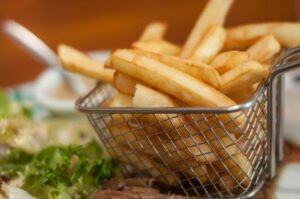 For a better taste don't forget to serve them with an oil-free marinara sauce. While making this article I craved this dish I am fond eating of potatoes. I wanna make this for my niece and nephew while watching Netflix movies or working from home. My tummy screams I want to eat this! I can prove that Irish folk has a better idea with making greeny dishes.
Why Eating Potatoes Are Healthy?
Eating potatoes are a healthy and a good source of fiber and gives antioxidants. It will help you to lose weight and can function your body properly. In addition, when you do have not enough potassium in your vegan diet potatoes are the best. We have potato recipes that are vegan too such as Pesto Potato Salad, Vegan Mashed Potatoes, Vegan Potato Soup- Our Recipe
I hope you will like them as much as you like these Cheese Sticks too.
Alternative or Substitution for Crispy Potato Vegan Cheese Sticks
Based on my research, some of our fellow vegan lovers are not familiar with or didn't know what can substitute for Agar Powder, Arrowroot Powder, and, Bread Crumbs. I have rounded up alternatives ingredients that are also gluten-free including:
For Agar Powder: You may use cornstarch these are the most readily available in the market and are also gluten-free.
For Arrowroot Powder: Most commonly used for binding and thickening are all-purpose flour.
For Bread Crumbs: Almond flour is great gluten-free and has a nutty flavor.
Crispy Potato Vegan Cheese Sticks Recipe:
Crispy Potato Vegan Cheese Sticks
This crispy-on-the-outside, gooey-on-the inside vegan cheese sticks, loaded with a delightfully mozzarella-like potato cheese, take a little forethought, but they're well worth the effort.
Ingredients
Ingredients:
2-3

lb.

gold potatoes

Yukon, peeled and cut into cubes

10

cups

unsweetened milk

plant-based; such as almond, soy, cashew, or rice

⅓

tbsp

agar

powder

3-4

tbsp

nutritional yeast

1

tbsp

white wine vinegar

1-2

tsp

lemon juice

½

small

garlic clove

minced

sea salt

to taste

black pepper

freshly ground

9

tsp

arrowroot

powder

6

oz

bread crumbs

whole grain

3

tsp

flax seeds

ground

Italian seasoning

to taste

paprika

to taste

8

oz

marinara sauce

oil-free
Instructions
Instructions:
In the large steam basket, put the potatoes steam for 15 minutes till soft.

Combine 6 oz milk and agar powder in medium heat, stir for 10 minutes.

In a food processor, put potatoes pulse till smooth.

In the potatoes add milk, vinegar, 1 tbsp nutritional yeast, lemon juice, garlic, salt, and black pepper to taste. Mix well till smooth and creamy.

In a prepared safe pan spread potato cheese. Set aside to cool. Place it in the freezer overnight.

Preheat the oven to 400°F. Whisk the arrowroot powder and the remaining milk until there are no lumps.

In a separate bowl, combine bread crumbs, nutritional yeast, Italian seasoning, paprika, salt, and pepper to taste. In a small bowl, put one-fourth of the mixture.

Get the cheese from the freezer and let set it aside till the paper easily peels away from the tray. When peeling, cut the cheese into thin sticks.

Coat the frozen cheese sticks in a milk mixture then roll them in the bread crumb mixture. Continue the dipping and rolling with each stick.

Bake for 22 minutes or till the cheese begins to peep out between the sticks. Don't over bake, they'll melt.

Serve with a dipping sauce made from marinara sauce.
Nutrition
Calories:
125
kcal
Carbohydrates:
19
g
Protein:
6
g
Fat:
3
g
Saturated Fat:
1
g
Polyunsaturated Fat:
2
g
Monounsaturated Fat:
1
g
Sodium:
170
mg
Potassium:
419
mg
Fiber:
3
g
Sugar:
2
g
Vitamin A:
302
IU
Vitamin C:
10
mg
Calcium:
176
mg
Iron:
2
mg
Conclusion
Therefore, eating potatoes are good for our body especially if you make this vegan dish you will definitely be even healthier. That's why potatoes are important to Irish folks.
Read More:
Potato Planting-St. Patrick's Day Tradition
Eating Potatoes on St. Patrick's Day
Connection of Irish Potato on St. Patrick's Day