Vegan Globetrotter is supported by our audience. When you purchase through one of our links, we may earn a small affiliate commission.  As an Amazon Associate I earn from qualifying purchases. Your cost is not affected.
==================
Vegan Mashed Potatoes
We truly value healthy and vegan mashed potatoes. Most mashed potatoes recipes feature milk and loads of butter. Indeed, the quite nutritious potato <see 11 Incredible Benefits Here> quickly becomes a health disaster using most recipes.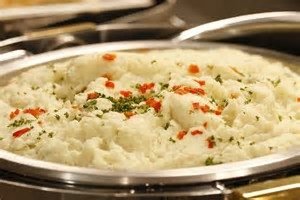 However, we choose to allow the potato to retain its health benefits. But we don't sacrifice flavor and texture. Yes, we want it all!
And, speaking of texture, many of us consider a creamy mashed potato essential. However, others prefer a thicker, chunkier style. Our recipe easily transitions to whichever preference your family enjoys. (see instructions)
Also, scroll beyond the recipe for some simple, yet tempting variations. In fact, we invite you to add your own personal touch. A simple mashed potato side dish easily rises to a starring role with a little tweaking.
and now, our recipe for Vegan Mashed Potatoes
INGREDIENTS
2 pounds potatoes
4 tbsp coconut oil (or substitute a nut or seed butter, such as tahini for a slightly different flavor)
3/4 cup unsweetened almond milk (or use vegetable broth)
1/2 tsp Himalayan salt (looking to replace salt? Try adding a 1/2 cup of celery, minced fine)
Ground black pepper to taste
Chopped chives
INSTRUCTIONS For Creamy Style Vegan Mashed Potatoes
Peel and chop the potatoes into small chunks.
Steam or boil them for 15 to 20 minutes or until they're soft.
In a saucepan, warm the milk or vegetable broth.
Place the potato chunks in a big mixing bowl and mash them. You might use an immersion blender, but you may use a fork or a potato masher instead.
Add the rest of the ingredients (except the chives) and mash again.
Add more pepper and the chopped chives on top (optional, but does add to flavor and presentation.
Other variations:

Cheesy! Try adding a half cup of nutritional yeast flakes for a cheesy vegan mashed potato.
Clouds: Form Chunky style into oval clouds. Make a small impression in the center and add a dollop of Vegan Sour Cream or a Vegan Cheese. Dress it up even more with a sprinkling of vegan bacon bits.
Twice baked: Pipe or drop into muffin cups. Bake at 325°f for about 10 minutes, or until lightly browned. Bake a little longer if you prefer a slight crust.
Mix in herbs of your choice to personalize your vegan mashed potatoes.
Prefer Chunky Style Vegan Mashed Potatoes? Read on!
Chunkier mashed potatoes or those "stick to your ribs" type that stay where you put them, rather than spreading out, are not difficult to attain. In fact, they might be easier than creamy style. But our family prefers them and many others do, too.
To create these thick vegan mashed potatoes that stay in place, simply reduce your liquid and oil quantities. We use about half the stated amount. (Small confession: We don't actually measure anymore, but mix in an amount that gives us the desired consistency.)
Then, be careful not to mash the potatoes completely. Leave the desired amount of chunkiness.
Prepare as for Creamy Vegan Mashed Potatoes. Enjoy!