==================
A Caveat and Affiliates
First off, a little caveat: within my articles you will find affiliate links, meaning if you buy them, I get a small commission. Your cost is not affected. In addition, I am an Amazon Associate and I earn from qualifying purchases on Amazon.
And yes, if I say that I recommend a product here, it means I truly believe it is a good product. I refuse to recommend any product that I have not researched and believe to be a good value. Even better, I provide you with a very clear picture of the product, it's use, and the probable value. Earning your trust is important to me. I run this website myself and the commissions and donations help support the site. Sound reasonable and fair enough? Let's continue to the article.
==================
Japanese Udon Noodle Soup (Vegan)
A staple of Japanese cuisine, udon noodles deliver a light but flavorful addition to Japanese Udon Noodle Soup. These noodles made from wheat provide a thick yet silky texture. Use them in this soup recipe, or another of your choice. We recommend soups with thinly sliced vegetables, soy, rice vinegar, and ginger. And of course, don't forget that very important umami flavor brought by mushrooms.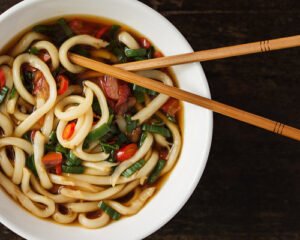 This Japanese Udon Noodle Soup recipe delivers all the flavor, in a plant-based version. We think it helps the vegetables stand out on their own. But of course, they sing with the vegan noodles.
Need a special side dish? Consider a bowl of simple brown rice, perhaps with some extra vegetables added. While we are partial to this Veggie Rice recipe, (scroll down after the Japanese Udon Noodle Soup recipe) you might enjoy keeping it even simpler. The choice is yours!
Where to get Udon Noodles?
Of course, fresh noodles are always best. And you can make your own (our recipe coming soon!) But when you cannot find them locally, these dried noodles cook up wonderfully flavorful. You might want to keep a few extra on hand for stir fries, noodle bowls, and yes, Japanese Udon Noodle Soup!
And now, the Japanese Udon Noodle Soup Recipe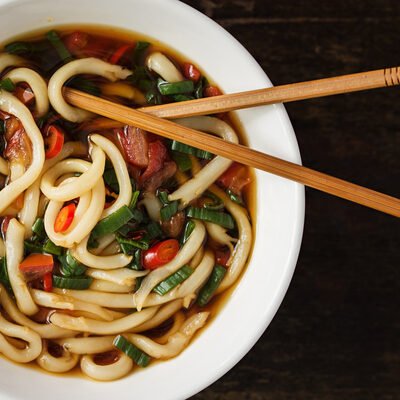 Vegan Udon Noodle Soup
When you need some satisfying Japanese style noodle soup, try this recipe. For this classic Japanese-style Udon Noodle Soup, you'll need some Asian ingredients. If you grocery doesn't carry them, check out our links to online sources.
Ingredients
4

ounces

udon noodles

1

tablespoon

sesame oil

2

tablespoons

garlic

minced fresh

1

tablespoon

ginger

grated fresh

½

cup

red bell pepper

thinly sliced

1

Quart

vegetable broth

2

tablespoon

rice vinegar

1½

tablespoons

vegetarian oyster sauce

2

tablespoon

soy sauce

divided

3

cups

cremini mushrooms

sliced

2

cup

carrots

diced

2

heads

baby bok choy

cut into 1-inch pieces (or spinach, if you prefer)

½

cup

warm water

1

tablespoon

white miso

(see Tip in notes)

14

ounces

tofu

extra-firm, drained and cubed (one package)

½

cup

scallions

4 medium, thinly sliced

1

Tablespoon

Wakame

crumbled (or Nori, if you prefer)
Instructions
Cook noodles according to package directions; drain and set aside.

Meanwhile, heat sesame oil in a large pot over medium heat.

Add garlic,aginger and bell pepper; cook until fragrant, about 1 minute.

Add broth, rice vinegar, oyster sauce, and 1 Tbsp. soy sauce; bring to a simmer.

Stir in mushrooms and carrots; simmer until the carrots are just tender, 3 to 6 minutes.

Stir in bok choy and cook until the vegetables are tender, about 2 minutes more.

Whisk warm water and miso in a small bowl until smooth; add to the pot.

Stir in tofu and cook until heated through, about 1 minute.

Stir scallions into the soup. Divide the noodles and the Wakame among 4 bowls. Ladle the soup over the noodles. Drizzle each bowl with 1/4 of the remaining soy sauce.
Notes
Tip: Miso is a fermented soybean paste that contributes a deep, rich umami flavor. White miso is a sweet variety made with soy and rice. Look for it in the refrigerated section of well-stocked supermarkets, near the tofu. It will keep in the refrigerator for at least a year.
Nutrition
Calories:
551
kcal
Carbohydrates:
101
g
Protein:
29
g
Fat:
5
g
Saturated Fat:
1
g
Polyunsaturated Fat:
2
g
Monounsaturated Fat:
1
g
Sodium:
2195
mg
Potassium:
576
mg
Fiber:
11
g
Sugar:
19
g
Vitamin A:
11934
IU
Vitamin C:
49
mg
Calcium:
237
mg
Iron:
6
mg
As Promised, Our Veggie Rice Recipe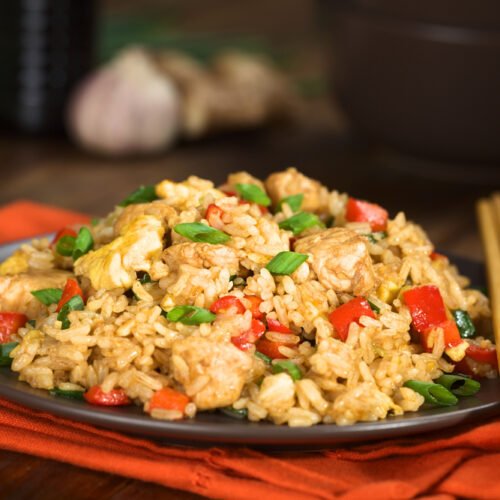 Veggie Rice
a quick meal with rice, veggies, and bean sprouts
Ingredients
½

cup

cooked brown rice

1

cup

frozen mixed vegetables

½

cup

edamame beans

or use tofu cubes

1

cup

mung bean sprouts

2

tbsp

vegetable broth

1

tbsp

soy sauce

2

tbsp

sesame seeds

1

tsp

seaweed crumbles

Nori, Wakame, or your favorite
Instructions
In a wok or on a griddle, heat broth or oil, then add seasonings. Stir to heat.

Add rice and vegetables. Stir lightly to warm thoroughly.

When hot, add the bean sprouts.

Cook, stirring to mix, just until sprouts are hot.

Add soy sauce. Top with sesame seeds, and serve immediately
Nutrition
Calories:
455
kcal
Carbohydrates:
66
g
Protein:
25
g
Fat:
14
g
Saturated Fat:
2
g
Trans Fat:
1
g
Sodium:
1225
mg
Potassium:
1069
mg
Fiber:
17
g
Sugar:
7
g
Vitamin A:
9329
IU
Vitamin C:
37
mg
Calcium:
277
mg
Iron:
8
mg
Have you tried the Japanese Udon Noodle Soup?
Please let me know how yours was. You may leave a comment in the section below.
Read More: