Vegan Globetrotter is supported by our audience. When you purchase through one of our links, we may earn a small affiliate commission.  As an Amazon Associate I earn from qualifying purchases. Your cost is not affected.
==================
Best Woks to Use
Shopping for the best woks to buy is not as easy as you may think. Also, you have to do a lot of research on what will work for you, what you need, the best wok to use that you can get for your limited budget, what material is suitable for you, etc. But that's alright; that's what I'm here for.
Today, I'm teaching you how to buy suitable quality woks and where you can buy them. If you're too excited and just want to head right on, you can find that section here. Otherwise, come with me as I guide you on how to pick the best for you.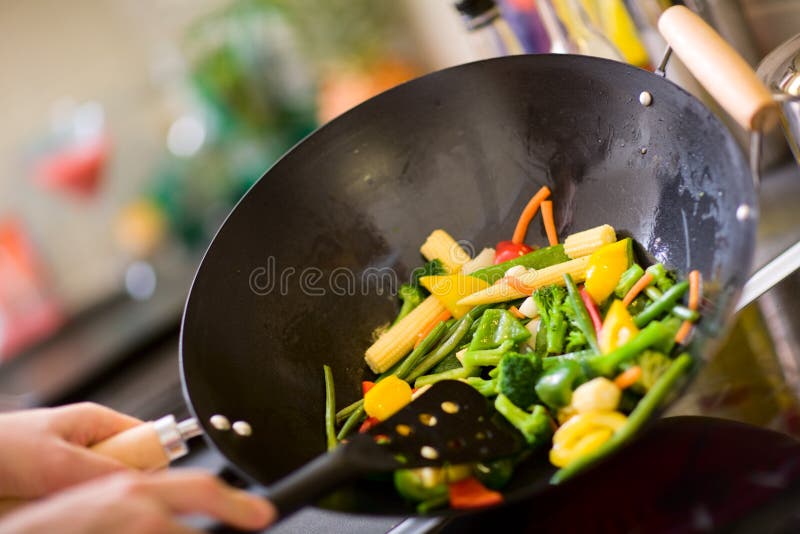 How to Buy Quality Wok
If we're honest, maybe all you need in your kitchen is a wok to cook almost all your dishes. The versatility of this thing cannot compare to any other cooking pan because it allows you to stir-fry, deep-fry, pan-fry, boil, steam, stoke, or do anything under the sun with your food. Some people even use woks for baking!
Knowing that you're possibly going to work with your wok a lot, you should choose a good woks to buy with a good quality and worth the price you're paying. How do you do that? I'm going to teach you how.
Choose the wok material that will work for you.
You can choose from three options: a carbon steel woks, a cast iron woks, or a stainless steel woks. Each of these materials has their pros and cons, which is why I suggest you do a little research on which one you prefer. I have another article that explains the differences between these materials.
Be careful in choosing the material for your wok as they have their distinct characteristics. The critical thing to remember is that you should look for a material that will allow your wok to heat up faster and evenly. You might also want to consider the weight and durability of the material you're going to use.
Should you get a Northern-style wok or a Cantonese-style wok?
That's a great question. I'm sure you're wondering, "What is the difference between a Northern-style and a Cantonese-style wok?" The style of your wok speaks mainly of the handle that the wok has.
Northern-style woks typically have a long handle on one side of the wok, and a loop handle directly across it. This is an excellent option if you're cooking a large amount of food as it gives you full command of the wok. 
On the other hand, a Cantonese-style wok has two loop handles on either side of the wok. I don't recommend this handle style unless you're only cooking for a small batch and won't do a lot of tossing with the wok.
Decide whether you want a flat or a round bottom.
This is a necessary choice to make that depends on the type of cooktop that you have. If you use a gas burner, you're safe to use a round-bottom wok or your best woks for gas stove as it won't damage your wok ring and stove. However, if you use a modern electric or induction cooker, buy a flat-bottom wok so the heat won't reflect and damage your stove.
Are you getting a non-stick wok or not?
Are you planning to cook foods under high temperatures? If so, I advise you not to use non-stick woks. This is because high heat tends to melt the non-stick surface coating of the wok, which can pose health threats when mixed with food and damage the wok itself.
You can still make your wok non-stick without the chemical coating, though. You can do that by seasoning your wok before using it. If you're interested in learning how to season a wok, you can find the previously written article.
Size matters even in woks. You need to know how big of a wok you need so you don't accidentally buy one that's either too small or too big. Ask yourself this, "How many people am I cooking for?"
Once you know the answer to that question, it's time to pick your wok size. The most commonly used measures of woks are 12 and 14 inches in diameter. However, some woks are as small as 8 inches, like the wok from Ecolution that I will talk about here.
And you're done assessing your needs for a wok. Now, it's time to find woks that will suit your needs and satisfy your demands. To help you with that, here is a list of the best woks on Amazon that I recommend.
The Best Woks in the Market
You can thank me later once you've found the right wok from this list of great buys I'm going to show. These woks are proven and tested to serve you well in the kitchen for quite a long time. The best thing about these wok pans is that you can find them all on Amazon, no problem!
Cooking from home? Then, it seems like you've found the perfect size of wok that suits your kitchen needs. This carbon steel wok from Ecolution is reliable cookware that offers sizes as small as 8-inch diameter, suitable for home cooking. Professional cooks typically use woks in the sizes 12-14 inches, which may be too big for non-professionals.
The sizes for the Ecolution wok are 8 inches, 12 inches, and 14 inches. The riveted handles for each wok size vary, with the 8" and 12" woks having a long handle and the 12" inch wok having both a long-handed handle and a helper handle. The products all come in this beautiful, shiny black color and are all non-stick.
A great feature of these Ecolution woks is their flat base, designed to provide balance and increased safety when cooking. They are also safe to put in the dishwasher, making them easy to clean and maintain. Lastly, the manufacturer claims that the woks are suitable for cooking equipment, such as electric, gas, and glass-ceramic stovetops.
pros of this product?
They are incredibly cheap. You can get the smallest size for only $27.08.

There are three available sizes (8", 12", 14"), which allow you to buy the wok that suits your needs.

It comes as a non-stick wok pan, so you don't have to season it before using it. It will save you a lot of time.

The flat base makes for a safe cooking pan as the shape increases balance.

You can use them on a lot of different stovetops.

They are easy to clean as they are dishwasher-safe.
cons of this product?
Because the wok is made from carbon steel, it is pretty heavy and difficult to maneuver.

Buyer reviews say that the non-stick coating fades quickly, causing rust and food to stick to the pan.
If you want a touch of authenticity to your home-cooked or even professionally cooked Asian meals, why don't you check out this Gold Dragon Wok Set? It's a carbon steel wok with a diameter of 12.5 inches. The wok comes with a wooden spatula, a detachable wooden handle, and a wooden lid for an affordable price of $47.86.
Its flat bottom makes it suitable for use on any cooktop, like an electric burner, a gas stove, a ceramic, or an induction cooktop. This makes it the perfect choice for any occasion. The sloping edges of the wok make it ideal for rapidly tossing and turning food while infusing it with scorched flavor and avoiding overcooking ingredients.
Other features of this Gold Dragon include a spout for easy pouring and oven-safe design, a non-stick coating, and premium hammered carbon steel. The overall design of the wok is patterned from the traditional Chinese wok, so you know you're getting the authentic experience. What do you think of this wok?
pros of this product?
 It is relatively cheap, only amounting to $47.86 for a set of four.

The detachable cherry-wood handle allows you to use the wok for baking.

The manufacturer gives a lifetime warranty for the product.

It has a non-stick coating, so there's no need to season the wok before use.

It has impressive reviews on Amazon (4.9 out of 5 stars), proving the product's value.

Reviews claim that the wok is insanely easy to clean due to the smooth, non-stick surface of the wok.
cons of this product?
  The manufacturer offers only one size, which is 12.5 inches.
Looking for a package deal that will genuinely help you save money? Try this wok and cookware package from Anyfish. The package comes with a 12.5-inch diameter carbon steel wok with a lid and eight utensils, namely a spaghetti claw, skimmer spoon, egg beater, slotted turner, rice spoon, ladle, and locking food tong, which is made from stainless steel.
The wok has a detachable handgrip, making it suitable even for baking. The wok's surface is coated with a non-chemical non-stick formula that will make cooking easy for you. If that's not good enough, Anyfish wok weighs only 2.7 lbs. despite being made from carbon steel, so it's easy to toss and maneuver the wok.
This package comes in at a meager price of only $34.99, which you can consider as a bargain considering that you get nine products! The manufacturer guarantees the durability, quality, and high performance of the wok. It is also easy to clean as all you need is warm water and a soft dish-brush to clean this Anyfish wok.
How to maintain this carbon steel wok?
To take care of your carbon steel wok, here are some valuable tips:
Avoid using a harsh abrasive detergent or a metal sponge on a carbon-steel wok since this may strip the pan's seasoning.

Wok owners should avoid using the dishwasher for cleaning because the dishwasher's liquid will be harsh on the wok's patina coating.

If your wok acquires rust in the dishwasher, take extra care to clean it with warm water. You will then need to season it again. To avoid rust, make sure the wok is completely dry before using it.

There's no need to worry if your wok is rusty or burnt or if you've created black clots from using acidic things like vinegar. Simply rinse it with warm water and re-season it to function.

After cooking, you should not place any clothing on the bottom of the wok because of the risk of it sticking to the wok's bottom.
pros of this product?
This package deal is the proper bang for the buck! Aside from a carbon steel wok, you get eight utensils and a wooden lid.

The products garnered great reviews from the buyers (4.7 out of 5 stars).

It is easy to clean and maintain.

The flat bottom design of the wok makes the pan sturdy and safer to use.

It only weighs 2.75 lbs., making it easy to move around when cooking.
cons of this product?
It requires seasoning, which can be difficult for wok beginners.

There is only one available size, which is 12.5 inches in diameter.
Whether you're a professional cook or cooking for a large family, you need this large carbon steel wok made in the USA. The wok is 14 inches in diameter with high, sloping walls to provide depth and eased containment for your food. If 14 inches is too big for you, there's also a 12-inch one.
The product features a flat bottom like the other recommendations here, allowing balance and safer use. Additionally, this design helps the wok become compatible even with electric cooktops aside from gas burners. Also, the wok has handles on both sides so you can fully command the wok when cooking. 
The difference between this wok from the modern wok pans we see today is that it does not have a non-stick coating. This means that you must season the wok before using it to avoid rust and damage. This 14-inch wok retails for $51.08 on Amazon.
pros of this product?
It is large enough for professional cooking and even home-cooking for big families or events.

There are two available sizes for the wok, so you can choose a wok that suits your needs.

It is made out of thick carbon steel that guarantees durability and prolonged use.

You can use the wok on gas or electric stovetops.

It has a flat bottom and two handles, which makes the wok easier to use.
cons of this product?
It doesn't come with a lid, so you'd have to buy a separate cover for the wok.

Because the wok is thick, it is also cumbersome and quite challenging to maneuver.

It requires seasoning, which would probably intimate many beginners here.
In case you haven't heard, modern woks are a thing now. This one from Presto is an electric stainless steel wok that comes with a heating element, which you can use to heat the wok and cook in it. It seems like people love this particular wok as it is the most popular product among our recommendations today.
The base of the heating element is aluminum-clad, which is the perfect material for quick and even heating. It can reach up to 1,500 watts, giving you the ideal temperature to stir-fry with when used on your stainless steel wok. The wok and heating element come with a wooden spatula and a glass lid for $72.90.
Only one size is available, which is 14 inches, and it weighs 5.25 lbs. The wok and the tempered glass lid are safe to put in the dishwasher, so cleaning and maintaining it won't be a pain in the butt for you. The wok has stainless steel loop handles on either side.
pros of this product?
It is so much cheaper than other modern electric woks in the market.

The wok is thick, durable, and long-lasting.

This popular product has fantastic reviews from the buyers (4.6 stars out of five).

You don't have to worry about using the right cooktop for the wok because it comes with a heating element.

It is large-capacity and has a wooden utensil and glass lid.
cons of this product?
The wok handles are stainless steel, so you have to be extra careful not to get burned. 

It is insanely heavy, which makes moving it around tricky.
Here we have another modern electric wok that its buyers love. The product uses a 1,500-watt butterfly heating element with fifteen precision settings and can heat up to 425 degrees Fahrenheit to heat the wok. Meanwhile, the wok itself is made out of stainless steel, so you can be sure that it will reach high temperatures quickly.
Wok dishes like stir-frying, steaming, braising, and shallow frying is easier to cook with this 1500-watt wok, which is 14 inches in diameter and keeps the heat close to the sides. The heating element heats the walls of the wok bowl like gas cooking. The product comes with a tempered glass lid.
This Breville electric wok is convenient to use and maintain as you can simply put it in the dishwasher when it needs to be cleaned. You can get this product for $110 on Amazon.
pros of this product?
It's fast-heating and has a heating element.

It has excellent reviews from the buyers (4.8 stars out of 5).

Breville electric wok has a large capacity, thanks to its 14-inch diameter.

It comes with a butterfly heating element and a glass lid that you can use with the wok.

The wok and the lid are safe to use in the dishwasher, which allows for easy maintenance.
cons of this product?
The item weighs a whopping 12.54 lbs., which will make it difficult to maneuver quickly and safely.

The price is on the expensive side of the scale.

There is no size range.
Modern woks aren't just electric-powered; we also have induction-powered in the market. This one from NuWave is the best induction wok you can get. The product comes with a carbon steel round-bottom, a tempered glass lid, and an induction cooker, all of which you can get for a price of $199.
Cooking on conventional gas or electric stove consumes additional energy. Meanwhile, the NuWave Mosaic heats a wok directly by using a set of magnetic coils, leading to a safer and more efficient cooking process. The induction's base is customized to precisely fit the carbon steel wok, and the wok's base provides complete coverage of the induction surface.
The induction cooker has an intuitive digital control feature that makes it easy to adjust time and temperature. It also has a pre-heat button, and you can program a maximum of ten cooking functions. If this isn't the most high-tech wok pan you've ever seen, then I don't know what is,
pros of this product?
The package contains carbon steel, a tempered glass lid, and an induction cooktop.

This has a long handle that makes it easy to toss food while stir-frying.

Because it comes with its cooker, you don't have to worry about finding a cooktop to accommodate your wok.
cons of this product?
This NuWave Mosaic costs a lot of money.

It only offers one size, which is 14 inches in diameter.
Conclusion:
All in all, there are a lot of options for you to choose from. It depends on what works best for you. So make sure to choose not because of the aesthetics and the price. I hope this article has helped guide you in buying the best for you. Let me know what you think.
Read More: