==================
A Caveat and Affiliates
First off, a little caveat: within my articles you will find affiliate links, meaning if you buy them, I get a small commission. Your cost is not affected. In addition, I am an Amazon Associate and I earn from qualifying purchases on Amazon.
And yes, if I say that I recommend a product here, it means I truly believe it is a good product. I refuse to recommend any product that I have not researched and believe to be a good value. Even better, I provide you with a very clear picture of the product, it's use, and the probable value. Earning your trust is important to me. I run this website myself and the commissions and donations help support the site. Sound reasonable and fair enough? Let's continue to the article.
==================
Split Pea Soup with Cauliflower
This is the coziest soup you will have on St. Patrick's Day! This Split Pea Soup with Cauliflower is ideal for cool spring St. Patrick's evenings. Whilst also Split Pea Soup is typically served with ham and/or bacon, cauliflower replaces the meat in this version. The first time I made this, I used whole coriander seeds instead of ground coriander, which was a huge mistake. Don't make that mistake, or your guests will be spitting coriander seeds out of their mouths. Oops. Whole coriander seeds are extremely potent and powerful. Keep it to the ground.
This soup is, in my opinion, the most comforting comfort food. When one is sick, soup is the ultimate comfort food. When you are cold, the soup will warm you up. Soup just seems to cure everything. When cooking this better to cook the split peas on the same day as the soup. Simply cook the dried peas for an hour in pot water.

Split Peas are Lentils?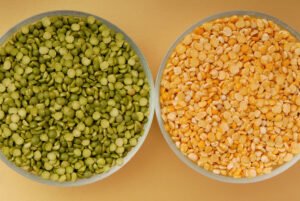 Split peas resemble lentils, but are they really split peas? Dried split peas can be preserved for up to 2 hours in the refrigerator. Split peas have a sweeter flavor than yellow split peas, and they're commonly used in soup. It is common for them to split naturally. We can use peas to produce casserole, hummus, and vegetable salad. Split peas are high in protein, fiber, potassium, magnesium, and iron, all of which are found in high concentrations in split peas. This vegetarian dish is not only healthy but also inexpensive.
Pro-Tips for Cooking Split Pea Soup
Sweating is a technique that combines steaming and sautéing.

The concept is that the vegetables "sweat," releasing enough moisture to soften and steam them in their own juices without the need for any additional liquid.

Cut the vegetables and sweat them in a dry sauté pan over medium heat.
If the vegetables begin to stick to the bottom of the pan, add a splash of water or vegetable broth.
You can also turn down the heat.
.
Warm your St. Patrik's Day by checking out our recipe below.
Split Pea Soup with Cauliflower Recipe: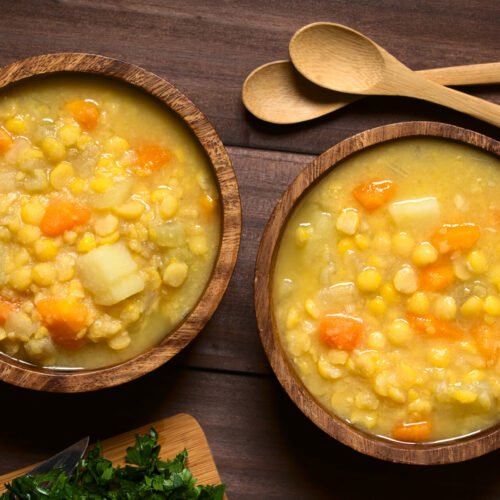 Split Pea Soup with Cauliflower
You will have comfort food for St. Patrick's Day! This split pea soup is creamier than you expected. They are healthy with chopped cauliflower.
Ingredients
Ingredients:
2-3

cups

green split peas

8-9

cups

low sodium broth

vegetabale or water

1-3

cups

cauliflower

chopped

2

carrots

diced

1

onion

diced

2

tsp

cumin

1-2

tbsp

coriander

2

tsp

garlic

granules

⅓

tsp

curry

½

tsp

garam masala
Instructions
Instructions:
In a pot with a lid, combine the split peas and vegetable broth or water, then reduce heat to medium-low and cook for 1 hour.

Sweat the cauliflower, carrots, and onions in a sauté pan, stir occasionally, till the cauliflower begins to brown and even the onions become translucent. (See note)

Then add the spices and cook for a couple more minutes, stirring frequently. Pour the veggies into the split peas.

Allow 30 minutes for the soup to simmer, or until it achieves the texture. Ready to serve! (See note)
Notes
If the vegetables begin to stick to the bottom of the pan, add a splash of water.
The longer the soup cooks, then the more split peas disintegrate and the soup will become creamier.
Nutrition
Calories:
1795
kcal
Carbohydrates:
292
g
Protein:
140
g
Fat:
18
g
Saturated Fat:
4
g
Polyunsaturated Fat:
5
g
Monounsaturated Fat:
7
g
Sodium:
752
mg
Potassium:
6436
mg
Fiber:
109
g
Sugar:
47
g
Vitamin A:
21311
IU
Vitamin C:
73
mg
Calcium:
430
mg
Iron:
25
mg
READ MORE
What Spices Go Well With Vegetables?
Vegan Holiday Roast: Seitan or Cauliflower?
Vegan Potato Soup Recipe – Comfort Food!
\Italian Lentil Soup, Mediterranean Cuisine