Vegan Globetrotter is supported by our audience. When you purchase through one of our links, we may earn a small affiliate commission.  As an Amazon Associate I earn from qualifying purchases. Your cost is not affected.
==================
Green Recipes For St. Patrick's Day
Looking for some fun Green Recipes for St. Patrick's Day ideal food? You've come to the right place! We have it all, from traditional Irish dishes to green kid-friendly St. Patrick's Day treats! Green Recipes for St. Patrick's Day began in Ireland and is now celebrated all over the world. Parades, parties, pints of Guinness beer, and all the wonderful traditional foods are held every March 17th to honor the Irish patron saint. The best of hearty, satisfying Irish cooking is showcased in these St. Patrick's Day recipes. They aren't all potatoes, either. From breakfast to dinner, here is a list of some of our favorite Irish foods that will ensure a good day. You'll also find delectable side dishes, dessert, and drink recipes, as well as other ideas to spice up your celebrations.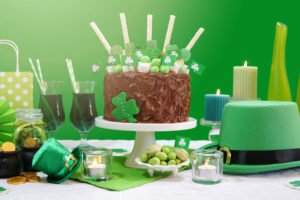 Try Our Green Recipes For St. Patrick's Day!
Are you stumped as to what to serve green recipes side dishes for  St. Patrick's Day? You can go completely insane and dye everything green (because that's exactly what they do in Ireland… no, not really). Alternatively, try one of the recipes below for something a little more authentic.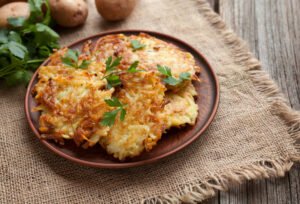 These easy-to-make plant-based version Leprechaun Potato Pancakes are perfect for your breakfast side dish. It has 6 only ingredients and 6 easy steps. they are the crispy, hot, and gooey recipe you've ever made with grated potatoes.
2. Garlicky Brussels Sprouts in Cheesy Sauce
These Garlicky Brussels Sprouts in Cheesy Sauce are quick and easy to make, taking only 15 minutes and only simple ingredients! They are a delicious and healthful side dish. This vegetable is eyecatching and creamy, and even your kids will be begging for more!
Herbed Fingerling Potatoes are lovely colorful potatoes fresh from the farm. Eye-catching and easy to make with simple ingredients. Serve with a fresh herbed or dried herbed. This is vegan-friendly it can be a substitute for french fries if you want your potatoes healthier than you thought.
.
Roasted Red Potatoes and Cabbage with Cilantro-Cashew Dressing are going to be your new favorite side dish since all you have to do is throw everything on a sheet pan and pop it in the oven for about 30 minutes and you're done.
Okay, so you've decided on side dishes for St. Patrick's Day. But how about an appetizer with an Irish influence? We've got a few simple appetizers that will go perfectly with your St. Patrick's Day
These Crispy Potato Vegan Cheese Sticks are delicious, crunchy, and melty inside with mozzarella cheese and marinara sauce. It's simple to make with a minimal bowl and requires only a few ingredients.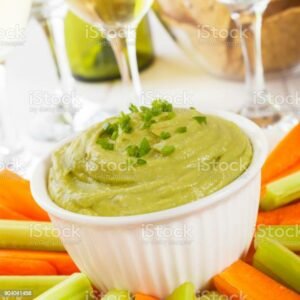 Dips are one of my favorite foods. But I prefer simple dips! Even nice, serve with a little dip! This Green Goddess dip took me about 5 minutes to make! This is a fantastic dip to make when you're short on time yet need to entertain!
Minted Green Pea Hummus is creamy and refreshing. Chickpeas, green peas, parsley, garlic, lemon juice, and fresh mint are used to make the dish. The nicest part about this dip is that it doesn't require any planning or preparation ahead of time.
This Spinach-Tomato Pizza is featuring green leafy spinach on top with sun-dried tomatoes. Moreover, the green effect of spinach is also one of the appropriate recipes for the celebration of St. Patrick's Day.
This is a great appetizer idea when looking for recipes for St. Patrick's Day. They are healthy, fun, and delicious. Filled with healthy veggies. So tasty! These collard green wraps are fantastic for a variety of reasons
These recipes for St. Patrick's Day offer a nice change of pace from your regular fare. While these aren't all traditional Irish breakfasts, they're all festive and a good way to start the holiday. Make a pot of green soup for your family to enjoy.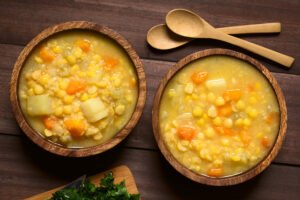 This is the coziest soup you will have on St. Patrick's Day! This Split Pea Soup with Cauliflower is ideal for cool spring St. Patrick's evenings. Whilst also Split Pea Soup is typically served with ham and/or bacon, cauliflower replaces the meat in this version.
This Super Greens Soup with Chickpeas is exactly what it claims to be: a quick and simple green soup. Not fussy nor fancy, and it is also simple to prepare. This recipe soup is great for hurried lunch breaks at home. These natural plant-based soups are perfect for the celebration of St. Patrick's Day.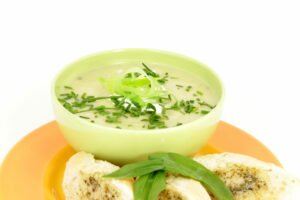 This Leek and Potato Soup are also simple to make and require little effort. A bowl of leek and potato soup with chives on top. It's also creamy, rich, perfectly flavored – and vegan!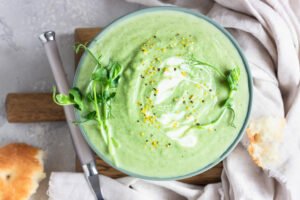 This wonderful Creamy Spring Greens Soup is a simple and delicious way to incorporate this nutritious, seasonal vegetable into a dish that everyone will enjoy. Ideal for a light lunch or as an appetizer at a dinner party during St. Patrick's Day.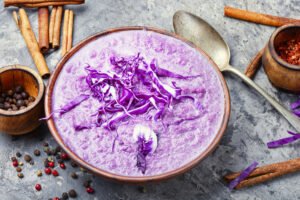 Purple Cabbage Soup is a colorful, tasty, and nutritious soup recipe. One of the best things about this soup, which is made with red cabbage, is that it has the most beautiful color and flavor.
Want some St. Patrick's recipes? Well, the main courses are perfect for you! Level up your day with these delicious recipes. I'm sure that your family will gonna love you!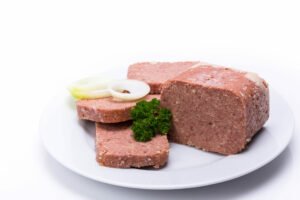 This Vegan Corned Beef Reuben is a great addition to any sandwich or casserole! This nutrient vegan corned beef is a delicious and filling meal that makes plenty of leftover food for busy days!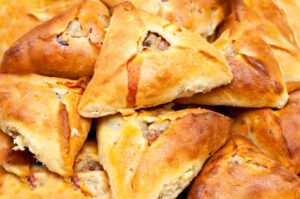 These Delicious Vegan Hand Pies with a stuffing of cabbage, potatoes, and smoky tempeh in place of the traditional meat. All the healthy goodness is encased in this recipe. What's not to enjoy these homemade hand pies?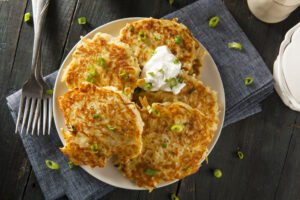 This simple vegan boxty recipe only calls for six ingredients. They are made of grated potatoes and mashed potatoes. It's also a great way to make use of uneaten mashed potatoes.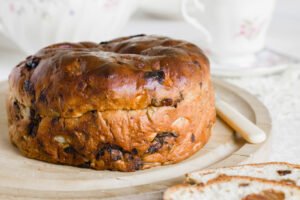 Irish Tea Brack is a moist, savory quick bread soaked in strong black tea with dried fruits. For a tasty breakfast or teatime treat, tea-soaked fruits are baked into a quick bread.
Conclusion
These Best Green Recipes for St. Patrick's Day are sure to impress the Irish Folks and are a great way to start your lucky day.
READ MORE:
Plant-Based Stuffing for Vegans