Vegan Globetrotter is supported by our audience. When you purchase through one of our links, we may earn a small affiliate commission.  As an Amazon Associate I earn from qualifying purchases. Your cost is not affected.
==================
Spinach Tomato Pizza
Oh, another plant-based pizza appetizer for you! This Spinach-Tomato Pizza is featuring green leafy spinach on top with sun-dried tomatoes. Moreover, the green effect of spinach is also one of the appropriate recipes for the celebration of St. Patrick's Day. We all know that pizza is a great dish to serve to guests or as a crowd-pleaser. However, if you don't want to cheat on your vegan diet while celebrating St. Patrick's Day. This is for you! It's very easy to make with minimal ingredients in your kitchen. In addition, you don't have to leave home to buy the ingredients you need. Just a piece of advice, if you are on a vegan diet, it's better to plant veggies in your yard than buy them into the market.
Are you hungry already? Then this is the sign that you cook them. But before you cook them. You should know this; I'd recommend that cooked spinach first, before adding it as a regular topping to the pizza. Some people advised leaving it raw and adding it in the last five minutes of baking. Also, others advised steaming for the first five minutes and then adding for the last five minutes.

Good side-effect eating Spinach and Sun-dried Tomato
When there is a good effect there is a bad effect. Eating moderately will not cause any bad effects on our bodies. But the following are some of the incredible health advantages of eating spinach and sun-dried tomato: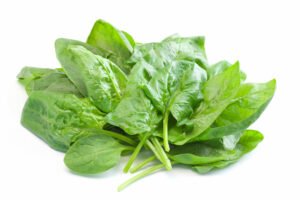 For the Spinach:
Boost Immune System: Spinach has a higher amount of Vitamin A.
Prevents Brain and Nervous System damage: It has a higher amount of Vitamins C, K, and folate.
Hypertension Diet Plan: Cure for hypertension or high blood pressure, can reduce stress and anxiety.
Juice for Eyesight: This also improves the prevention of cataracts and macular degeneration, which improves vision.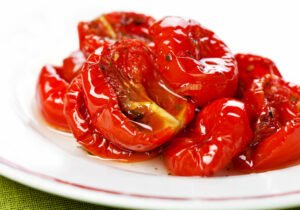 For the Sun-Dried Tomato:
Energy: It helps for digestion and vision.
Longevity: Prevents cancers such as lung, breast, stomach, and prostate cancer.
Appearance: Good for skin health, weight loss, and protects against sunburn.
What is the best way to reheat pizza that has been left over?
We have discovered a foolproof way for reheating cold slices: lay them on a rimmed baking sheet, cover securely with aluminum foil, and bake on the lowest rack of a cold oven. Then preheat the oven to 275 degrees Fahrenheit and let the pizza warm for 25 to 30 minutes.
Spinach-Tomato Pizza Recipe: 
Spinach-Tomato Pizza
I enjoy pizzas that have a variety of flavors, and this one does not disappoint. The sun-dried tomatoes and olives give the creamy sauce a tangy-salty kick, and it's delicious without the added fat found in traditional cream sauces.
Ingredients
Ingredients:
⅓

cup

sun-dried tomatoes

not packed in oil

12

oz

silken tofu

firm or extra firm

2

package

spinach

frozen thawed

3

medium

yellow onion

diced small

2-3

cloves

garlic

minced

3

tsp

dill

dried

6

tsp

nutritional yeast

kosher salt

to taste

black pepper

freshly ground, to taste

2

tbsp

pizza crusts

whole-grain

½

medium

red onion

finely diced

1

cup

kalamata olives

pitted, halved
Instructions
Instructions:
In a small bowl, place the sun-dried tomatoes, add enough warm water. Cook for 30 minutes. When cooked, strain well. Chop the tomatoes and set them aside.

Puree the tofu in a small dish, until smooth. Set them aside.

Preheat the oven to 350°F.

On a clean kitchen towel, put the thawed spinach. Squeeze until the liquid comes out. Set them aside.

Over medium heat, cooked the yellow onion. Till softened. (See notes)

Cook the garlic and dill until you smell aromatic.

In a mixing bowl, combine the tofu, pureed, spinach, and nutritional yeast. Cook for 2 minutes. Add salt, pepper, and seasoning to taste. Pull from the heat.

Pizza crusts should be placed on pizza stones or big baking sheets. Divide the spinach mixture evenly among the crusts and spread it out evenly to cover them.

Add the sun-dried tomatoes, red onion, and olives to the top.

Bake for 15 minutes, or until the edges are gently browned and the pizzas are well warmed. Cut into slices and serve.
Notes
To avoid the onion from sticking, add 2 tbsp of water at a time or until softened. 
Nutrition
Calories:
448
kcal
Carbohydrates:
57
g
Protein:
26
g
Fat:
18
g
Saturated Fat:
3
g
Polyunsaturated Fat:
4
g
Monounsaturated Fat:
9
g
Sodium:
1415
mg
Potassium:
2962
mg
Fiber:
16
g
Sugar:
19
g
Vitamin A:
27072
IU
Vitamin C:
102
mg
Calcium:
453
mg
Iron:
12
mg
Conclusion
It's a refreshing change from your normal night pizza. This incredibly simple vegetarian pizza combo will liven up your St. Patrick's night family supper.
Read More:
Healthiest Way to Cook Vegetables?
Vegan Diet for GERD-Eliminate Acid Reflux
Health benefits of Sun-dried Tomatoes