==================
A Caveat and Affiliates
First off, a little caveat: within my articles you will find affiliate links, meaning if you buy them, I get a small commission. Your cost is not affected. In addition, I am an Amazon Associate and I earn from qualifying purchases on Amazon.
And yes, if I say that I recommend a product here, it means I truly believe it is a good product. I refuse to recommend any product that I have not researched and believe to be a good value. Even better, I provide you with a very clear picture of the product, it's use, and the probable value. Earning your trust is important to me. I run this website myself and the commissions and donations help support the site. Sound reasonable and fair enough? Let's continue to the article.
==================
Vegan French Crepes
This classic vegan French Crepes recipe is made from light and thin all-purpose flour sheets that are filled with chocolate and sweet spreads and seasoned. You can substitute this dish as your dessert during your valentines day. French crepes are without a doubt one of my all-time favorite foods! If you've been around Europe, you've probably seen how famous these little huts selling precisely round, thin french crepes are. And it's always hard for me to just get past without stopping to sample one. There are no such things as too many crepes to sample. Am I correct?
Another benefit of these French crepes is that they may be served as a breakfast, lunch, or dessert. I like to serve them sweet for a relaxing weekend breakfast with some fruit on top, or savory for a filling.
I hope you like this recipe as much as I do, and as usual, please let me know what you think!
How to make Vegan French Crepe
These crepes take very little time to create and are well worth it; here's how to make them.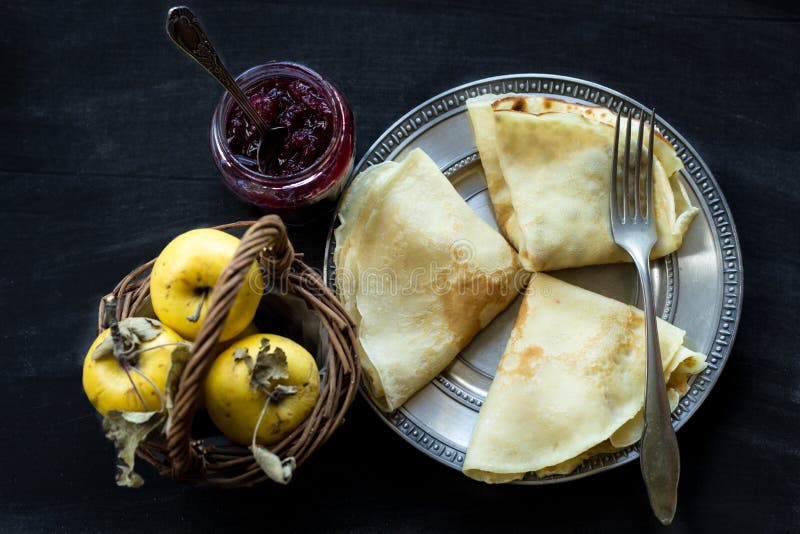 In a mixing dish, combine all of the ingredients except the sparkling water. Mix them together with an electric mixer or a hand-handled whisker until a smooth, flowing paste forms.
Refrigerate the crepe batter for about an hour, then coat a skillet with a little oil and put roughly 4 tablespoons of the batter on the pan over medium heat. Fry the crepes and allow them to fry for a few minutes before turning them over and continuing to cook until they are properly done.
Then, in a blender, combine the soaked cashews, coconut oil, maple syrup, vanilla bean paste, lemon juice, and 6-7 tablespoons of almond milk to make a smooth creamy paste. Spread it on your crepes and eat them up!
Spread it on your crepes and eat them up!
Just a few things to keep in mind when cooking crepes:
No need to use a nice nonstick frying pan and other equipment.
Allow the batter to rest for at least an hour, but if you're pressed for time, an hour will be enough.
Generally, grease your pan with a paper kitchen towel dabbed in some oil.
Before adding the batter, ensure the frying pan is hot.
It's good to suggest a delicious and easy Vegan French Crepe recipe! I guarantee that if you follow all of the above, you will get great results every time.
And now… Our Vegan French Crepes Recipe: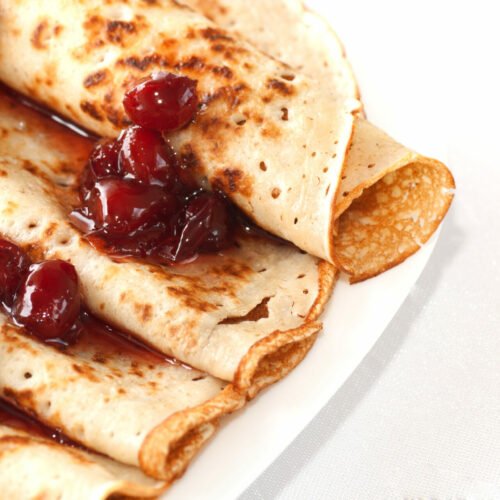 Vegan French Crepes
Vegan version of the classic French crepe! Learn how to make a basic and no additional pans or equipment. These may be sweet or savory and wonderful for breakfast, lunch, or dinner on valentine's Day!
Ingredients  
2

cups

almond milk

or non-dairy milk

2

oz

water

4

oz

vegetable oil

1

pound

all-purpose flour

pinch

kosher salt

to taste

1

oz

mineral water

sparkling

200

g

cashew nuts

soaked overnight

1

oz

coconut oil

Melted

2

oz

maple syrup

1-2

tsp

vanilla bean

paste

1-2

tbsp

lemon juice
Instructions 
Take sparkling and mix again.

Store the batter in the fridge for 1 hour.

Spread the crepe evenly around the pan and fry both sides.

Take the rest of the ingredients and mix them to a smooth creamy paste to make the cashew spread.

Apply the cashews spread over the crepes and serve!
Nutrition
Calories:
471
kcal
Carbohydrates:
50
g
Protein:
10
g
Fat:
27
g
Saturated Fat:
6
g
Polyunsaturated Fat:
10
g
Monounsaturated Fat:
9
g
Trans Fat:
1
g
Sodium:
77
mg
Potassium:
217
mg
Fiber:
2
g
Sugar:
5
g
Vitamin A:
1
IU
Vitamin C:
1
mg
Calcium:
90
mg
Iron:
4
mg
READ MORE
Holiday Bread, Plant-Based Delicious
Delicious Peach Breakfast Bread – 3 Favorites