Vegan Globetrotter is supported by our audience. When you purchase through one of our links, we may earn a small affiliate commission.  As an Amazon Associate I earn from qualifying purchases. Your cost is not affected.
==================
Leek and Potato Soup
This Leek and Potato Soup are also simple to make and require little effort. A bowl of leek and potato soup with chives on top. It's also creamy, rich, perfectly flavored – and vegan! Finally, this soup has the power to persuade anyone to eat vegan food. It's also a children's soup because the leeks give it a subtle sweet tone, which kids adore. As a result, it's an excellent way to encourage them to eat healthily and to ensure that they get their five-a-day! Aren't you convinced? Other root vegetables and herbs are added to the leeks and potatoes. When combined, they make a delicious vegan option that you'll want to eat at least once a month.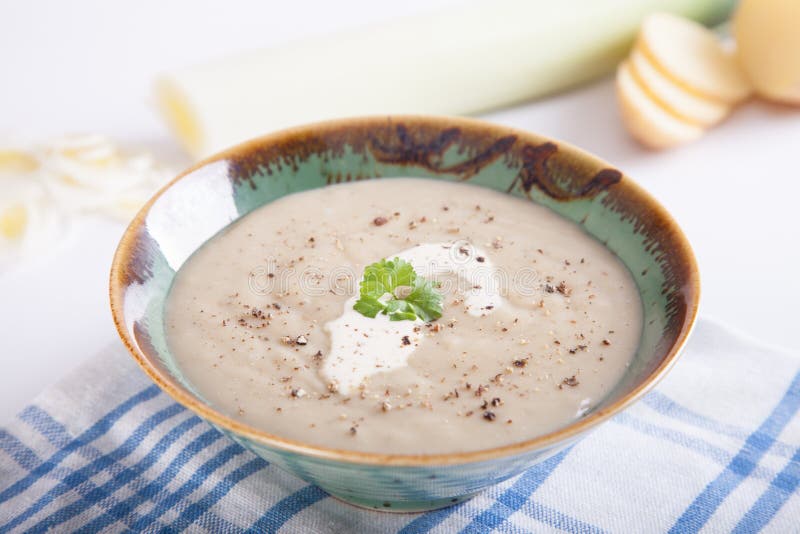 This is especially true when the weather turns cold and gloomy. So, let's get started on this St. Patrick's Day recipe. You might think that this vegan leek and potato soup recipe is doomed if you don't want to use potatoes. You're completely wrong. There are several alternatives to cooking this recipe without potatoes. To begin with, swedes or turnips can be used in place of the simple potato. In terms of color, they will be nearly identical. They aren't as starchy in taste, but their subtle flavors will still be noticeable. For extra creaminess, I suggest adding an entire avocado. It's also a good idea to stock up on the healthy fats that avocados are known for.
Craving with this soup? Below are ingredients and instructions to make your soup extra special.
Leek and Potato Soup Recipe: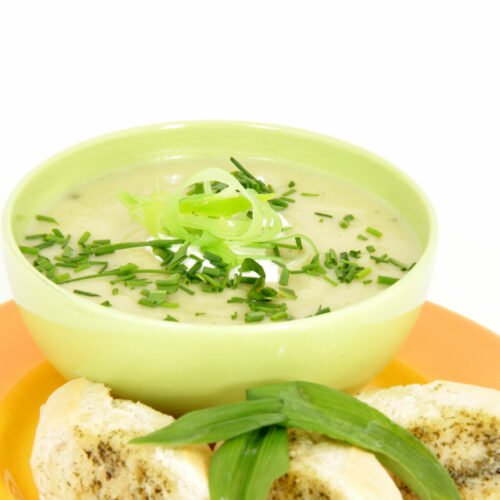 Leek and Potato Soup
Make this delicious vegan leek and potato soup. It's rich and creamy, with just the right amount of spice, and it's completely vegan! Learn more about the various variations of this soup..
Ingredients
Ingredients:
2

tbsp

vegetable oil

1-2

onion

finely chopped

3-4

leeks

white part only, chopped

2-3

stalk celery

chopped

1

clove

garlic

finely chopped

7

oz

potatoes

peeled and chopped

3

cup

vegetable stock

2

cups

almond milk

4

tsp

chives

roughly chopped
Instructions
Instructions:
In a large saucepan, heat the oil and then add the leek, onion, garlic, and celery.

Allow the vegetables to sweat for a few minutes over low heat, until softened but not browned, before adding them to the pot of simmering water.

Add the potato and stock and bring to the boil. Reduce the heat and leave to simmer, covered for 20 minutes.

Allow cooling completely before blending or puréeing. There's no need to wait if you have a hand blender; blend the soup right away.

Return the soup to a low boil and whisk in the milk.

Pre-heat without boiling, seasoning with salt and pepper.

Sprinkle with chives and serve hot.
Nutrition
Calories:
142
kcal
Carbohydrates:
19
g
Protein:
2
g
Fat:
7
g
Saturated Fat:
1
g
Polyunsaturated Fat:
4
g
Monounsaturated Fat:
2
g
Trans Fat:
1
g
Sodium:
709
mg
Potassium:
304
mg
Fiber:
3
g
Sugar:
5
g
Vitamin A:
1234
IU
Vitamin C:
17
mg
Calcium:
164
mg
Iron:
2
mg
Read More:
Vegan Potato Soup Recipe – Comfort Food!
Italian Lentil Soup, Mediterranean Cuisine