Vegan Globetrotter is supported by our audience. When you purchase through one of our links, we may earn a small affiliate commission.  As an Amazon Associate I earn from qualifying purchases. Your cost is not affected.
==================
Leprechaun Potato Pancakes 
These easy-to-make plant-based version Leprechaun Potato Pancakes are perfect for your breakfast side dish. It has 6 only ingredients and 6 easy steps. You can make it in no time. In addition, they are the crispy, hot, and gooey recipe you've ever made with grated potatoes. So I'm sure it will become your family's favorite breakfast food. This is Irish cuisine. I thought Leprechaun was just a fictional character (that's my childhood fave movie). But it turned out to be a healthy Irish traditional food. This is usually cooked or traditionally done every St. Patrick's Day. Moreover, they are also an ideal meal for Kids in Ireland when celebrating St. Patrick's Day. Where is the lie? My whole childhood days were a lie. -Kidding aside!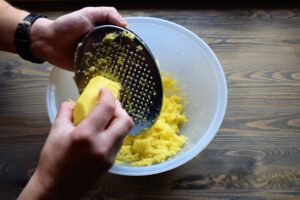 To share with you all. I added a lot of Potato recipes here on our vegan food blog site. I just realized that there are many different ways to cook potatoes such as; Pesto Potato Salad, Vegan Potato Soup- Our Recipe, and Vegan Mashed Potatoes.
You can do even better with the healthiest vegan diet. I think this is one of the additions I like to cook. However, they are budget-friendly vegan diet recipes you can make. Just so you know there are many kinds of potatoes. But I wanna share with you what potatoes are used in this recipe
What Kind of Potato using in this Pancake?
Russet Potato or Idaho Potato is used in this recipe. They are big, dark brown potatoes with few eyes and dark brown skin. The flesh is dry, floury; light, and fluffy; hearty, chewy skin when cooked. They are also healthy and can provide you with the carbs, potassium, and energy you need to perform at your best.
Been surprised? Me too! I have round up the steps and ingredients to make this delicious Irish Cuisine. Happy Cooking!
Leprechaun Potato Pancakes Recipe: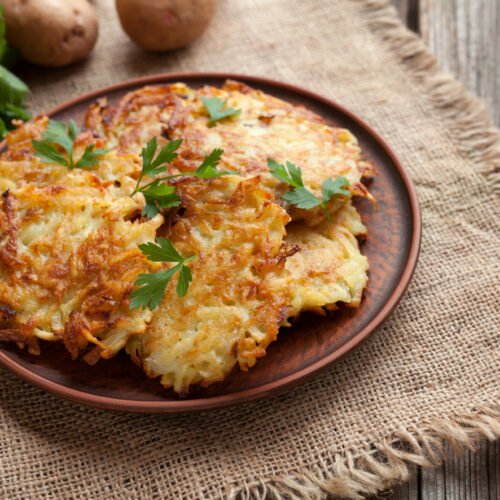 Leprechaun Potato Pancakes
Here's my vegan take on potato pancakes, which are normally made using shallow-fried shredded potato, flour, and an egg. My recipe does not contain any additives that might harm our arteries. As a vegan, I prefer dairy-free toppings such as applesauce or unconventional options such as salsa, guacamole, or hummus.
Ingredients
2-3

russet potatoes

grated

1-2

large

zucchini

grated

1

yellow onion

grated

8

tbsp

oat flour

1-2

teaspoon

baking powder

black pepper

freshly ground, to taste
Instructions
On a kitchen towel, spread the grated vegetables. Roll, wring, and repeat with the remaining vegetables. Transfer them o a large mixing dish.

In a small bowl, combine the oat flour, baking powder, and pepper. Add to the vegetable bowl, and mix well, using your hands to evenly distribute the flour and baking powder.

Scoop about ¼ cup of potato mixture, and hand-shape it into a semi-tight ball. Flatten with your palms, and place the pancake onto the prepared pan. Repeat with the remaining mix, spacing the pancakes about 2 inches apart.

Bake for 12 minutes. Flip and bake for another 12 minutes, or to your desired level of crispness. Serve at once. Top with the condiment of your choice.
Nutrition
Calories:
34
kcal
Carbohydrates:
7
g
Protein:
1
g
Fat:
1
g
Saturated Fat:
1
g
Polyunsaturated Fat:
1
g
Monounsaturated Fat:
1
g
Sodium:
24
mg
Potassium:
150
mg
Fiber:
1
g
Sugar:
1
g
Vitamin A:
33
IU
Vitamin C:
5
mg
Calcium:
20
mg
Iron:
1
mg
READ MORE:
Vegan Potato Soup Recipe – Comfort Food!
Favorite Plant-Based Pancakes, 3 Recipes
St. Patrick's Day: Tale of Leprechaun
Potato Pancakes for St. Patrick's Day