Vegan Globetrotter is supported by our audience. When you purchase through one of our links, we may earn a small affiliate commission.  As an Amazon Associate I earn from qualifying purchases. Your cost is not affected.
==================
For Thanksgiving, What do vegans eat? A Vegan Holiday Roast, of course!
Fear not, all you vegans and vegetarians! No longer do vegans need to fear the Thanksgiving table. In fact, they might find the family wanting to try one of the Vegan Holiday Roast versions, even if they aren't vegan. In addition, consider either the Turkey Seitan Roast or our Thanksgiving Roasted Cauliflower.
For a vegan holiday roast, I recommend you consider either seitan or cauliflower. While uncommon to many, these plant-based versions add some healthy protein and flavor. Our vegan options satisfy the vegans in your life while adding a delicious twist to your family's traditional holiday menu! You can't go wrong with either one.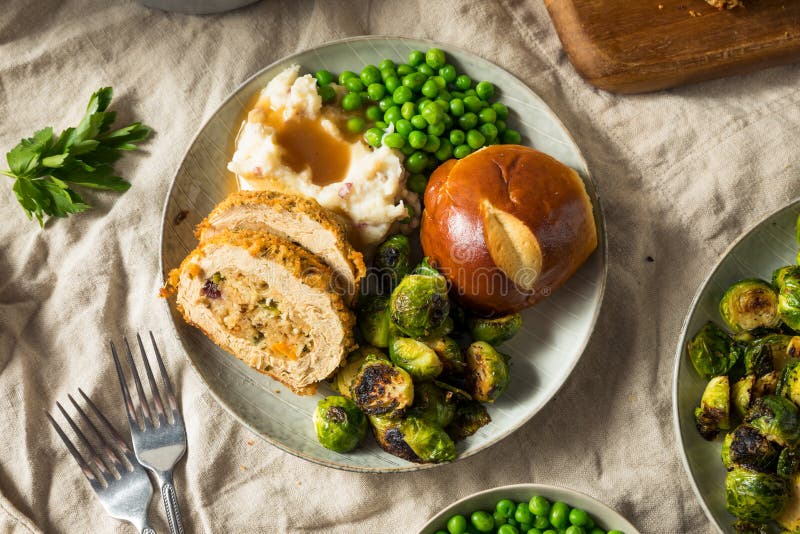 What is Seitan?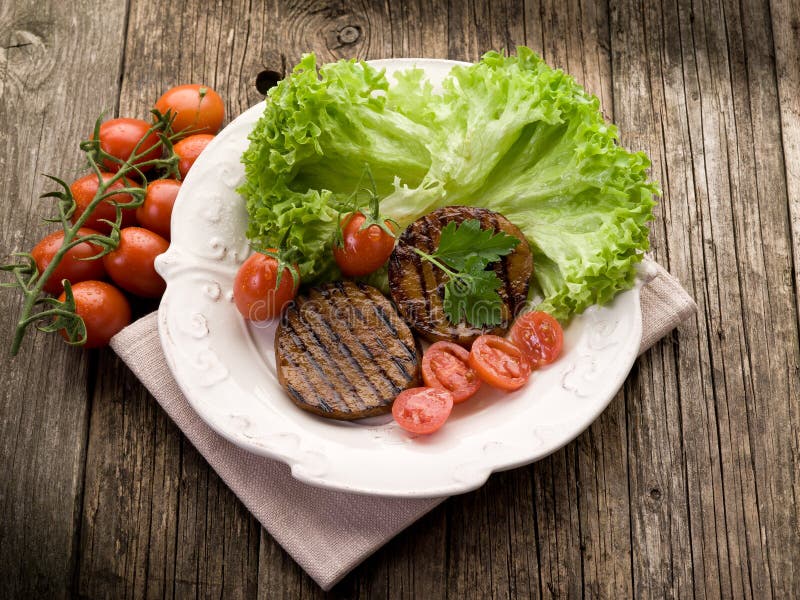 Most long-time vegans know Seitan by its name or one of the other names: meat wheat or gluten. This protein, derived from wheat, is known as a food that looks, tastes, and feels like meat. In fact, it has been used for centuries in Chinese cooking as the main ingredient of dishes such as General Tso's chicken.
Moreover, while it might not be something you have heard of before, seitan is worth adding to your kitchen repertoire. It tastes delicious and provides good nutrition elements. In addition, Seitan provides protein without cholesterol or saturated fats. Also, it easily soaks up flavors, making it quite versatile. In fact, it assimilates with the flavors to make whatever dish you are craving taste just right! "Is this what vegan dreams are made of?" (Perez)
In addition, Seitan is a plant-based meat substitute that is high in protein and gluten-free. It looks like, feels like, and has the same texture as chicken or beef making it perfect for vegetarians who are craving meat! However, even those not longing for meat find great pleasure in this healthy protein choice.
Other Uses for Seitan, beyond the Vegan Holiday Roast
Seitan, or gluten as it is often called, provides a good meat substitute. The chewy, stringy texture and easily substitutes for chicken or beef in many dishes. Like tofu, seitan takes on the flavor of whatever you cook it with, so it's versatile and easy to use! Here are three ways to use seitan:
First, slice up some seitan "chicken" and add it to your favorite stir fry recipe for an extra protein boost. 2) Use sliced seitan as a replacement for pepperoni on pizza instead of cheese for delicious vegan pizzas everyone will love. 3) Make homemade vegan burgers using ground-up TVP (textured vegetable protein), garlic powder, salt, onion powder,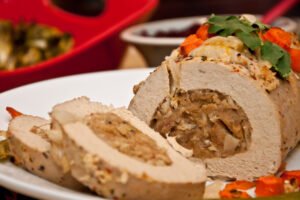 Notes about our Vegan Holiday Roast
When I began making gluten many years ago, I learned the basic technique for mixing wheat flour and water, kneading, and then rinsing the starch out. It took a lot of time and cold water and produced sore hands by the end of the process. Moreover, I did it because we gave up meat and wanted the texture of seitan.
Over time, I discovered vital wheat gluten. After some experimentation, I learned to make basic gluten by just mixing some seasonings, water, and vital wheat gluten. My stand mixer saved a great deal of kneading. And the end result was a delicious product with much less work, not to mention the water saved.
The Vegan Holiday Roast Recipe is more Complex
Wheat contains most of the essential proteins, with the exception of lysine.  By adding the beans, our roast becomes a complete protein. But even more, the beans help the texture and flavors a bit. And the other additions also bring the flavor up to one deserving of that special place on your holiday table.
Yes, it is a little more involved than my everyday gluten recipes. But trust me, it is well worth the effort. And if you add one of our stuffing recipes (either on the side or rolled in the middle) you will be as impressed as your guests!
However, I also invite you to try our second "no-turkey" recipe: Roasted Cauliflower (see below). In fact, this year, our table will host both of these delicious entrees!
First, Our Vegan Holiday Roast Seitan; Turkey Seitan Roast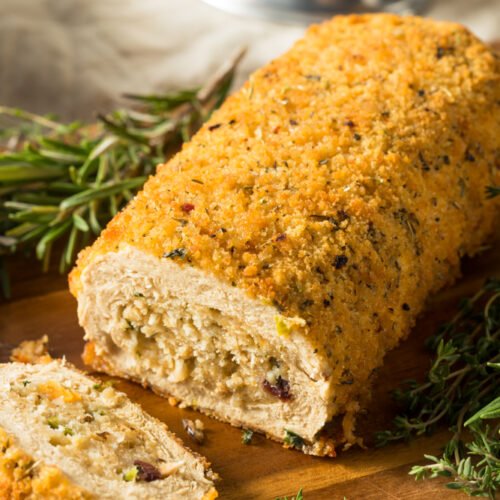 Turkey Seitan Roast
A delicious main course for Thanksgiving or any day. This roast comes together easily, yet tastes and looks delicious! Seitan, also known as gluten, is also known as the "wheat meat". Even meat-eaters enjoy the moist, meaty texture. Indeed, by utilizing the protein and little to none of the starch, seitan brings a nutritional boost at a very reasonable cost.
Ingredients
Seitan
2.5

cups

vital wheat gluten

in dry flour form

1

tbsp

onion powder

1

tbsp

garlic powder

⅓

cup

nutritional yeast

1

tsp

smoked paprika

3

cloves

garlic

1

tbsp

rosemary

1

tbsp

thyme

2

tsp

sage

1

tbsp

tarragon

1

tbsp

poultry seasoning

vegan spice mix

2

cups

white beans

2

tbsp

Frontier Brand no-chicken seasoning

or other vegan chicken flavoring

1

cup

water
Broth
1

large

onion

3

cups

vegetable broth

3

cups

chicken flavored vegetable broth

½

cup

lemon juice

or use white grape juice

1

tbsp

rosemary

fresh is best, dried works

1

tbsp

thyme

fresh is best, dried works

3

cloves

garlic
Instructions
Blend all ingredients except the wheat gluten together in a food processor or blender. I use my Kitchen-Aid Stand Mixer and it works well, too. Blend until very smooth.

Add the vital wheat gluten and blend until it is mixed into the ingredients. It's ok if the product seems slightly powdery at this point. Use your dough hook to knead for about 3-4 minutes. The more you knead, the meatier the texture. Less kneading produces a softer product. . However over-kneading sometimes produces a rubbery product. Watch for the dough to look rubbery and stop.

Alternatively, you may knead by hand for about 5 minutes.

Form the dough, as desired. We find the best results by rolling it out into a rectangle, then roll tightly into a cylinder. Make sure your dough fits your roasting dish. NOTE: If you want a stuffed roll, place your stuffing on the rectangle before rolling. You will still need to roll tightly.

Wrap the roll in muslin, if desired, to hold the shape. Use twine to hold it in place. The roast tends to swell as it's cooked, so make sure it's secure. Set aside while you prepare the broth.

Preheat your oven to 350°F.
Prepare the roast
Mix all the broth ingredients together. Place into your roasting pan. The pan needs to be deep enough to hold the roast and broth.

Place the seitan roast carefully into the broth. If it's not completely covered by the broth, spoon some of the broth over the roast.

Cover with aluminum foil or your roasting pan cover.

Place in the preheated oven and allow to roast for about 45 minutes.

Remove the cover or foil. Baste the roast liberally. Continue roasting, uncovered, for about 35 minutes more.

Allow the roast to rest for about 10 minutes while you make the gravy.
Gravy
Place all ingredients of the broth into a blender. (Strain first, if desired). Blend until very smooth.

For a thicker gravy, add a little cornstarch to cold water and stir until no solids remain.

Mix into the broth and heat in a pot until gravy thickens.
Serve
Slice the roast. Serve topped with gravy or with gravy on the side.
Nutrition
Calories:
322
kcal
Carbohydrates:
33
g
Protein:
46
g
Fat:
2
g
Saturated Fat:
1
g
Polyunsaturated Fat:
1
g
Monounsaturated Fat:
1
g
Sodium:
495
mg
Potassium:
601
mg
Fiber:
6
g
Sugar:
3
g
Vitamin A:
615
IU
Vitamin C:
16
mg
Calcium:
187
mg
Iron:
7
mg
After making the turkey seitan roast, or maybe even before, consider the Thanksgiving Roasted Cauliflower, turkey-style, of course.
Why Thanksgiving Roasted Cauliflower?
My first reason is the flavor. Of course, plain cauliflower might seem bland to many people. But bring on the seasonings and roast it. Moreover, those little extras help sell this to the most resistant eater. In addition, in fact, my friends who seem "meh" about this vegetable often return for seconds when it's Thanksgiving Roasted Cauliflower.
Additionally, consider nutrition for another reason. One cup of cauliflower boasts:
Calories: 25
Fiber: 3 grams (that is about 10% of your RDI)
Vitamin C: 77% of the RDI
Vitamin K: 20% of the RDI
Folate: 14% of the RDI
Vitamin B6: 11% of the RDI
Pantothenic acid: 7% of the RDI
Potassium: 9% of the RDI
Manganese: 8% of the RDI
Magnesium: 4% of the RDI
Phosphorus: 4% of the RDI
Choline: 45 mg (about 11% AI for women)
Plus, antioxidants, including Sulforaphane, fight infections and inflammation.
However, when you have Thanksgiving Roasted Cauliflower, who actually stops at one cup?!
And now, our Thanksgiving Roasted Cauliflower Recipe
Thanksgiving Roasted Cauliflower (Turkey Style)
This roasted cauliflower features favorite herbs to create that Thanksgiving flavor without meat. Even non-vegans enjoy the flavor and texture of this delicious plant-based centerpiece. I suggest you make extra as it will be gobbled up by all.
Ingredients
1

medium

cauliflower

½

cups

water

3

tbsp

vegetable broth

2

tbsp

tahini

2

tbsp

soy sauce

reduced sodium works well

3

tbsp

lemon juice

1

tbsp

garlic cloves

minced

¼

teaspoons

ground ginger

2

tsp

paprika

1

tsp

rosemary

⅓

cup

nutritional yeast

1

tsp

sage

1

tsp

thyme

½

tsp

onion powder

½

tsp

garlic powder

¼

tsp

celery seeds

¼

tsp

tarragon

1

tsp

tomato paste
Instructions
In a large bowl, mix together all ingredients except the cauliflower. It will be quite strong tasting and creamy. Set aside.

Prepare the cauliflower by removing the green leaves.

Leave the stem attached, but cut through it crosswise twice.

Marinade the cauliflower upside down in the marinade. You may need to use a pastry brush to ensure it is well coated. Allow it to soak in the marinade for at least 5 minutes. You may leave it longer, if you wish. I try to keep it marinading for about a half hour before baking.

Preheat the oven to 425°F.

Place the cauliflower in a baking dish and top is with any remaining marinade. Some may drip off and coat the pan.

Bake until quite tender, about an hour and 15 minutes, depending on the size of the head. While baking, you can apply the marinade from the bottom of the pan to the top of the cauliflower every 15 minutes, if desired. This ensures maximum coverage.

Serve while still hot alongside your favorite vegan stuffing and vegetables.
Nutrition
Calories:
112
kcal
Carbohydrates:
14
g
Protein:
7
g
Fat:
5
g
Saturated Fat:
1
g
Polyunsaturated Fat:
2
g
Monounsaturated Fat:
2
g
Sodium:
608
mg
Potassium:
616
mg
Fiber:
5
g
Sugar:
4
g
Vitamin A:
160
IU
Vitamin C:
79
mg
Calcium:
61
mg
Iron:
2
mg
Thanksgiving Cauliflower Roast? Turkey Seitan Roast?
Which one might you choose for your Vegan Holiday Roast? In fact, I suggest you might try both. You see, while one provides a protein component (the Turkey Seitan Roast)  the other is a nutritious vegetable.
But, are there other choices? Yes, in fact, we've experimented with many options over the years. In addition, pot roast (made with gluten instead of meat) reigns among our family favorites. Lasagna roll-ups received rave reviews one year. The scalloped potatoes with a vegan ham alternative received call-backs for the following year.
Does our family miss the turkey centerpiece? No. In fact, many find it surprising that none of us find any issue with it. Perhaps it's the fun of choosing a special main course.
Read More
Culinary Terms Used in Recipes