Vegan Globetrotter is supported by our audience. When you purchase through one of our links, we may earn a small affiliate commission.  As an Amazon Associate I earn from qualifying purchases. Your cost is not affected.
==================
Green Smoothie Pancakes
Green smoothie pancakes made with bananas and spinach for a rich, flavorful healthy pancake that the whole family will love. It's a wonderful way to get everyone in the family to eat their greens first thing in the morning. A perfect combination for St. Patrick's Day.
Thanks to your blender, making green smoothie pancakes is a breeze. You'll make a quick smoothie that tastes delicious and is good for you.
If you're looking for a healthy way to boost your body while also including more greens in your diet, this pancake recipe is a great way to do both.
More pancakes and more greens? This is unquestionably a winner!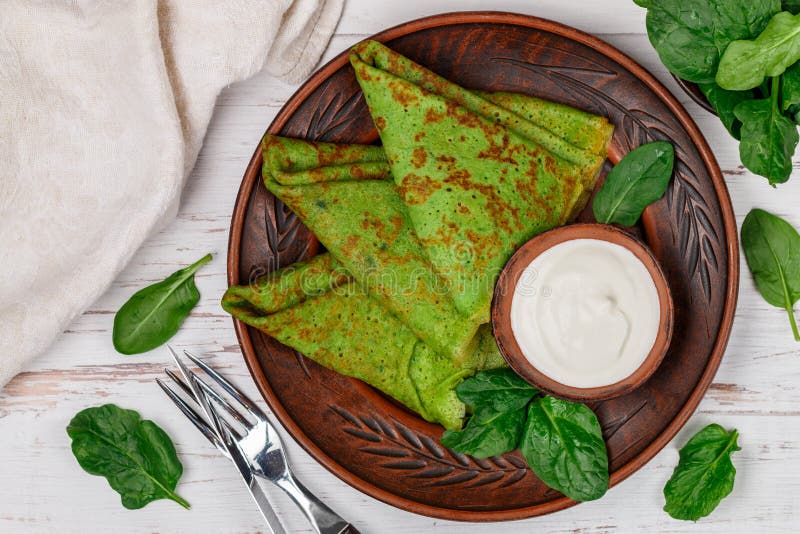 This recipe for Green Smoothie Pancakes has all of your favorite smoothie's healthy ingredients in pancake form, so you can make them ahead of time and reheat them for breakfast throughout the week! Green smoothies, like these green smoothie pancakes, get their vibrant color from spinach. You won't be able to taste the spinach, but you'll appreciate the health benefits.
The only question now is: what are the best toppings for these delectable pancakes?
Fresh berries, coconut yogurt, cinnamon, and some jam recipes can all be used in pancakes.
Pro Tip: The batter for these pancakes is made in a blender, just like a smoothie. The key to getting a nice set of pancakes is to use a thick and flaky batter.
Suggestions For Storage
Leftover pancakes can be kept in the fridge for up to four days. These could also be frozen. Before transferring to a container or zip-top bag, we recommend freezing them in a single layer or separated with parchment paper. This keeps them from clinging to one another.
Reheating Suggestions
Microwave leftover pancakes for 20-30 seconds or until warmed through. They can also be reheated in a toaster, toaster oven, or over medium heat in a griddle or skillet.
You should do this! Your family, friends, and kids will love this as well as you!
Try Our Green Smoothie Pancakes Recipe: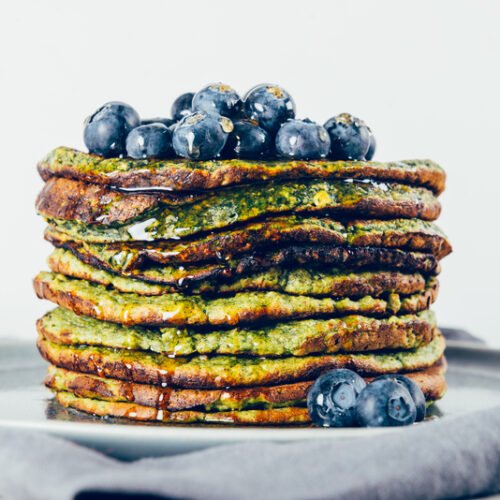 Green Smoothie Pancakes
Some of my favorite green smoothie ingredients are transformed into delicious pancakes in these green smoothie pancakes! For a no-fuss, healthy breakfast, the batter is made in a blender.
Ingredients
1

small

banana

ripe to overripe

1

large

baby spinach

4-5

tbsp

buckwheat flour

⅓

tsp

baking powder

1

tbsp

flaxseed

with 3 tbsp of water

1-2

tsp

vanilla extract

coconut oil
Instructions
In a blender, combine the banana, spinach, buckwheat flour, baking powder, flaxseed with 3 tbsp of water, and vanilla until a thick batter forms.

Heat a teaspoon of coconut in a nonstick frypan over medium heat.

Add 2 tbsp batter, smoothed out a little in the pan to form a pancake.

Cook for 2-3 minutes on each side, gently turning halfway through.

Continue with the remaining batter. Serve with berries and maple syrup.
Notes
To make it more appealing, add a few tablespoons of your favorite milk if it seems too thick or runny.
Leftover pancakes can be refrigerated for up to three days or frozen for up to three months.
Nutrition
Calories:
178
kcal
Carbohydrates:
35
g
Protein:
5
g
Fat:
3
g
Saturated Fat:
1
g
Polyunsaturated Fat:
2
g
Monounsaturated Fat:
1
g
Sodium:
77
mg
Potassium:
400
mg
Fiber:
6
g
Sugar:
7
g
Vitamin A:
79
IU
Vitamin C:
5
mg
Calcium:
67
mg
Iron:
2
mg
Read More:
Vegan Diet for Diabetes: Prevent or Reverse
Favorite Plant-Based Pancakes, 3 Recipes
Authentic Green Enchilada Sauce Recipe
Green Goddess Dip (or Dressing)