Vegan Globetrotter is supported by our audience. When you purchase through one of our links, we may earn a small affiliate commission.  As an Amazon Associate I earn from qualifying purchases. Your cost is not affected.
==================
Charcuterie Board Food Ideas
The holidays are coming up and if you're looking for a dish to bring to your next gathering, why not offer something that's sure to be new and different? A plant-based charcuterie board makes the perfect showing for any occasion. This post will help you find the best ingredients, show you how to assemble it beautifully, and give some tips on what wine pairings would work best with this dish. Let's get started!
There's no fancy way to spice up your snack time, like building a charcuterie board with a wide variety of flavors and textures. These charcuterie boards are everywhere on social media, and there's no reason for you not to try them. We're going to give some plant-based charcuterie board ideas for you, vegans, who'd like to give it a try.
Charcuterie boards are traditionally not catered for plant-based eaters as it was created to display cured meats, dairy, and other kinds of food. However, vegans recently decided that it's time to make charcuterie boards that are entirely plant-based. Now there are charcuterie boards for everybody!
In this article, we're going to show you vegan charcuterie board food ideas that we know you'll love. Plus, we will introduce you to some of the best charcuterie boards in the market to get you started. Let's get right into it!
Seven Basic Plant-Based Foods You Can Put on Your Charcuterie Board
Vegans worry no more! If consuming meat and dairy is what's holding you back from enjoying a lovely platter of charcuterie, we're here for you. Here are five of the many foods that go into your plant-based or vegan charcuterie board.
Fruits are some of the best sources of sugary flavor that will significantly contribute to the overall taste and texture of your vegan charcuterie board. Cut up your fresh fruits, preferable pineapples, apples, or berries, and line them up on your board. In addition, you can also add dried fruits for added texture and flavor that will mesh well with your cheeses.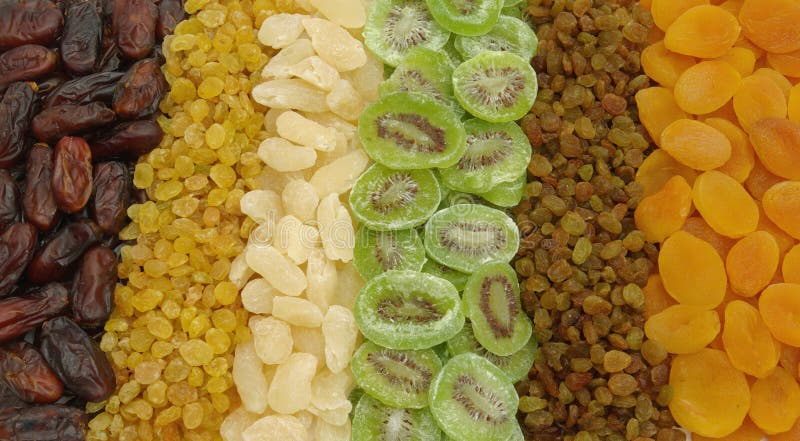 While fruit and vegan cheese might take the starring roles, remember those veggies. Fresh cucumber slices, radishes, and pickled veggies come to mind first. But some also feature sliced zucchini and yellow squash. For extra crunch, add carrot slices and celery sticks. Moreover, our family often makes celery boats filled with peanut butter or vegan cheese.

You will rarely see a charcuterie board that doesn't have crackers or bread. Also, if you're dedicated to a plant-based diet, make sure to choose crackers that are confirmed vegan or plant-based. Crackers or bread are great to pair with dips or cheeses. You might even take it up another notch by adding in pretzel bites or mini pretzels. Choose the whole-grain version, if available. You might even make your own homemade vegan whole-grain pretzel sticks. Offer a vegan cheese dip on the side!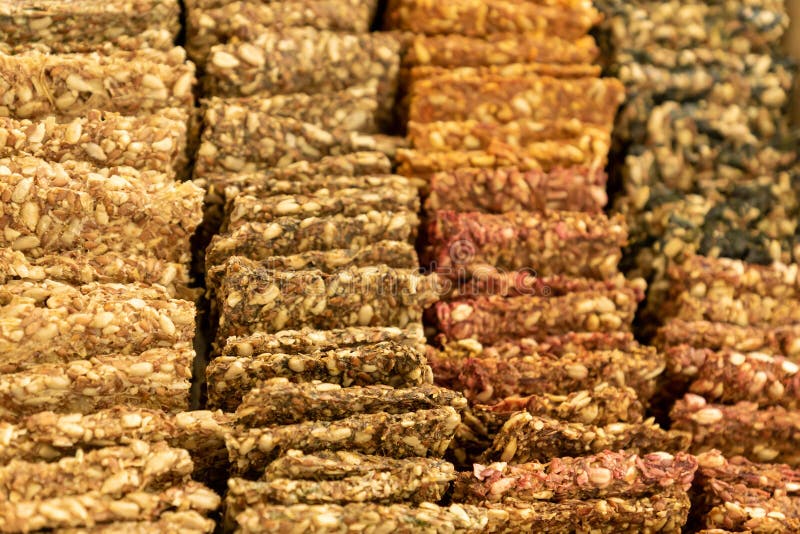 As we've said before, cheese is one of the essential components of a charcuterie board. This shouldn't be a problem for those who don't consume dairy because vegan cheeses are a thing now! In addition, you can get them in a lot of variety, textures, flavors, shapes, and sizes.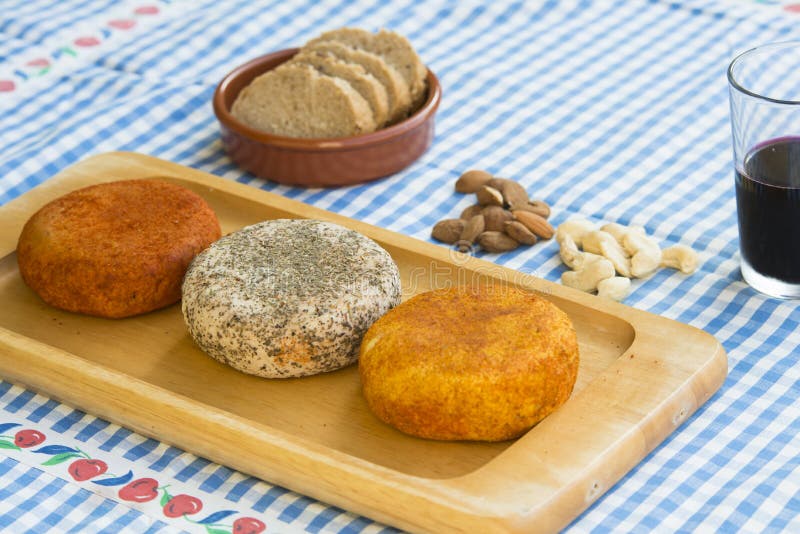 In the absence of meat, which is an excellent source of protein and fat, you can use nuts as a substitute. Also, there's a wide variety of nuts to choose from, such as pecans, walnuts, almonds, cashews, pistachios, and such. Nuts work well in almost everything you decide to pair them with, so you're on the right path!

Plant-based spreads or dips
What's a charcuterie board without the dip? Spreads or dips provide the much-needed savor to your plant-based food platter, and you'll be surprised that you can make lots of vegan options for dips. Moreover, you can make a vegan cheese dip, tzatziki, olive tapenade, or even mushroom pate!

Traditionally, charcuterie boards featured appetizer meats, cheeses, and, fruit. However, we found another idea for our favorite holiday boards- desserts!
Yes, cookies, small cakes, and even your favorite candy display beautifully on the boards. However, some might present even better with a small doily under them. Of course, your dessert plant-based charcuterie board might include fresh fruit, too!
Another Thought
Have you tried serving Tapas Style to your family? In fact, Charcuterie board options make Tapas serving easy and fun. Provide small plates and allow guests to sample as they choose.
Plant-based Charcuterie Board Options might be better than others
See, you don't have to give up your plant-based lifestyle and diet to enjoy charcuteries! You can always customize your board according to your liking, needs, or preferences. In addition, if you're looking forward to getting started, why don't you check out these charcuterie boards that we recommend?

Best of the Best Charcuterie Board Recommendations
If you're looking forward to getting started with building your very own vegan charcuterie board, you should know that one of the best things you can do is get a good quality charcuterie board. Your board should exactly suit your needs! To help you with that, here are some of the best charcuterie boards that you can buy online. 
This charcuterie board from the brand Shanik shows among the best of the several round-shaped charcuterie boards in the market. It's not your ordinary round charcuterie board, which is evident by the unique features and compartments it has. This wooden board is made from beautiful, quality acacia wood.
The design of the charcuterie board lets you arrange your snacks quickly and beautifully. This product is sold as a set that includes knives and three white ceramic bowls, where you can put appetizers, such as nuts, dried fruits, olives, and many others. The stainless steel knives, advertised initially as cheese knives, can be used for any kind of food.
There is only one size for this beautiful charcuterie board, which is 13 inches (in diameter). This charcuterie board set offers a great display for family meals, entertaining, and for special holiday get-togethers, too.  Its elegant design and color make it the perfect wedding or housewarming gift for your loved ones!
Are you in need of a compact charcuterie board that doesn't take a lot of space but can display a large number of snacks? This is probably the best one you can get from Amazon. This wooden charcuterie board from Smirly is 16" x 13" x 2" in size, has three drawers and a rectangular and round platter.
You can pull the from both sides and on the bottom side of the charcuterie board. In addition,  the side drawers can hold fruits, vegan meat, and such kinds of snacks. Moreover, on the bottom drawer, you will find a utensil set that consists of four sampler forks, two ceramic bowls, four knives, two slate labels, and a wine opener.
Also, the round platter consists of five mini-sections where you can separate and decorate five kinds of snacks. And usually, customers use this round tray for fruits and vegetables, but you can freely customize its use according to your liking. Unlike the drawers, you can place the round tray separately from the board itself.
This bamboo charcuterie board is the perfect wedding, housewarming, or birthday gift for your foodie friends. This product is well-loved by its buyers, receiving a rating of 4.8 out of 5 stars from over eight thousand buyers on Amazon.
So you're looking for a charcuterie board that has your personal touch and personality? This custom charcuterie board is exactly what you need, as you can request your name to be engraved on top of the board. In addition, this bamboo charcuterie board is elegant, simple, and great for festive occasions or a family celebration. Opened up, it offers a big 18″ food platter. When not in use, it folds into a neatly sized wedge shape for storage or display.
The product comes with a knife set consisting of three knives. I find the individual compartments quite useful in separating food types.
Also, the custom engraving takes this board from an excellent choice to one that is just wonderful, in my opinion. Imagine this as a gift to your hostess or to a newlywed couple. In fact, this gift would be perfect as a birthday or Christmas gift, too.
Along with that, you can find four-cheese markers and a drawer where the knife set is located. 
For those of you planning to have a feast with your loved ones and are currently looking for an extra-large charcuterie board, this one for Smirly may be the one for you! This four-sided bamboo charcuterie board measures 15.7" x 13.4" x 2.2" and can feed up to eight to ten guests.
This is the ultimate cheese board set, which comes with a slew of helpful accouterments for your convenience. Each set includes a wine opener, pourer, stopper, two black slate boards, four sampling forks, four knives, and five ceramic sauce cups. Moreover, Swirly developed a set-up tutorial to show you how to construct the most attractive charcuterie board possible.
It is highly similar to the other Smirly charcuterie board above, but this one has one more drawer on top for extra storage.  However, if you're planning to splurge on this board, you undoubtedly get precisely what you pay for!
We can't forget this beautifully unique charcuterie board when talking about the best boards in the market. This 14" x 16" charcuterie board resembles the shape of a lotus flower, which is quite an unconventional style for a charcuterie board. This all-purpose charcuterie board is a fun snack tray to use on various special occasions.
Moreover, you can use this board for any type of food tray. In addition, you can use it as a vegan cheese tray, a sushi platter, a fruit tray, a vegetable platter, a chips and salsa tray, or even a chocolate fondue board. Also, you will never run out of reasons to use this versatile charcuterie board!
The product comes with a knife set consisting of four premium black knives originally meant to cut cheeses and walnuts, but you can always use them for whatever needs you to have. What do you think about this fun, but fancy charcuterie board?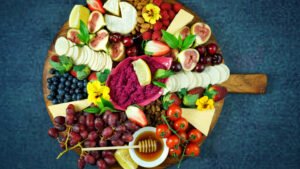 Which of our Plant-based charcuterie boards do you favor?
Many of us actually keep two or even three of these hostess helpers. In fact, for larger gatherings, you might choose several. Decorate them, fill them ahead of time, and enjoy your festivities with much less of those "last-minute" issues.
Hopefully, this blog post gives you some ideas about vegan charcuterie boards. If not, feel free to leave a comment below or contact me through my social media channels. Facebook 
Read More: