Vegan Globetrotter is supported by our audience. When you purchase through one of our links, we may earn a small affiliate commission.  As an Amazon Associate I earn from qualifying purchases. Your cost is not affected.
==================
Easy Vegan Swiss Steak with Seitan
I missed my Mom's Swiss Steak when I chose the vegan lifestyle. Seitan, which is simply the gluten protein from wheat, allowed me to enjoy this incredible dish once again.
You can buy seitan ready-made. However, it is so simple to make that we don't bother. We just mix equal amounts of gluten flour and water together. Add seasonings, if you choose. My Kitchen-Aid stand mixer makes this task so easy. I use the kneading hook to knead the flour and water together until it becomes a stretchy ball. Then, cook in boiling water (add seasonings if you choose) for about an hour. Drain and cut into desired pieces. Easy and inexpensive protein!
We use our own homemade Vegan Worcestershire Sauce but you may choose to use a store brand, if you choose. Just remember to look for a vegan product as many contain anchovies.
Serving Size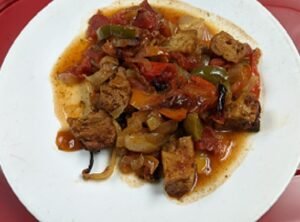 This recipe easily feeds four. Serve it over rice, noodles, or potatoes. I sometimes forgo the carbs entirely, though. The dish is quite complete without them.  However, consider making a double or triple batch. In fact, often the leftovers taste even better the next day!
I've made this dish for potluck meals, too. It stretches to feed the masses, though I never expect to take any home (they will come back for seconds!)
Additionally, keep in mind that while some proteins (such as meats) shrink a bit when cooked due to the fat content, seitan is nearly all protein. In fact, rather than shrinking, you will notice it plumps a bit as it absorbs the liquids around it. As such, plan your casserole baking dish size accordingly.
Storage hint:
We use half-gallon canning jars for leftover soups and stews, as well as entrées such as this one. They take up less space in the refrigerator and easily pour into a pan to reheat the next day.
To Flour or Not: Vegan Swiss Steak with Seitan
As noted in the recipe notes, you can choose to flour and cook the seitan before marinating. However, I skip this step in favor of a healthier version and don't miss the flour at all.
Read through the easy recipe. You will be amazed at how simple this delicious version is!
Vegan Swiss Steak with Seitan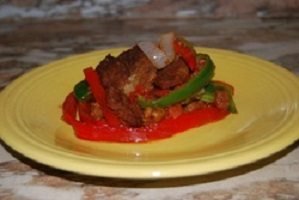 Vegan Swiss Steak with Seitan
My mom made the best swiss steak. When I went vegan, her swiss steak was one of the things I missed most. However, when I discovered the many ways to cook with gluten (seitan) I remade her recipe to be a flavorful vegan version. Feel free to experiment with the amounts of each ingredient to make this your own. Look in the notes for our crockpot version.
Ingredients
4

cups

seitan

chopped into bite-sized pieces

2

large

green peppers

cored and sliced thin

2

large

red peppers

cored and sliced thin

3

large

onions

peeled and sliced thin

1

28 oz can

tomatoes

diced, with the juice

½

cup

vegetable broth

or water, for simmering
Instructions
In a large baking dish, Marinate the seitan in the Homemade Vegan Worcestshire Sauce while you prepare the vegetables.

Saute the onions in the vegetable broth until softened and translucent. Add the peppers and continue cooking until the peppers are softened.

Add the onions and peppers to the seitan.

Pour over the tomatoes and mix lightly.

Bake for about 3 hours. Serve hot over potatoes, rice, or noodles.
Notes
Notes:
Traditionally, the steak pieces are coated in flour and browned before marinating. We eliminated this step and the end result is still excellent. If you prefer to coat first, use a mixture of flour, paprika, and garlic powder.
For a thicker sauce, use a little cornstarch to thicken the vegetable broth after cooking the vegetables. Alternatively, you can add a small can of tomato paste.
CrockPot:/Slow Cooker: We often make this in a crockpot. Prepare as above, then put the cooked vegetables, seitan, tomatoes in your slow cooker. I start it on high for about 30 minutes, then switch to the low setting for at least 5 hours. It is possible to cook it at high for 3 hours instead of switching if you prefer.
This reheats very well. We often make extra for lunches the following day.
Have You made the Vegan Swiss Steak with Seitan Recipe?
We love to have your comments. Share your photos, too! In fact, let us know in the comments below your experience with this recipe.
Read More:
Vegan Holiday Roast: Seitan or Cauliflower?