Vegan Globetrotter is supported by our audience. When you purchase through one of our links, we may earn a small affiliate commission.  As an Amazon Associate I earn from qualifying purchases. Your cost is not affected.
==================
One of my favorites is apple crumble during the fall season. This dessert is packed with flavor and nutrients, and it's sure to please even the pickiest eaters. The best part about vegan apple crumble is that it's easy to make. Simply combine apples, sugar, flour, and cinnamon, in a baking dish, top with a crumble topping, and bake for 50 minutes. In just a few minutes, you'll have a delicious fall dessert that everyone will love. So go ahead and give this recipe a try. I think you'll be pleasantly surprised!
Apple Crumble: The Dessert That Will Make You Fall in Love
I used to make this apple crumble every autumn season and during my cooking, I realized that this apple crumble is not only a healthy and delicious dessert to try this fall season. It is also adaptable and enjoyable to make and I keep falling in love with the result. Here's why you're going to fall in love with this classic fall treat.
1. Easy to Make. One of the best things about apple crumble is that it's so easy to make. You don't need to be a master baker to whip up a batch of this delicious dessert.
2. Versatile. Another great thing about apple crumble is that it's versatile. Don't like cinnamon? Leave it out! Need to use up some leftover oatmeal? Use it in place of some of the flour! There are endless ways to customize this dessert to fit your taste preferences.
3. Nostalgic. Finally, apple crumble is nostalgic. This dessert conjures up memories of family gatherings, friends around the dining room table, and lazy Sundays spent curled up on the couch with a good book. One bite is sure to bring back all sorts of happy memories.
There's nothing like a warm slice of apple crumble on a cool autumn evening. This classic dessert is easy to make, versatile, and Nostalgic—what's not to love? So go ahead and put on your coziest sweater, light a fire in the fireplace, and enjoy a delicious bowl of apple crumble. You deserve it!
What's in a baking dish?
Well, the baking dish is packed with delicious fall flavors. Best of all, it's easy to make and can be assembled in minutes. So if you're looking for a plant-based dessert that will impress your guests, this is the perfect recipe for you. To make this apple crumble, start by gathering the ingredients.
For the apple filling, you'll need apples, of course, as well as raw sugar, all-purpose flour, and ground cinnamon. For the crumble topping, you also need all-purpose flour, raw sugar, vegan butter, and ground cinnamon.
Ingredients Tips
To make this gluten-free recipe, look for certified gluten-free flour. They are available in the supermarket. Also, I highly suggest mixing Honey crisp and Granny smith apple as they have a perfect combination.
A quick overview to make this healthy dessert
Apple crumble is the perfect easy-to-make dessert for any occasion. It's also one of the most versatile recipes out there, as you can use any type of apple you like. For this version, I've used a mixture of Granny Smith and Honeycrisp apples, to make this recipe you will need to…
1. Mix all the apple-filling ingredients in a baking dish.
2. In a separate bowl, mix all the ingredients of crumble toppings; pour them into the apple filling!
3. Bake for 50 minutes or until the top is golden brown and bubbly.
4. Serve warm with a scoop of vegan ice cream or dairy-free whipped topping. Enjoy!
Ingredients Note
First, make sure to use lots of butter! This will make your crust nice and flaky. Second, don't skimp on the sugar. A little bit of sugar is essential to bring out the natural sweetness of the apples. And finally, don't forget the cinnamon. A sprinkle of cinnamon is the perfect finishing touch to this classic dish.
So whether you like your apple crumble with oats or nuts, we hope you'll give our version a try. We think you'll find that it's just perfect!
Looking for more holiday vegan recipes to add to your vegan diet?
Well, satisfy your tastebuds with our healthy and delicious: Mini Pumpkins Cream Puffs, Pumpkin Alfredo Pasta Recipe, Vegan Maple Pumpkin Overnight Oats, Vegan Pumpkin Pie Smoothie, Apple Cranberry Crisp, Pumpkin Alfredo Pasta Recipe, Butternut Squash Pancakes, 20-minute Pumpkin Soup, Air fryer Cinnamon Rolls, Delicious Dairy-Free Pumpkin Spice Latte Recipe, Pumpkin Spice Fudge, Sweet Potato Pie Cupcakes with Cinnamon Frosting, Autumn Salad, Apple Cinnamon Waffles, Autumn Pizza with Vegan Gouda Cheese, Pumpkin Spice Fudge, Delicious Dairy-Free Pumpkin Spice Latte Recipe, Vegan Butternut Squash Curry with Chickpeas,  Teriyaki Tofu-Tempeh Casserole, Butternut Squash White Bean Kale Stew, Vegan Spaghetti Squash with Marinara Sauce, Sweet Potato Shepherd's Pie Casserole, Autumn Carrot-Sweet Potato Soup, Apple Cider Bourbon Cocktail-Alcohol Free, Vegan Pumpkin Cream Cold Brew, Dairy-free Pumpkin Ice Cream, Pumpkin Risotto-Comforting Meal, Autumn Spice Pear Cobbler, Roasted Butternut Squash Burger, Pear, Pumpkin, and Ginger Mocktail, and Air fryer Butternut Squash Fritters.
The recipes I've listed are perfect for Thanksgiving, the fall season, and even the winter months. They are very delicious and fully made of plant-based ingredients. They are an excellent addition to your vegan diet and, best of all, will appeal to both vegetarians and non-vegetarians, so add them to your list of vegan dishes.
This apple crumble is easy to make and you will make it again and again. So, don't forget to share with us your experience of how this recipe works for you!
Eat fresh, eat apple crumble!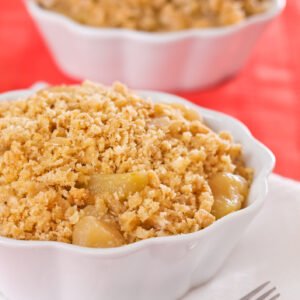 Vegan Apple Crumble-A perfect combination of Granny smith & Honey Crisp!
This vegan recipe is the perfect fall dessert! It's easy to make, and it's packed with delicious flavors. The best part is that it's vegan, so you can enjoy it without guilt.
Ingredients
Filling:
4

medium

apples

2 Granny smith and 2 Honeycrisp; thinly sliced

11/2

tbsp

all-purpose flour

or use certified gluten-free flour

1

tsp

cinnamon

ground

2 1/2

tbsp

sugar
Topping:
4

oz.

all-purpose flour

5

tbsp

butter

vegan

12

tbsp

brown sugar

1/2

tsp

cinnamon

ground
Instructions
To make apple crumble:
Preheat the oven to 350°F.

In a baking dish, mix the thinly sliced apples, sugar, cinnamon, and all-purpsoe flour. Mix them well until the apples are coated.

In a large mixing bowl, stir to combine the vegan butter, all-purpose flour, brown sugar, and cinnamon. Stir them well until everything is incorporated.

Over the apple filling, pour the vegan butter mixture and bake for 50 minutes or until the top is golden brown and bubbly.

Serve warm with a scoop of vegan ice cream or dairy-free whipped topping. Enjoy!
Nutrition
Calories:
237
kcal
Carbohydrates:
57
g
Protein:
3
g
Fat:
1
g
Saturated Fat:
0.3
g
Polyunsaturated Fat:
0.2
g
Monounsaturated Fat:
0.1
g
Cholesterol:
1
mg
Sodium:
19
mg
Potassium:
179
mg
Fiber:
3
g
Sugar:
36
g
Vitamin A:
75
IU
Vitamin C:
5
mg
Calcium:
43
mg
Iron:
1
mg
For More Fall Dessert Recipes
The recipes below are perfect for the fall season and a great addition to your vegan meal. So, if you are looking for a vegan recipe for fall the season look no further than these recipes below. And for more vegan recipes, don't forget to subscribe to our newsletter!
2. Caramel Apple Cookies Recipe
3. Sweet Potato Pie Cupcakes with Cinnamon Frosting
4. Caramel Apple Cookies Recipe
To Wrap It All Up
Who would have thought that eating healthy could be so delicious? With this vegan apple crumble recipe, you can indulge in a dessert that is not only good for your body but also tastes amazing. Plant-based ingredients make this dish guilt-free, and the apples provide a sweetness that will tantalize your taste buds. So what are you waiting for? Get baking!
Connect With Us
If you tried this vegan apple crumble, take a ?  and tag us on our social media: Facebook, Twitter, Pinterest, and Instagram, and subscribed to our YouTube Channel.  I'd be delighted to see it! To make sure you don't miss any recipes, remember to subscribe to our email newsletter which will be delivered to your inbox every week. ?
Read More
Apple Cider Bourbon Cocktail-Alcohol Free
Pear, Pumpkin, and Ginger Mocktail
Food With High Antioxidant Levels; What Vegans Eat
Fall-Budget Friendly Activities