Vegan Globetrotter is supported by our audience. When you purchase through one of our links, we may earn a small affiliate commission.  As an Amazon Associate I earn from qualifying purchases. Your cost is not affected.
==================
These Caramel Apple Cookies bring back memories of that sweet treat that fall brings- Caramel Apples on a stick!
Caramel Apple Cookie Recipe
Memories of enjoying Caramel coated apples are some of those fond childhood memories. These Caramel Apple Cookies pull those flavors together in the form of a chewy cookie. Baked to a beautiful golden brown, the aroma of these cookies drifts through the kitchen, calling family members to grab the first from the oven.
I've taken one of my Grandma's favorite recipes and modified it to be plant-based. While it is still a cookie, and therefore not considered quite healthy, these little golden gems provide you with flavorful snacks for the whole family. Share some with your friends, too!
What is Caramel?
Most of us have enjoyed caramel either as a candy or a rich syrup on dessert. But do you know what caramel is made from?
Traditionally, caramel is made by heating white granulated sugar slowly until it reaches 340°F. The sugar molecules are broken down during this process and become a deep golden brown color with rich flavor tones. This is different than its similar flavored cousins, butterscotch and toffee. So while we might enjoy the caramel candy coating on a caramel apple, we really are just eating sugar, usually combined with corn syrup. 
Our vegan version still uses sugar but is balanced with coconut cream and without any corn syrup. Healthy? No. But much better than the traditional caramel.
Equipment You'll Need
This recipe boasts of simplicity. You will want to have your baking sheets lined with either parchment paper or silicone baking mats.You will want to use two bowls- a small one and a medium one. Also a small pot. For mixing, a portable mixer works great. You will want a cooling rack for the cookies to rest on while they cool before icing.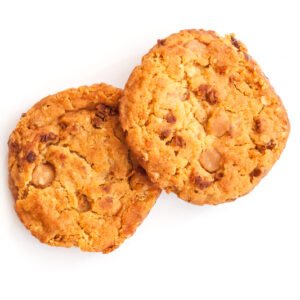 Caramel Apple Cookies
Creamy caramel and apples in a soft cookie. These cookies are a winner! Made for fall apple season, we actually enjoy these year-round.
Ingredients
1 1/2

cups

white wheat flour

or all-purpose flour

1

teaspoon

baking soda

1/4

teaspoon

salt

1 1/2

cups

old-fashioned oats

3/4

cup

vegan butter

softened

1 1/4

cup

Swerve

or use light brown sugar

1

tablespoon

flaxseed

ground

3

tablespoons

water

2

tablespoons

oat milk

or other plant-based milk

1

teaspoon

vanilla

2

baking apples

peeled, chopped
For The Caramel Topping:
1

cup

coconut cream

3/4

cup

Swerve

or light brown sugar

1

tablespoon

cornstarch

1/8

teaspoon

salt

optional, use for salted caramel flavor
Instructions
Heat oven to 325°F. Prepare the baking sheets by lining them with silicone baking mats or parchment paper.

Mix the water and flax seed together in a small bowl. Let stand for 5 minutes to create the flax egg.

In medium bowl, mix flour, baking soda and salt with whisk; stir in oats. In a stand mixer, beat butter and brown sugar on medium speed until creamy. Add fox egg, oat milk and vanilla; beat 2 minutes or until light and fluffy.

On low speed, beat in flour mixture until blended. Stir in tart apples. Drop dough by rounded tablespoonfuls 2 inches apart, onto the cookie sheets.

Bake 14 minutes or until golden. Remove from cookie sheets to cooling racks; cool completely.

While the cookies bake, make the caramel glaze

In a small pot, mix the coconut cream, Swerve, and cornstarch. Heat over medium-high heat, stirring constantly until the coconut cream melts and the mixture becomes bubbly. Lower the heat to a simmer and continue heating, stirring frequently, for about 5 minutes.

Drizzle warm glaze over cooled cookies. Let stand 15 minutes or until set.
Notes
Note:
These cookies can be stored in an air-tight container in your refrigerator for about 5-7 days. You may also freeze them for up to 3 months.
To store, Ensure they are completely cooled and set. Then, place in an airtight food storage container. Place wax paper between layers to prevent sticking.
Nutrition
Calories:
70
kcal
Carbohydrates:
19
g
Protein:
1
g
Fat:
4
g
Saturated Fat:
1
g
Polyunsaturated Fat:
1
g
Monounsaturated Fat:
2
g
Trans Fat:
0.02
g
Sodium:
103
mg
Potassium:
19
mg
Fiber:
1
g
Sugar:
1
g
Vitamin A:
216
IU
Vitamin C:
0.002
mg
Calcium:
6
mg
Iron:
0.3
mg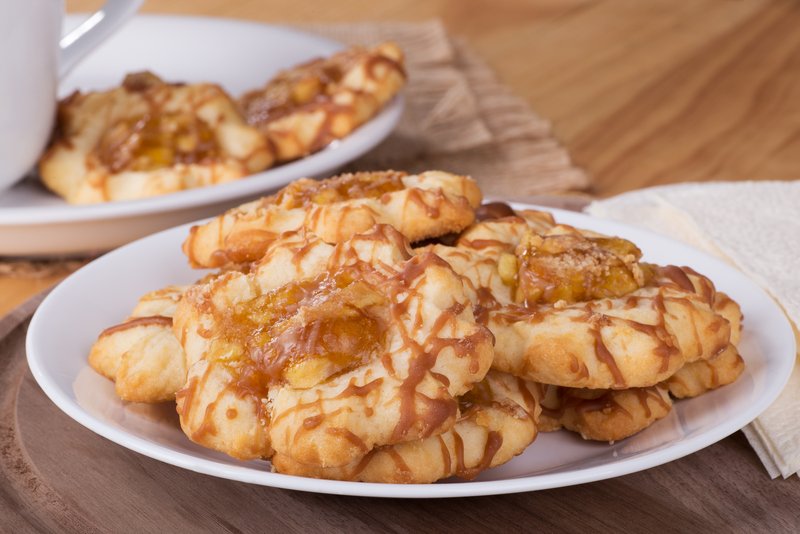 Ready to try these Caramel Apple Cookies?
They come together quickly, and when your family and friends come, the cookies disappear just as fast! Make a double batch so everyone has one. We like hearing your comments. Please share your thoughts below.