Vegan Globetrotter is supported by our audience. When you purchase through one of our links, we may earn a small affiliate commission.  As an Amazon Associate I earn from qualifying purchases. Your cost is not affected.
==================
Air fryer Oatmeal Tahini Crunch Cookies
Tahini Oatmeal Cookies only take 15 minutes in the air fryer! Did you know you could bake this with an amazing kitchen gadget? You don't own an air fryer, do you? Must read this; Review: Benefits of the Ninja Air Fryer AF 101 I hope it helps in your decision-making. Cookies, by the way, are my new favorite special treat, so I wanted to check if I could prepare some, and thus these really delicious oatmeal tahini cookies with walnuts and chocolate chunks were created.
The outside of these cookies is well crisp, while the inside is chewy and tender. What else makes these cookies so special? They are not only very tasty, but they are also gluten-free, vegan, oil-free, and sugar-free. They are also flourless and baked with oats, so you can pretty much call them breakfast-worthy, right? They are actually fairly healthy for a cookie.
Spice Up Your Cookies!
Here are some alternative ideas in case you're allergic to or can't get your hands on some of the items. If you try these substitutions tips, please let me know how they go in the comments!
Maple Syrup: Obviously, maple syrup is less sticky than agave, but you can experiment with other liquid sweeteners.
Tahini: The tahini is a key ingredient in this dish. Because it's runnier than other nut and seed butter, I don't recommend substituting it.
Chocolate Chunks: Replace the raisins with seeds/nuts or leave them out entirely and add more seeds/nuts.
Walnuts: Substitute almonds, pistachio, pecans, or any other seeds/nuts of your liking.
Oat flakes: If you could only have rolled oats, process them 4-6 times in a food processor till they are larger than quick oats but not completely broken down.
Vegan Globetrotter Tips
Since the dough is sticky, moisten your hands before rolling it into balls. If they're sticking to your hands too much, you can flatten them with a spatula.
5 minutes to pre-heat your air fryer this guarantees that both batches bake for the same length of time.
Every air fryer is unique in its own way. After 5 minutes, check on your cookies to see how much longer they require. Around the edges, they should be slightly toasted. If you prefer a crispier cookie (yet remaining chewy and mushy in the middle), bake for an additional minute in the air fryer. In the air fryer, the cookies featured in the images took about 5 minutes. The cookies that are somewhat crisper and almost scorched on the outside actually taste better; they only required 6 minutes in my air fryer.\

Change 

the 

flavor as your liking 

using 

the 

same recipe, 

add 

other dried fruit, seeds, spices, and nuts.
Storing Tips
Freshly out of the air fryer, these cookies are excellent and will keep their crunchy-chewy texture for up to a day. If you want to keep them, don't cover the container with a lid because it will make the cookies lose their crunchiness. If you microwave the cookies for 9-12 seconds, just till warm, they taste much better the next day. These cookies only create about 9 cookies, and if you divide the ingredients in half, you may make a small batch of 4 cookies.
Must-Try Air fryer Recipes
Bake this with your air fryer. Serve with your friends and family. Oh, and these cookies are also kid-friendly! I swear, they will enjoy these cookies!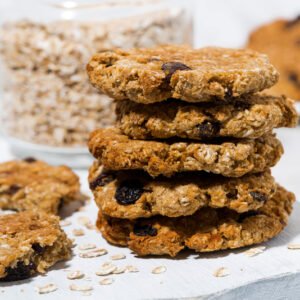 Air fryer Tahini Oatmeal Cookies
In just 15 minutes, these are freshly made cookies! Crisp on the outside, chewy and softy on the inside, and filled with walnuts and chocolate, they're a delight.
Ingredients
5

tbsp

tahini

8

tsp

maple syrup

16

tbsp

oat flakes

gluten-free

4

tsp

almond flour

6

tbsp

chocolate chunks

5

walnuts

vanilla

optional

cinnamon

optional

kosher salt

pinch
Instructions
In a mixing bowl, combine the maple syrup, tahini, cinnamon, vanilla, and salt. Mix well. Then, combine them into almond flour, walnuts, and oat flakes.

Form 9 cookie doughs and flatten them using your palm hands. Arrange the prepared cookie into a parchment line air-fryer. (See note)

Preheat the air fryer to 350°F. Fry the cookies for at least 6 minutes or more if you want crunchy cookies.
Notes
To be safe, outline the base of your air fryer basket on parchment paper and cut it out so that no paper goes out up the walls of the basket, as this may cause the paper to burn.
Nutrition
Calories:
2347
kcal
Carbohydrates:
276
g
Protein:
55
g
Fat:
121
g
Saturated Fat:
25
g
Polyunsaturated Fat:
42
g
Monounsaturated Fat:
26
g
Trans Fat:
1
g
Cholesterol:
4
mg
Sodium:
41
mg
Potassium:
1724
mg
Fiber:
41
g
Sugar:
73
g
Vitamin A:
96
IU
Vitamin C:
4
mg
Calcium:
436
mg
Iron:
19
mg
If you make this Air fryer Tahini Oatmeal Cookies please leave a comment below and rate the recipe on the recipe card.
Also, please tag us in your photos on our social media pages. I like seeing your recreations!
READ MORE
Vegan Cookies Ingredients: Benefits