Vegan Globetrotter is supported by our audience. When you purchase through one of our links, we may earn a small affiliate commission.  As an Amazon Associate I earn from qualifying purchases. Your cost is not affected.
==================
Vegan Fried Falafel
This vegan fried falafel alongside greek salad is incredibly tasty, and the flavors will make your mouth watering! You'll thank me after serving this! This recipe will satisfy your body as well as your taste buds! These are packed with plant-based ingredients. You won't regret to air frying this. Surely, you can do this twice if you want. This fried falafel recipe is adaptable; it may be served alongside any vegan food.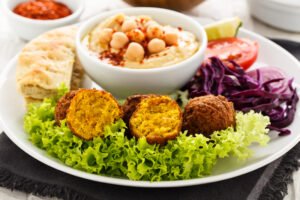 What Exactly Is Falafel?
Falafels are deep-fried balls or patties prepared from chickpeas or fava beans, or a combination of the two, with fresh herbs and spices. Falafel is a popular Middle Eastern street snack found in countries such as Egypt, Syria, Lebanon, Turkey, and Israel, where it is the national dish. Falafel is a popular vegetarian and vegan dish as well. It's eaten in pita sandwiches with pickles, spicy sauce, tahini, and vegetables like tomatoes, cucumbers, and lettuce; as part of a mezze spread with hummus, tabbouleh, and grape leaves; or as a salad or side with hummus.
Vegan Globetrotter Tips
On a paper towel, drain the chickpeas. It's critical to drain the canned chickpeas thoroughly and, preferably, to dry them out even more with paper towels. Because we're not using much flour in this recipe, making sure the canned chickpeas are completely drained and dried prevents your falafel from becoming too soggy on the interior.
Place the frozen dough in the freezer for 20 minutes before frying. This allows them to be extremely solid and hold their shape while frying.
Make them gluten-free by using gluten-free flour. You can simply make these falafels gluten-free by replacing regular wheat flour with a gluten-free all-purpose flour blend.
This falafel can also be baked. Place them on a parchment-lined baking sheet and bake for 15 minutes at 350°F, then flip them and bake for another 10-15 minutes.
Storing Tips
Falafel that has been left over keeps well in the fridge for 4-5 days. They're also freezer-friendly, so you can freeze them before or after cooking.
No air fryer and planning to buy one? Read this: Review: Benefits of the Ninja Air Fryer AF 101. I hope it helps.
Pro Tip: If you don't want to use cashews, this meal also goes well with Tahini Dipping Sauce.
Looking for more versatile dressing? Don't worry, Vegan Globetrotter will satisfy your craving with one of our dressings:
Well, this recipe is easy to make, though it has a lot of ingredients. My recipe card is easy to follow. You have nothing to worry about with the ingredients they have on hand. Go to your kitchen, get your air-fryer, and have this vegan fried falafel on your plate.
Try Our Vegan Fried Falafel:
Vegan Fried Falafel
With hot falafel, flavorful dressing, and a variety of chopped vegetables, this vegan fried falafel is really delightful.
Ingredients
For Greek Salad-Fried Falafel:
14-15

oz

chickpeas

garbanzo beans, undrained (16 oz), no salt added

3

oz

zucchini

shredded

2-3

oz

onion

finely chopped

3

oz

parsley

fresh, packed

3-4

tbsp

chickpea flour

1-2

tbsp

cumin

ground

¾

tsp

coriander

ground

kosher salt

to taste

black pepper

to taste

6-7

cups

romaine

chopped

2-3

cups

bulgur

chilled and cooked

1-2

cups

cherry tomatoes

halved

1

small

cucumber

cut into ½-inch slices

1

small

red onion

chopped

2-3

tbsp

Kalamata olives

slivered

¼

cup

cashews

raw, soaked 15-20 minutes in hot water

4

tbsp

white wine vinegar

4-5

tsp

Dijon mustard

3

cloves

garlic

8

tbsp

almond milk

unsweetened, unflavored plant milk, such as soy, cashew, or rice
Instructions
For Greek Salad-Fried Falafel:
Stir the aquafaba, chickpeas, and the remaining six ingredients (through coriander). Pulse till smooth. Sprinkle with salt and pepper. Then, preheat the air fryer to 375°F.

For The Falafel: From the chickpea mixture into 10 balls (3 tbsp each) then flatten them using your palm. Air-fry for 15 minutes till golden and firm.

For The Salad: On a serving dish, assemble the next six ingredients (through the olives).

For The Dressing: In a food processor, stir mustard, vinegar, cashews, and garlic. Close and pulse till creamy. Slowly add the milk till the mixture is creamy.

Enjoy the falafel on salad and pour with your favorite dressing.
Nutrition
Calories:
2179
kcal
Carbohydrates:
394
g
Protein:
95
g
Fat:
38
g
Saturated Fat:
5
g
Polyunsaturated Fat:
11
g
Monounsaturated Fat:
15
g
Sodium:
839
mg
Potassium:
5083
mg
Fiber:
102
g
Sugar:
44
g
Vitamin A:
33043
IU
Vitamin C:
200
mg
Calcium:
856
mg
Iron:
36
mg
If you make this Vegan Fried Falafel please leave a comment below and rate the recipe on the recipe card.
Also, please tag us in your photos on our social media pages. I like seeing your recreations!
READ MORE
Vegan Greek Cuisine, Authentic Greek
Mixed Vegetables With Air Fry Tofu
Vegan Chickpea Nuggets, Spicy or Not