Vegan Globetrotter is supported by our audience. When you purchase through one of our links, we may earn a small affiliate commission.  As an Amazon Associate I earn from qualifying purchases. Your cost is not affected.
==================
Chicken Nuggets Meet Their Match with Vegan Chickpea Nuggets
Store-bought vegetarian nuggets step aside. These homemade Vegan Chickpea Nuggets provide the perfect lunch, side-dish, appetizer, or even a light dinner. We think they shine on game day, too! Make them spicy or not. Serve with your choice of dipping sauces. You may never visit that section of the freezer aisle again!
I usually cook beans from scratch. It's cheaper, fresher, and I avoid all the extra cans to recycle, too. But I do keep a few cans of chickpeas in the pantry to make these and a few other select dishes. Oh, and they make a great snack by themselves, too!
If you have oat flour, use that in place of the oats. I find it easy enough to just grind the oats when I need some flour. Again, I save pantry space and money. You could try substituting other flours. Wheat seems a bit too heavy for the flavor to me. But maybe that works for you.
We use the liquid from the canned chickpeas for many recipes. Known as "aquafaba", it makes an easy egg replacer acting as a binder in recipes such as this one.
Although you could skip toasting the breadcrumbs, we find it adds flavor and a bit more crunch to the texture. It also provides a nice golden nugget color.
But now, on to our Vegan Chickpea Nugget recipe.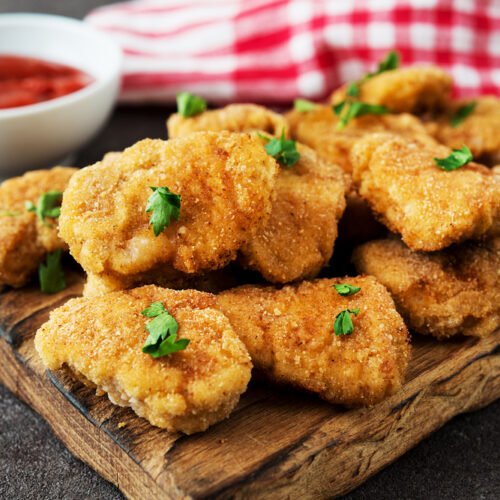 Chickpea Nugget
Our natural-style nugget easily replaces the chicken nuggets or the fake meat alternative ones. Spice it up a little if you choose, or just adjust your sauces for the intended flavors. These make great lunch meals, easy summer dinners, or game day snacks. Make extra, they store in an airtight container in your refrigerator for up to 4 days.
Ingredients
1

cup

breadcrumbs

panko work well, or use whole grain crumbs

1

cup

rolled oats

2

15 ounce cans

garbanzo beans

undrained

2

teaspoon

salt

1 1/2

teaspoon

garlic

garlic powder

1 1/2

teaspoon

onion

onion powder
Instructions
Arrange a rack in the middle of the oven and heat to 375°F. Prepare a rimmed baking sheet with parchment paper or a silicone baking mat.

Place the panko on the baking sheet. Bake until toasted and golden-brown, about 5 minutes.

Transfer to a bowl and set aside to cool while preparing the nuggets. Line the baking sheet with fresh parchment paper or wipe down the silicone baking mat.

Place the oats in a food processor fitted with the blade attachment. Process into a fine flour.

Transfer to a large bowl.

Drain the chickpeas over a bowl or large measuring cup, saving the chickpeas and liquid separately.

Place the chickpeas into the food processor; add the salt, garlic, and onion powder. Pulse until crumbly. Keep mixture in the food processor.

Whisk 1/2 cup of the chickpea liquid in a small mixing bowl until foamy. Add the foamy chickpea liquid and 1 cup of the oat flour to the food processor. Pulse until the mixture forms a ball.

You may have a little oat flour remaining. If the mixture seems too loose, use this flour to add to the chickpea mixture a little at a time until it reaches a moldable consistency.

Divide the chickpea mixture into 24 equal portions and shape each one into a nugget. Coat each nugget completely in the toasted panko and place on the parchment-lined baking sheet.

Bake until crispy, 15 to 20 minutes. Serve warm with your favorite dipping sauce.
Notes
Want a spicy seasoned nugget? Add a teaspoon of each: chili powder and smoked paprika to the panko after baking. Use more or less, according to your tastes.
Nutrition
Calories:
124
kcal
Carbohydrates:
22
g
Protein:
4
g
Fat:
2
g
Saturated Fat:
1
g
Polyunsaturated Fat:
1
g
Monounsaturated Fat:
1
g
Sodium:
908
mg
Potassium:
89
mg
Fiber:
2
g
Sugar:
1
g
Vitamin A:
1
IU
Vitamin C:
1
mg
Calcium:
42
mg
Iron:
1
mg
Have you tried this recipe?
Please comment below and let us know how you enjoyed it.
Read More