Vegan Greek Cuisine
Why Vegan Greek cuisine? Ancient Greece is not only recognized for its marvelous philosophies but for its rich agriculture as well. Indeed, Greek cuisine remains popular all around the world even today. Greek yogurt, herbs, and many entrees tempt people of Europe, the USA and numerous other countries.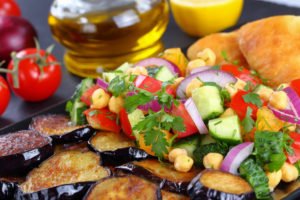 The foremost ingredients of the ancient Greek cuisine were cereals, legumes, wine, and olives. The Mediterranean food is derived from the Roman and Greek cuisines, which is why olive oil is the essential component of all Mediterranean diets. The Greeks were fond of farming; in fact, almost 80% of the population was engaged in agriculture. Barley was the most commonly produced crop in the Greece. Harvestation of olive trees was also widespread.
Vegetables
The Greek cuisine is mainly influenced by its Mediterranean neighboring regions such as Egypt and Rome. They grew onion, garlic, and olives initially. In fact, these remain the basic components of their meals always. Other than onions and garlic, they consumed leek, turnip, lettuce, radish, artichoke, cucumber cabbage, and celery. Also, the Greeks reportedly used chickpeas and lentils also in many of their dishes.
Fruits
In terms of fruits, there were more imported than grown. However, dates, figs, and olives were largely consumed in the Greece prehistorically. Although the land was tight, there were orchards in the ancient Greece; they planted almonds, pears, and apples. They also planted oilseed plants such as sesame, poppy, and linseed.
Greek Meals
The Greeks were quite particular about their culinary traditions and the Mediterranean diet is a merger of multiple influences from the surrounding neighbors.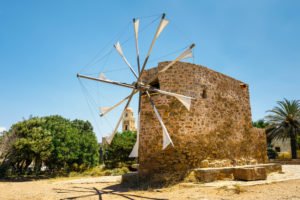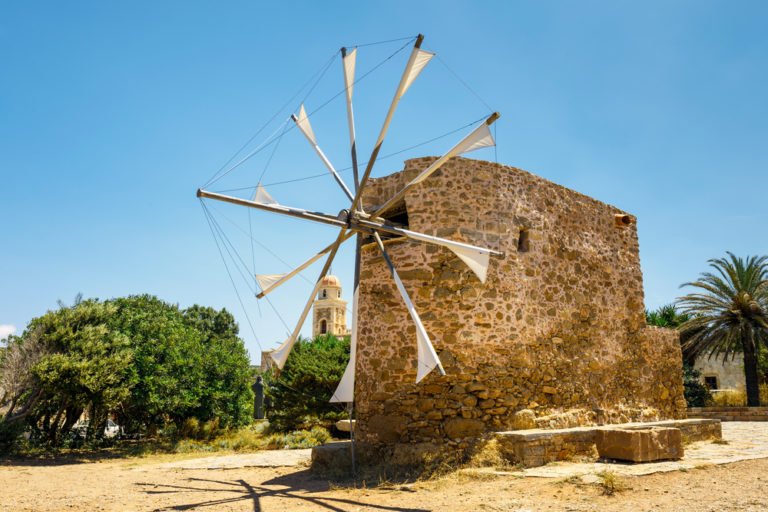 The Greeks often used to have more than three meals daily. Since they had their own olive trees, they used to extract olive oil and it was used in almost all of their dishes. Through the history of the Mediterranean diet, it has been found that the Greeks consumed fish more, and the meat was eaten rarely. They used to farm animals for cheese, were not big fans of butter. However, in the modern era, vegan substitutes are more commonly used in the Greek dishes. Indeed, vegan Greek cuisine continues to gain popularity in the USA, Europe, and around the world. We feature many of these in our vegan Greek cuisine recipes.
Breakfast
Like most of the civilizations, Greeks too used to eat bread. They composed the bread from barley and often dipped it in wine. Usually eaten at breakfast, it often accompanied olives and figs.
Another significant dish is the tiganite, a sort of pancake made out of wheat, olive oil, honey and curdled milk. Still today, Greeks enjoy tiganites at breakfast.
Early Noon Meal
The Greeks serve lunch in the early afternoon. A common lunch might include lentil soups, salads, appetizers, and rice. A Greek salad consists mainly of cucumbers and tomatoes.
Late Noon Meal
Consisting mainly of bread, beans or salads, the late noon meal is the lightest meal of the day. Beverages accompany this meal, as well.
Dinner
Dinner remains the most important meal of the day in the Greek culture. Served late at night, dinner usually consists of multiple courses. These include salads, appetizers, meals, and wine. In social dinners, bread, honey cakes, and rice dishes soaked in wine are enjoyed with beverages.
Traditions, Greek Herbs, and Spices of Greece
Greek traditions remain strong from early history to current times. In fact, since historical times, they show a distinctive culinary art which they still adhere to.  Intense flavors and aromas abound in Greek cuisines. Herbs grow effortlessly in Greece and their fragrance saturates through the islands. Herbs like Basil, mint, thyme, and oregano grow well throughout the country. The chefs use them fresh and hand-picked from the terraces. Our vegan Greek cuisine recipes incorporate these traditional spices and herbs.
In recent times, herbs are used in dried forms too. Some of the Greek recipes involve a few spices such as cinnamon and dried oregano. Chilies are not so common. However, freshly grounded black pepper is used in some of the baked dishes.

Feast Of St. Basil
The festival is celebrated on the first of January. The vision behind the festival is to inaugurate the New Year with a good and healthy start. A basil cake is sliced and the person, who gets the piece with a coin in it, gets the good luck for the whole year. The festival is celebrated in the whole country with traditional zeal and zest.
Road to Longevity?
Many studies show that Greek and other Mediterranean Cuisine offers health benefits. Our Vegan Greek Cuisine recipes provide ways for you to enjoy the healthy benefits. In fact, you might consider these recipes as part of an overall healthy living plan.
Read more at: