Vegan Globetrotter is supported by our audience. When you purchase through one of our links, we may earn a small affiliate commission.  As an Amazon Associate I earn from qualifying purchases. Your cost is not affected.
==================
Shamrock Sugar Cookies
These Shamrock Sugar Cookies are the sweetest, easiest-to-pop-in-your-mouth-and-eat treats are green clover cookies sitting just right on your plate. Little fingers will enjoy assisting in the process, as well as eating the results. With a base of confectioners' sugar, the dough is a rich, shortbread-like cookie. When you eat it, unlike regular sugar cookies, it melts a little on your tongue.
Around here, it's all about the shamrock foods. I'm going to make it if I can cut it into a shamrock shape! These St. Patrick's Day cookies are always a hit, and they're practically foolproof if you follow the instructions. Believe me when I say that if I can make them, so can you!
They're perfect for potlucks, parties, or just to share with friends and family. It's difficult not to get into the spirit with all that green! I'm looking forward to showing you how to make St. Patrick's Day cookies.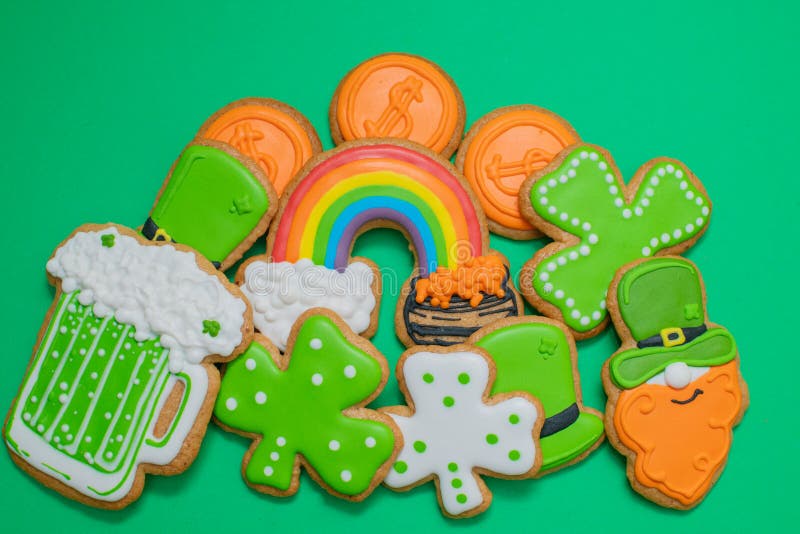 Easy Shamrock Sugar Cookies with 6 Ingredients
All-purpose flour, dairy-free butter, powdered sugar, almond extract, and cornstarch are the five basic ingredients in this recipe.
Then there are the sixth ingredient: green vegan sugar sprinkles because you want to make your St. Patrick's Day festive.
Traditional Shamrock Sugar Cookies have a beautiful crumbly texture and a delicious buttery flavor despite having only a few ingredients. With just a few tweaks, this vegan recipe is perfect, and I have yet to meet someone who didn't love them.
To make these shortbread cookies, combine the following ingredients in a mixing bowl. These baked goods are simple to make because I kept them simple.
I make my own flavors with a lovely combination of all-purpose flour, butter, dairy-free, and almond extract.
I don't shy away from shortbread's delicate soft texture, which everyone adores.
You can make a healthier version by cutting them into shapes that don't require colored sugar.
Why Will You Adore These Cookies?
It's simple! It's literally a dump-and-mix situation with the dough. Simply combine all of the ingredients in a single bowl and stir to combine.
Know how to roll out the dough for perfect cut-out cookies. I used a shamrock cookie cutter, but any shape will work.
Frosting without the work! Actually not literal frosting. The frosting is also simple, making shamrock sugar cookie decorating a breeze! I adore the look of the green sanding sugar; it's the perfect finishing touch.
These shamrock sugar cookies have a great flavor and a great texture. I prefer softer sugar cookies, but if you prefer crispier sugar cookies, go ahead and make them.
So save this recipe because you can use it again and again with different cookie cutters and colored sugars to match the occasion. But for the time being, shamrock shape it is!
Try Our Shamrock Sugar Cookies Recipe: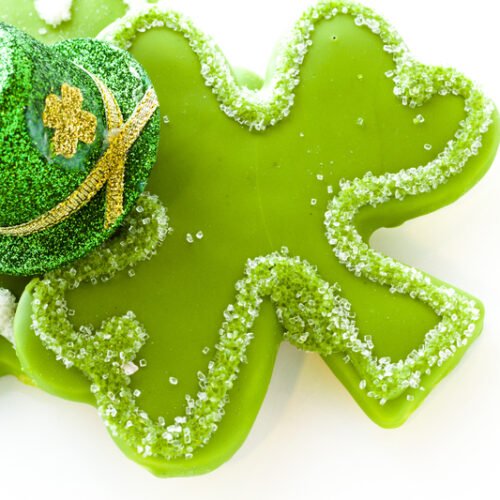 Shamrock Sugar Cookies
The sweetest little treats you'll have on St. Patrick's Day are cut-out Shamrock Sugar Cookies! A mini heart-shaped cookie cutter is all you need to make the shamrock shape.
Ingredients
INGREDIENTS
3-4

cups

all-purpose flour

2-3

cups

butter

dairy-free softened

16

oz

sugar powder

organic

1

tbsp

almond extract

organic

6

oz

cornstarch

non-GMO organic

sugar

green sprinkles
Instructions
In a mixing bowl, combine the powdered sugar, cornstarch, and flour. Sett them aside.

Cream the vegan butter until it is smooth. Combine in the dry ingredients and almond extract. Stir well.

Make two balls out of the dough. Press down slightly.

Refrigerate for at least one hour. After one hour, remove one of the balls from the fridge.

Put the ball on a cookie sheet and roll it out to a thickness. On the cookie sheet, cut the shamrock shape or any shape you desired. (See note 1)

Before baking, dust the shape with colored sugar. (See note 2)

Preheat oven to 350°F and bake for 15 minutes. (See note 3)
Notes
Remove 

any 

excess 

dough 

from 

around 

and 

between 

the 

stars. 

This 

dough 

will 

be 

reused.

I topped the cut-out star with a smaller star and sprinkled sugar inside the cutout. This creates a nice edge and prevents the sugar from spilling onto the cookie sheet.
Cook on a wire rack until done. Repeat until all of the dough has been used. 

Sprinkle 

the 

sugar 

on 

if 

you 

don't 

have 

a 

smaller 

star 

cookie cutter. 
Nutrition
Calories:
63
kcal
Carbohydrates:
25
g
Protein:
1
g
Fat:
1
g
Saturated Fat:
1
g
Polyunsaturated Fat:
1
g
Monounsaturated Fat:
1
g
Cholesterol:
1
mg
Sodium:
14
mg
Potassium:
29
mg
Fiber:
1
g
Sugar:
1
g
Vitamin A:
21
IU
Calcium:
17
mg
Iron:
1
mg
READ MORE:
Mom's Date Turnover Cookies
Raspberry Coconut Dark Chocolate Cups
Privacy Policy for VeganGlobetrotter