Vegan Globetrotter is supported by our audience. When you purchase through one of our links, we may earn a small affiliate commission.  As an Amazon Associate I earn from qualifying purchases. Your cost is not affected.
==================
As the weather starts to cool down and the leaves begin to change color, soup season is upon us once again! This autumn carrot-sweet potato soup is the perfect dish to warm you up on a chilly autumn day. It's hearty and comforting, and it's also vegan and gluten-free! Plus, it's super easy to make.
The thought of becoming a vegan can be daunting. Where do you even start? What do you eat? How do you make sure you're getting all the nutrients your body needs? And what about those pesky cravings for non-vegan foods? Luckily, there are tons of delicious and nutritious vegan recipes out there that will satisfy even the pickiest of eaters. This hearty carrot and sweet potato soup is one of them, and whether you're an experienced cook or a beginner in the kitchen, this soup is perfect for you.
Sweet Potato and Carrot – A Perfect Vegan Combination!
Did you know that sweet potatoes and carrots are actually a perfect vegan combination? Not only are they both incredibly healthy for you, but they also taste great together! Here are some fun facts about these two lovely vegetables:
Carrots were first cultivated in Iran and Afghanistan, while sweet potatoes were first grown in South America.
They are root vegetables, while sweet potatoes are classified as a starchy tuber.
Carrots come in many different colors, including white, yellow, orange, red, and purple. Sweet potatoes, on the other hand, are usually orange or white on the inside.
Carrot tops can be used as greens, while sweet potato leaves are often cooked and eaten as a spinach substitute.
Now that we know a little bit more about sweet potatoes and carrots, let's talk about why they make such a perfect vegan combination. For one thing, they're both packed with nutrients that are essential for good health. Carrots are an excellent source of beta carotene, which is converted into vitamin A in the body and is important for vision and immune function. Sweet potatoes, on the other hand, are rich in vitamins C and B6, potassium, and fiber. They're also a good source of iron.
Another reason why sweet potatoes and carrots make such a great team is that they complement each other perfectly in terms of flavor. Carrots have a crisp sweetness that pairs perfectly with the creamy richness of sweet potatoes. And when you add in some other complementary flavors like ginger, cinnamon, or nutmeg, you have a dish that's absolutely irresistible!
So there you have it – everything you need to know about why sweet potatoes and carrots make such a perfect vegan combination! If you're looking for a healthy and delicious vegan option for your next meal, give this combo a try – you won't be disappointed!
Soup: Plant-based ingredients tips
Carrots and sweet potatoes have a perfect combination in this soup but some remaining ingerdeints are a great addition to this comforting soup. What are they?
Vegetable broth: Instead of using chicken broth, use vegetable broth to keep this vegan.
Unsalted butter: Make sure they are dairy-free; it's either store-bought or homemade.
Yellow onions: This onion is perfect for soup recipes.
Curry powder: It gives a tangy color, and savory taste.
Maple syrup: It adds taste to this soup, adjust to taste if needed.
Carrots and sweet potatoes: You can use fresh or frozen.
Kosher salt and black pepper: Use to balance the taste, adjust to taste if needed.
Yes, they are consists of a few basic ingredients. So grab them now and make this comforting soup!
Soup is a great meal for vegans and vegetarians because it can be made with so many different vegetables.
In this blog post, we will show you how to make delicious carrot and sweet potato soup. This soup is perfect for colder weather, and it's sure to satisfy your appetite. So, let's get started!
A comforting soup in a bowl!
As the temperature starts to drop, there's nothing like a comforting bowl of soup to keep you warm. This carrot and sweet potato soup are both vegan and vegetarian-friendly, and it's simple to make.
So here it goes, just sauté some onion and garlic in a bit of oil, add the carrots and sweet potatoes, then pour in some broth. Let the soup simmer until everything is soft, then blend until smooth. Top with some fresh herbs or a drizzle of olive oil, and you're good to go!
Plus, it's packed full of healthy ingredients that will help keep you warm and energized. Give it a try today!
Looking for more vegan fall recipes to add to your vegan diet?
Well, satisfy your tastebuds with our healthy and delicious: Mini Pumpkins Cream Puffs, Pumpkin Alfredo Pasta Recipe, Vegan Maple Pumpkin Overnight Oats, Vegan Pumpkin Pie Smoothie, Apple Cranberry Crisp, Pumpkin Alfredo Pasta Recipe, Butternut Squash Pancakes, 20-minute Pumpkin Soup, Air fryer Cinnamon Rolls, Delicious Dairy-Free Pumpkin Spice Latte Recipe, Pumpkin Spice Fudge, Sweet Potato Pie Cupcakes with Cinnamon Frosting, Autumn Salad, Apple Cinnamon Waffles, Autumn Pizza with Vegan Gouda Cheese, Pumpkin Spice Fudge, Delicious Dairy-Free Pumpkin Spice Latte Recipe, Vegan Butternut Squash Curry with Chickpeas,  Teriyaki Tofu-Tempeh Casserole, Butternut Squash White Bean Kale Stew, and Vegan Spaghetti Squash with Marinara Sauce, and Sweet Potato Shepherd's Pie CasseroleThey are completely plant-based and ideal for your vegan meal, and some of these recipes are perfect for thanksgiving day, and on winter season. Enjoy!s
However, if you do make them, don't forget to let us know how it went and give us a rating. Please leave a comment below. 🙂
My mother was so tired and I want to treat her and make her comforting food. Finally, I found this carrot and sweet potato soup–and she loves this as much as I do, That's why I m sharing this soup with you all!
Below is the recipe card including the ingredients and instructions. Make this comforting soup and share it with your family they will love this. Not gonna lie!
Have a comforting comfort soup!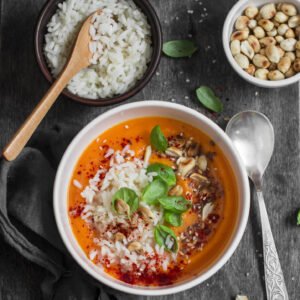 Autumn Carrot and Sweet Potato Soup
This vegan comforting soup that is perfect for the fall season is easy to make with a few ingredients. It is creamy and full of flavor. Best served with bread, sandwich, or burger.
Ingredients
Easy-to-find ingredients
4

tbsp

butter

unsalted, vegan

2

medium

yellow onions

chopped

1

tbsp

curry powder

add more, if needed

1

cup

carrots

peeled and chopped

1½

cups

sweet potatoes

peeled and chopped

8

cups

vegetable broth

1¾

tsp

kosher salt

1

small

apple

peeled and chopped

2-3

tbsp

maple syrup

adjust to taste

black pepper

freshly ground
Instructions
Easy-to-make soup!
In a medium pot over medium heat, melt the butter and saute the onions. Cook for 8-10 minutes then add the curry powder. Cook again for 1 minute.

Add the vegetable broth, carrots, and sweet potatoes, and season with salt. Let it simmer for 20-25 minutes or until the vegetables are tender.

Transfer the soup into a blender with apples and maple syrup. Puree the soup until creamy and smooth.

In a large bowl, pour the pureed carrot-sweet potato soup. Adjust the taste if needed.

Topped with leafy greens and serve with bread. Enjoy!
Nutrition
Calories:
772
kcal
Carbohydrates:
180
g
Protein:
13
g
Fat:
4
g
Saturated Fat:
1
g
Polyunsaturated Fat:
1
g
Monounsaturated Fat:
1
g
Cholesterol:
7
mg
Sodium:
11912
mg
Potassium:
2294
mg
Fiber:
21
g
Sugar:
106
g
Vitamin A:
53936
IU
Vitamin C:
52
mg
Calcium:
387
mg
Iron:
5
mg
For More Vegan Recipes
The vegan recipes I've suggested below are all vegan and made entirely of plant-based ingredients. They are also an excellent addition to any vegan meal. Non-vegetarians will enjoy these as well!
To Wrap It All Up
A big part of the fall season and winter season is enjoying comforting soups. This autumn carrot-sweet potato soup is a perfect vegan combination that will leave you feeling warm and satisfied. We've included some plant-based ingredients tips to help you make your own delicious soup at home. Whether you're a beginner or an experienced cook, we know you'll love this recipe!
Connect With Us
If you tried this autumn carrot-sweet potato soup, take a ?  and tag us on our social media: Facebook, Twitter, Pinterest, and Instagram, and subscribed to our YouTube Channel.  I'd be delighted to see it!
To make sure you don't miss any recipes, remember to subscribe to our email newsletter which will be delivered to your inbox every week. ?
Learn More
Vegan Potato Soup Recip; Comfort Food!