==================
A Caveat and Affiliates
First off, a little caveat: within my articles you will find affiliate links, meaning if you buy them, I get a small commission. Your cost is not affected. In addition, I am an Amazon Associate and I earn from qualifying purchases on Amazon.
And yes, if I say that I recommend a product here, it means I truly believe it is a good product. I refuse to recommend any product that I have not researched and believe to be a good value. Even better, I provide you with a very clear picture of the product, it's use, and the probable value. Earning your trust is important to me. I run this website myself and the commissions and donations help support the site. Sound reasonable and fair enough? Let's continue to the article.
==================
Refreshing and Detoxifying: Banana, Pineapple, Mango Smoothie
A fruity, very creamy vegan tropical smoothie, or should I say, a mango pineapple banana smoothie, excellent for summer! Vegan smoothies are a great way to satisfy your sweet taste while also providing a variety of nutrients. Blending multiple different fruits together is the secret to crafting a nutritious smoothie.
In addition, each fruit contains unique minerals and vitamins, and blending fruits improves the nutritional content of your vegan smoothies. This mango pineapple banana smoothie is the ideal way to get your essential vitamins because it has three tropical fruits.
Plant-Based Ingredients
Frozen mango chunks: I suggest getting a bag of frozen mango chunks, organic if possible, so you can use it right away.
Frozen pineapple: same as above; use frozen pineapple chunks to avoid the effort of cutting and freezing a fresh pineapple.
Banana: use a fresh, somewhat ripe banana to add sweetness. It delivers the best texture and improves the tropical flavor. I don't suggest making the smoothie with a frozen banana. A smoothie with too many frozen fruits will turn into a smoothie bowl, thick and only eatable with a spoon.
Coconut milk: canned coconut milk produces the greatest results and avoids the chemicals found in coconut milk beverages such as gums. Both options will work, however canned coconut milk will give you the creamiest texture and a healthier pineapple mango smoothie. Light canned coconut milk is also fine and has less saturated fat.
Coconut Water: If you don't have coconut water on hand, use water. Coconut water is the key ingredient that gives this quick vegan smoothie its tropical flavor.

Banana, Pineapple, Mango Smoothie: How To Make It?
Making smoothies at home is always simple, but getting the proper texture is the most challenging aspect.
Frozen and fresh fruits must be combined to achieve an extremely creamy smooth. This is the only way to avoid a frothy smoothie that's impossible to drink without a straw.
Tropical Smoothie Variation
This tropical smoothie recipe can be used to make a variety of tropical smoothies.
Let's explore at the extra ingredients for this recipe:
Hemp seeds, chia, sunflower, pumpkin, and poppy seeds are ideal for adding protein, healthy fats, and fiber to this tropical smoothie recipe.
To make this tropical smoothie to green smoothie you can add kale, 1tsp of spirulina, and baby spinach.
Make a tropical protein shake by adding 1 tbsp of vanilla protein powder.
Passion fruit can be difficult to come by, but it will boost the tropical tastes of this vegan smoothie.
You can replace coconut water with orange juice or pineapple juice to get additional vitamin C and fresh fruit.
For a hint of acidity, use lemon or lime.
Use any tropical fruits depending on your liking.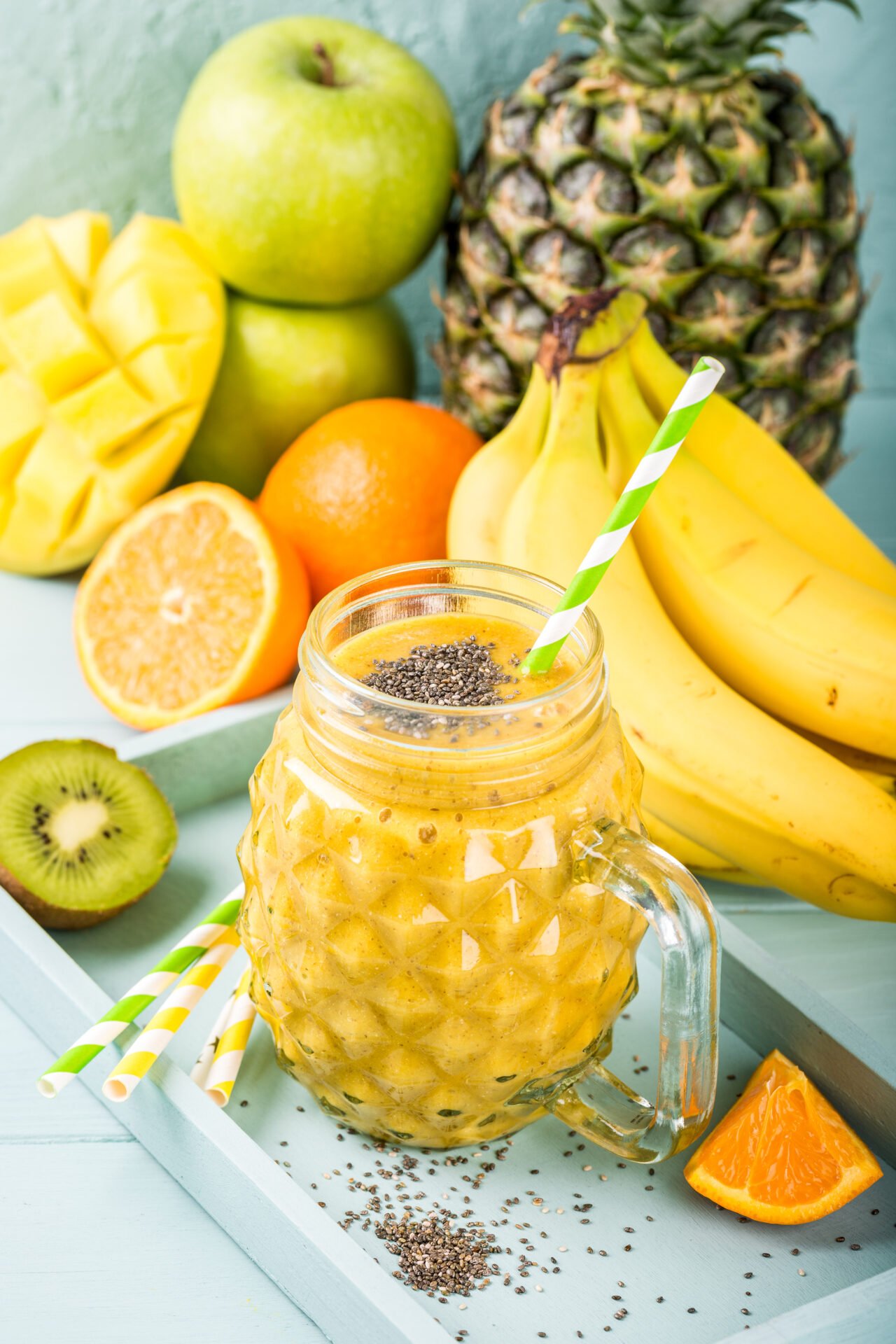 Jazzing Up
Serving this vegan smoothie with toppings like berries is even more appealing including:
Fresh ginger, grated, goes great with tropical fruit.
Flakes or shredded desiccated coconut
This recipe can be served as a smoothie bowl with vegan granola on top. To make the recipe thicker, use frozen banana instead of fresh banana.
This vegan tropical smoothie promotes relaxation and calmness. Try it out right now, and have a wonderful summer!
Vegan Tropical Smoothie You'll Love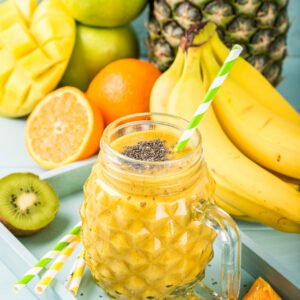 Vegan Tropical Smoothie
This vegan tropical smoothie is filled with summer fruits banana, mango, and pineapple. A refreshing and detoxifying smoothie you will have.
Ingredients
1-2

cup

pineapple

sliced

1-2

cup

mango

chunks

4

oz

coconut milk

canned

2

small

banana

diced

2

oz

coconut water
Instructions
In a food processor, add the mango, banana, pineapple, coconut water, coconut milk. Blend till smooth. Add more coconut water if needed.

Topped with your favorite fresh fruit, if desired. Enjoy!
Nutrition
Calories:
595
kcal
Carbohydrates:
98
g
Protein:
7
g
Fat:
26
g
Saturated Fat:
22
g
Polyunsaturated Fat:
1
g
Monounsaturated Fat:
1
g
Sodium:
80
mg
Potassium:
1571
mg
Fiber:
11
g
Sugar:
65
g
Vitamin A:
2010
IU
Vitamin C:
159
mg
Calcium:
84
mg
Iron:
5
mg
If you make this  Vegan Tropical Smoothie share with us your experience and tag us on our social media pages: Facebook, Twitter, Pinterest, Instagram, and subscribed to our YouTube Channel.
READ MORE:
Types of Plant-Based Milk; Vegan Friendly!