Vegan Globetrotter is supported by our audience. When you purchase through one of our links, we may earn a small affiliate commission.  As an Amazon Associate I earn from qualifying purchases. Your cost is not affected.
==================
Banana Cake (Dairy-free, Egg-free)
Air fryer Ripe Banana Cake is a kind of simple cake cooked from ripe bananas, which is where the name comes from. A simple cake recipe requires only pantry standard ingredients and is decadent on the outside and fluffy and airy on the inside. This recipe can be made with just a bowl and a spatula, it's egg-free and dairy-free. The best thing is that it's baked in an air fryer! 
Why Should You Make This Banana Cake?
Baking in an air fryer saves energy, time, and electricity because it takes half the time it takes to bake in an oven.
This recipe yields a teeny-tiny size. As a result, portion control is natural.
Ideal for a modest family of four. There were no leftovers at all.
It's a one-bowl banana cake recipe: mash the bananas, then combine the wet and dry ingredients. Mix everything together and bake it.
Another major benefit is that you do not have to heat your kitchen, which is ideal for summer baking.
Vegan Globetrotter Tips
This dish calls for overripe bananas. If your bananas aren't yet ripe, you can use this microwave method to fast ripen them.
Ensure that the walnuts are finely chopped and floured before baking so that they are evenly distributed.
Regardless of the recipe, always pre-heat your air fryer for at least 4-5 minutes before using it.
To avoid over-browning on top, cover the banana cake with aluminum foil halfway through baking.
When it comes to baking, a good rule of thumb is to avoid over-mixing the batter and to thoroughly line the cake pan before baking.
Storage Tips
Once cool, refrigerate the vegan banana bread in a sealed container for up to two days or in the refrigerator for up to five days.
Is It Possible To Freeze Banana Cake Made In An Air Fryer?
Without a doubt. Once the cake has cooled, wrap it tightly in plastic wrap and store it in the freezer for up to 2 months.
Chill it overnight in the refrigerator or for a few seconds in the microwave when ready to eat.
Frequently Asked Questions
Is it possible to bake this cake instead of using an air fryer? Yes, you certainly can.
Why use an air fryer to make banana cake? It's a no-brainer that using a compact air fryer saves you power, energy, money, and time when compared to using an oven. It's a great summer baking option because you won't have to heat up your kitchen.
How long should the cake be baked? Bake until the outside of the cake is crusty and the inside is golden brown. To prevent browning, cover with aluminum foil in the last 10 minutes of baking. If the bananas are extremely ripe, the cake may need to be baked for an additional 1 to 2 minutes than the recipe specifies.
How might the flavor be improved? Spices are a fantastic method to do this. Cinnamon isn't a favorite of mine, therefore I didn't use it in the recipe. However, 1 teaspoon of cinnamon would really increase the flavor. You may also add all ginger powder or spice to give it a seasonal flavor.
Let me satisfy your banana cravings by baking this decadent and delicious banana cake. Serve them to your family and friends! Paired them with your favorite coffee, oh so yummy!
Try Our Air fryer Ripe Banana Cake: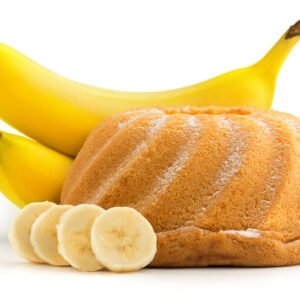 Air Fryer Banana Cake- (Dairy-free, Egg-free)
This air fryer banana cake requires one bowl, no mess, and no fuss. Easy to make with on-hand ingredients.
Ingredients
Air Fryer Banana Cake:
1/2

cup

banana

8

tbsp

maple syrup

olive oil

extra-virgin, lightly oil

1

oz

milk

dairy-free, unsweetened, plant-milk

vanilla

lightly drizzle

1

cup

all-purpose flour

⅕

tsp

baking powder

⅕

tsp

baking soda

kosher salt

pinch

4

tbsp

walnuts
Instructions
Air Fryer Banana Cake:
In a large bowl, crush the bananas with oil, vanilla, milk, and maple syrup. Stir till combined.

Mix the dry ingredients into the banana mixture; all-purpose flour, baking soda, and baking powder. Mix well - then add the walnuts.

Set into parchment paper. Flatten the top then add walnuts on top.

Preheat the air fryer at 180°F for 5 mins. Fry the banana cake for at least 18-20 minutes.

When reaching 18-20 minutes, add aluminum foil to the top of the cake. Cook for another 6-8 minutes.

Allow to completely cool before serving and slicing.
Nutrition
Calories:
211
kcal
Carbohydrates:
41
g
Protein:
1
g
Fat:
5
g
Saturated Fat:
1
g
Polyunsaturated Fat:
3
g
Monounsaturated Fat:
1
g
Cholesterol:
1
mg
Sodium:
57
mg
Potassium:
142
mg
Fiber:
1
g
Sugar:
18
g
Vitamin A:
17
IU
Vitamin C:
1
mg
Calcium:
50
mg
Iron:
1
mg
If you make this Air Fryer Ripe Banana Cake share with us your experience and tag us on our social media page.
READ MORE
Venezuelan Arepas, Vegan-Style