Vegan Globetrotter is supported by our audience. When you purchase through one of our links, we may earn a small affiliate commission.  As an Amazon Associate I earn from qualifying purchases. Your cost is not affected.
==================
Matcha Mousse Cake
A creamy vegan Matcha Mousse Cake with an airy, whipped texture flavored with the complex taste of Japanese matcha green tea powder. This time, as we celebrate St. Patrick's Day, I'm confident that this mousse cake will be ideal. The green color of this dessert represents the Irish holiday of St. Patrick's Day. This mousse cake will be a blockbuster with Irish Folks. Everything about matcha excites me! Strangely, it isn't in tea. But it's fantastic in a sweet dessert! This dessert is soft, melt-in-your-mouth creamy, and absolutely delectable! It has the appearance of being something that would be served to royalty!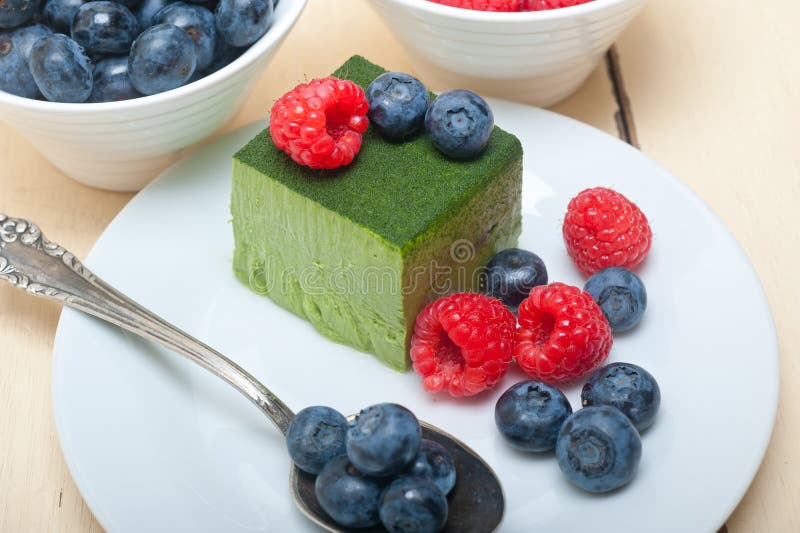 What Green Powder Used In This Cake?
Matcha is a stone-ground green tea used to flavor a variety of sweet and savory Japanese foods, is one of my all-time favorite flavors. This fine powder is made by grinding whole green tea leaves and is used in Japanese tea ceremonies to prepare and drink. The flavor can be described as green, earthy, grassy, and slightly bitter. It's because of this complexity that I'm drawn to its distinct flavor.
But before we proceed to the recipe, have you ever tried to make your own matcha powder? Well, let me teach you. I think this will help you
Do It Yourself Matcha Powder
Instead of buying a green powder why not to try make it at your own risk. Below, I provide the ingredients and instructions. I hope you enjoy it!
Ingredients:
freshly picked leaves, or camellia Sinensis.
hot water
Instructions:
Choose the leaves you want to use.
In a steamer, steam the tea leaves for about 1-2 minutes.
For about 10 minutes, spread leaves in a single layer on a cookie sheet lined with paper towels.
Spread the leaves out on a cookie sheet and dry for 6-10 minutes in a preheated 175°F oven.
Remove veins and stems after the leaves have cooled.
Make a powder from the leaf, using herb mortar or coffee grinder.
These mousse cakes are stunning. You would go wrong choosing this delectable dessert.
Try Our Matcha Mousse Cake: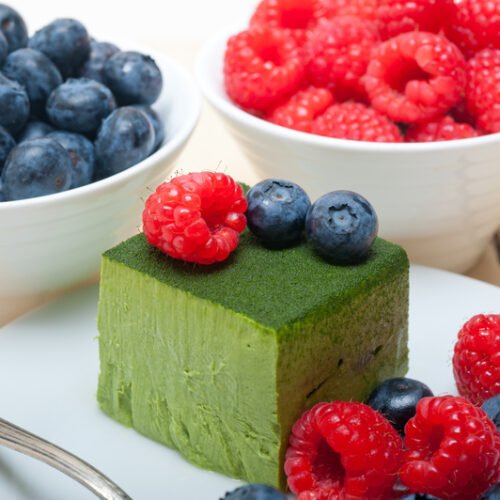 Matcha Mousse Cake
A light and fluffy vegan matcha mousse cake flavored with the complex flavor of Japanese matcha green tea powder. They match for St. Patrick's Day.
Ingredients
For the Crust:
10

oz

cookies

ground

coconut oil

melted

kosher salt

5

tsp

milk

non-dairy
For the Matcha Mousse:
8

oz

cashews

unroasted

1-2

cups

coconut milk

4

oz

confectioner's sugar

plus 4 tsp

3-4

tbsp

coconut oil

2

tbsp

lemon juice

vanilla extract

2-3

kosher salt

14

oz

milk

non-dairy

agar

powder

matcha

powder
Instructions
Instructions:
In a large mixing dish, combine the ground cookies or biscuits, coconut oil, salt, and nondairy milk.

Bake for 15 minutes after pressing this mixture evenly into the bottom of a 10-inch springform pan.

To make the base for this mousse, blend together the milk, cashews, coconut oil, lemon juice, sugar, salt, and vanilla in a blender.

In a small saucepan, combine the milk and agar powder. Allow for a 2-minute simmer while whisking.

Blend in the cashew mixture and matcha powder until well combined, adding more matcha if desired.

In a mixing bowl, combine all of the ingredients for this recipe; set aside to cool, then refrigerate for 5-6 hours or overnight.

Serve with a dollop of mousse on top and a dusting of extra matcha powder on top.
Nutrition
Calories:
333
kcal
Carbohydrates:
33
g
Protein:
8
g
Fat:
24
g
Saturated Fat:
11
g
Polyunsaturated Fat:
2
g
Monounsaturated Fat:
8
g
Cholesterol:
8
mg
Sodium:
208
mg
Potassium:
240
mg
Fiber:
1
g
Sugar:
7
g
Vitamin A:
203
IU
Vitamin C:
1
mg
Calcium:
59
mg
Iron:
3
mg
I hope you all enjoyed making this easy but delectable Matcha Mousse Cake with me. Please leave a comment below, or feel free to share on social media with your friends and family.
I'll see you all again on the next recipe. Lots of luck with your baking!
READ MORE:
Vegan Matcha Cheesecake With Blueberries