Vegan Globetrotter is supported by our audience. When you purchase through one of our links, we may earn a small affiliate commission.  As an Amazon Associate I earn from qualifying purchases. Your cost is not affected.
==================
Several Broken Links–recheck before publishing
Vegan Dessert Recipes For Valentine's Day
Valentine's Day is right around the corner, and I'm so excited! Why not make your vegan dessert recipes for valentine's day a cake? A Valentine's Day Cake sounds pretty fantastic to me. But some of us with a sweet tooth, a meal is incomplete if it does not end with a dessert. However, the problem is that many desserts are not just high in sugar, but also high in fat, the other problem is with desserts and sweets, in general, is that if you enjoy them today there is a high likelihood you will crave them the next day and the following day, thus creating a habit. But worry no more, in this article, we will show you dessert recipes for valentines day.
It is important to celebrate one of the special events of our lives with our loved ones but also with our family. These vegan dessert recipes I listed gonna make your valentine's special. -If I were you I will make this right away!

List of Vegan Dessert Recipes To Show Your Love This Valentine's Day
If you've had your fair share of underwhelming vegan desserts recipes for valentine's, this list is just what you need. Below are incredibly delicious vegan dessert recipes with indulgent, mouthwatering plant-based sweet treats that everyone will love!
This is a delicious vegan-friendly version of the classic chocolate lava cake. You'll make a super simple, non-dairy chocolate ganache, freeze it in balls, and bake it into the center of a decadent chocolate cake. Super quick and easy to make. A treat every chocoholic will love!
2. Vegan Chocolate Cherry Muffins
Vegan chocolate cherry muffins are super fluffy, tender, moist with an out-of-the-world mouthfeel, these muffins are a fabulously wholesome treat! So easy-to-make, with less than 10 INGREDIENTS, and insanely delicious. Also, they are also perfect for a quick breakfast or snack.
3. Raspberry Coconut Dark Chocolate Cups
These dark chocolate cups are packed with a delicious coconut and raspberry filling that is sure to make all mouths drool! Made with healthy ingredients so that they are vegan, gluten-free, dairy-free, and refined sugar-free. In addition, I highly recommend you make these and let me know what you think!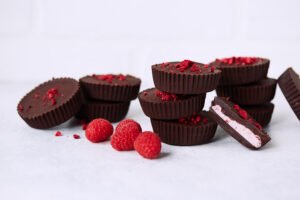 4. Vegan Strawberry Mousse Pie
Vegan Strawberry Mousse Pie is light, creamy, and bursting with fresh strawberry flavor! Made with fresh strawberries and cream, it's the perfect spring, summer, and valentine's dessert.  Also, you can add mint leaves for a prettier presentation.
and our group of dessert recipes for valentines day continues…
I hope you all love this shortcake. It's tender on the inside, crispy on the outside, perfectly sweet, easy to make, vegan & gluten-free. This recipe is simple with 10 basic ingredients you likely have on hand right now. Moreover, they come together in less than 1 hour!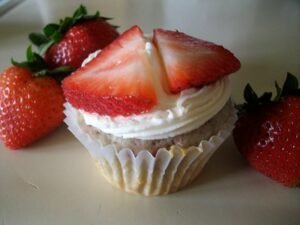 6. Vegan Cheesecake Strawberry With Crust 
Best cheesecake ever! No-bake, easy, vegan strawberry cheesecake with the crust! Refined sugar-free, paleo, raw, creamy, healthy, and addictive! This dairy-free cheesecake will fool you into believing it's not healthy! So rich and soft with fresh fruit flavor and incredibly creamy texture!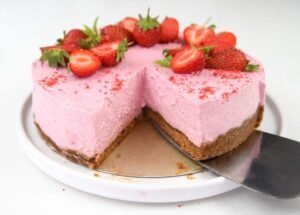 You never meet a prettier cupcake! These vegan strawberry cupcakes are bursting with flavor and have the best texture. They are fluffy with a tight crumb and never dense. In addition, there are little chunks of real strawberries on top.

These Vegan Valentines Cupcakes are free of gluten, dairy, and eggs these are super easy to whip up and can be customized to share any message you'd like with your Valentine!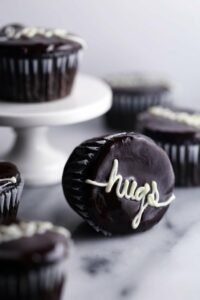 9. Vegan Lemon Almond Cake
Say hello to this gorgeous Vegan Lemon Almond Cake. It's moist, lemony, nutty, and light. The perfect blend of sweet and citrus. Also, topped with a classic lemon buttercream frosting. It's the perfect cake for any occasion.

10. Vegan Matcha Cheesecake With Blueberries
Our Vegan Matcha Cheesecake with Blueberries with crust is also paleo, gluten-free, refined sugar-free. This means that technically it's good for you. It's also really easy to make. Hope you like it!. Moreover, you can freeze it overnight to set it and get creamy and delicious.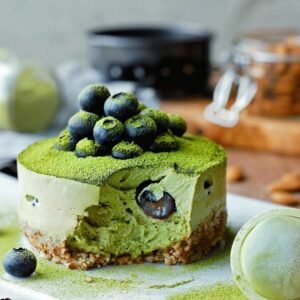 CONCLUSION:
In this post, you'll find my favorite. shortcake, cupcakes, no-bake desserts, cakes, and more. All Vegan. All Delicious. Yes, these are truly delicious, vegan dessert recipes for valentines day!
Oh, Valentine's Day! It's a great day to treat your loved ones even your family with homemade desserts!
For easier browsing, I've categorized these Valentine's Day-approved recipes:
Show love and compassion – make it a vegan Valentine's Day!
Read More