Vegan Globetrotter is supported by our audience. When you purchase through one of our links, we may earn a small affiliate commission.  As an Amazon Associate I earn from qualifying purchases. Your cost is not affected.
==================
Vegan Chocolate Lava Cake
This Vegan Chocolate Lava Cake is a fun, tasty treat that will impress your loved ones, family, and friends with this challenging, but fancy dessert for any occasion specially in times of Valentine's Day. It looks impressive but is super easy to make with 5 ingredients! In addition, they take less than 10 minutes to whip up and only require one bowl and a whisk to prepare. Moreover, it will melt on your plate and in your mouth!

WHAT IS INSIDE THE LAVA CAKE?
Inside the lava cake is batter which has warmed during baking, but hasn't fully set. Bake it until the sides are set, but the inside is still molten. A very small amount of flour is used in these cakes giving a rich creamy mixture.
PRO TIPS FOR MAKING MOLTEN CHOCOLATE LAVA CAKE
Use high-quality chocolate for your lava cakes.
Always use better cocoa powder and baking chocolate you will taste the main flavor.
The bake time will change based on the size of your ramekins and your oven's idiosyncrasies so it's a good idea to do a test batch before you serve these at a dinner party or valentine's date.
Try adding a flavor you like orange zest, raspberry, reduction, or a hit of caramel.
Serve it with ice cream!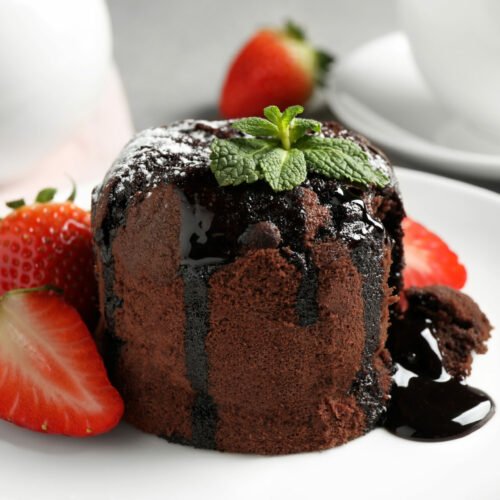 Vegan Chocolate Lava Cake
This vegan-friendly rendition of the classic chocolate lava cake is amazing. You'll prepare a non-dairy chocolate ganache, freeze it in balls, then bake it in the middle of a luscious chocolate cake. It's really simple and quick to make. Every chocoholic will adore this delight!
Ingredients
Chocolate Cake
3/4

cups

milk

plant-based, unsweetened

1/2

tbsp

apple cider vinegar

8

oz

all-purpose flour

16

tbsp

sugar

granulated

3

oz

cocoa powder

1

tbsp

baking powder

1/3

tsp

baking soda

kosher salt

to taste

1-2

tsp

vanilla extract

2

oz

coconut oil

melted
Ganache Filling
6

oz

chocolate

vegan, chips or chop

5

oz

coconut milk

full-fat
Optional Toppings
sugar

confectioner's

berries

fresh

ice cream

vanilla bean

mint

fresh sprig
Instructions
For Chocolate Ganache:
Make chocolate ganache for about 1 hour. Make sure it will harden. You can even make it the night before.

Add coconut milk to medium-excessive heat. Stir often till it simmers. (Alternatively, you could microwave your coconut milk in a bowl for 1-2 mins till very hot.)

In coconut milk, add chocolate allow it to boil for 3 minutes to begin melting. Whisk till it's smooth and well mixed.

Place your ganache in a heat-safe container in the fridge for 2 hours to thoroughly set.

After the ganache has been completely set, you may begin assembling your lava cakes.
For Molten Lava Cakes
Preheat the oven to 425°F.

Grease 4 ramekins or jumbo muffin pans generously. Each cup should be lined with a circle of paper that has been greased.

Set aside to curdle after whisking together soy milk and vinegar. This will serve as your "buttermilk" for vegans.

Sift together flour, sugar, cocoa, baking powder, baking soda, and salt in a large mixing basin.

Combine the coconut oil, vanilla extract, and milk mixture in a mixing bowl and whisk until smooth.

Pour 3/4 of the mixture into prepared muffin pans or ramekins, saving a few tablespoons of batter.

Take the ganache out of the fridge. Scoop a generous amount of ganache onto each cake. Place one in the center of each cake and gently press down to slightly immerse it.

Preheat the oven to 350°F and bake for 12-13 minutes. The tops of the cakes will be somewhat domed, but they will still appear jiggly and undercooked. Around the edges, they should appear thoroughly cooked.

Allow for a 5-minute cooling period so the ramekins or muffin pans are not too hot to touch. Carefully flip them onto a dish or baking pan.

Serve with any of your favorite toppings while still warm!
Notes
It's better to eat them when they're still warm from the oven. You can reheat them, but the molten center will be gone since the ganache will seep into the cake as it cools. But it'll still be a deliciously moist chocolate cake!
Nutrition
Calories:
587
kcal
Carbohydrates:
89
g
Protein:
9
g
Fat:
27
g
Saturated Fat:
20
g
Polyunsaturated Fat:
1
g
Monounsaturated Fat:
5
g
Cholesterol:
3
mg
Sodium:
298
mg
Potassium:
434
mg
Fiber:
7
g
Sugar:
49
g
Vitamin A:
49
IU
Vitamin C:
1
mg
Calcium:
187
mg
Iron:
6
mg
READ MORE
Vegan Dessert Recipes For Valentine's Day 
Holiday Bread, Plant-Based Delicious
Favorite Plant-Based Pancakes, 3 Recipes