Vegan Globetrotter is supported by our audience. When you purchase through one of our links, we may earn a small affiliate commission.  As an Amazon Associate I earn from qualifying purchases. Your cost is not affected.
==================
Grasshopper Pie (Version 2)
This Grasshopper Pie (Version 2) is a classic frozen mint pie with a chocolate cookie crumb crust prepared with Creme de Menthe liquor. You'll adore this pie if you like mint and chocolate together. It's like a pie version of vegan mint chocolate chip ice cream. What could possibly go wrong with that? Grasshopper pie was popular in the United States during the 1960s and 1970s. If you're over 40, you may have faint memories of it from childhood summer picnics. It's a soft and airy frozen pie with a chocolate crust and a hint of mint. I was seeking ideas for a new St. Patrick's Day recipe a few weeks ago. So I turned to Google to see what it might come up with. Grasshopper pie came up a few times, which struck me as odd because it has nothing to do with Ireland. Even though they aren't traditional dishes, I've noticed that mint desserts are frequently included in St. Patrick's Day round-ups. They're normally green, so I suppose it counts for this emerald-colored festival.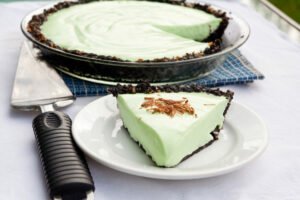 Important Notes
Make sure the aquafaba is beaten for a total of 9 minutes.
After about 5 minutes, it will resemble whipped cream, but the protein link will not be strong enough to keep the air in the pie until it has whipped for at least 9 minutes.
If you want to make things easier, will be using a pre-made chocolate graham cracker crust.
To cut through the frozen pie crust, you'll need a large, sharp knife. When slicing, press down firmly to cut through it.

It's 

also 

wonderful 

when 

topped 

with 

vegan 

whipped 

cream! 

If desired, add a drop or two green food coloring to make it greener.

Simply

substitute 

the 

chocolate 

cookies 

with 

gluten-free cookies to make this pie gluten-free. 
Try Our Vegan Grasshopper Version 2 Recipe: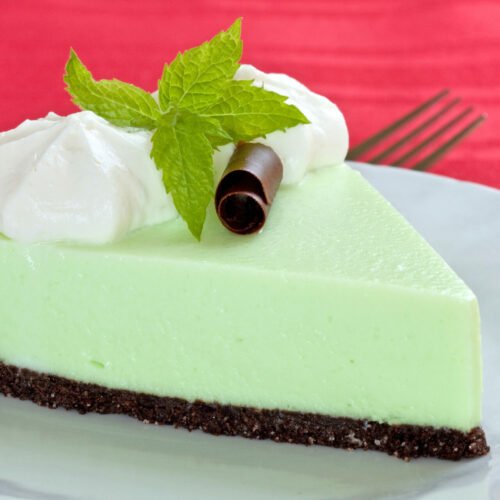 Grasshopper Pie (Version 2)
This vegan grasshopper pie includes a scrumptious brownie-style crust, mint cream filling, and vegan mint chocolate shavings on top.
Ingredients
Chocolate Crumb Crust:
3-4

tbsp

vegan butter

or coconut oil melted

25

chocolate cookies
Mint filling:
6

oz

chickpeas

¾

tsp

tartar

cream

2-3

cups

sugar

powdered

5

tbsp

creme de menthe

16

oz

vegan cream cheese

2

oz

coconut

refined, melted

4

oz

chocolate chips

vegan

cookie crumbs

vegan, optional
Instructions
Cookie Crumb Crust:
Put 20-25 chocolate cookies in a food processor and pulse until they're finely smashed.

Combine melted vegan butter with the crushed sandwich cookies and press onto the bottom of a 9-inches springform pan.

Place in the fridge to cool while you prepare the filling.
Mint Pie Filling:
In a mixing bowl, combine 3/4 cup aquafaba and 1/4 tsp cream of tartar.

Mix for 7 minutes with an electric mixer, stirring occasionally to scrape the edges.

Mix in 1 cup powdered sugar, a little at a time, to the beaten aquafaba for another 2 minutes.

Set aside the bowl of whipped aquafaba once it has been beaten for a 10 minutes

In a separate mixing dish, combine 2 cups vegan cream cheese, crème de Menthe, and melted refined coconut oil with an electric mixer.

Add 2 cups powdered sugar to the cream cheese mixture slowly, 1/2 cup at a time, mixing well after each addition.

To prevent the mixture from becoming too soggy, sprinkle with chocolate chips or cookie crumbs and fold it together with a spatula.

Make sure there's enough room for the filling, and don't be afraid to add some extra chocolate chips or cookie crumbs if desired.

Freeze for at least 6 hours or overnight. Frozen is best.
Nutrition
Calories:
545
kcal
Carbohydrates:
78
g
Protein:
7
g
Fat:
24
g
Saturated Fat:
9
g
Polyunsaturated Fat:
2
g
Monounsaturated Fat:
3
g
Trans Fat:
1
g
Cholesterol:
2
mg
Sodium:
417
mg
Potassium:
135
mg
Fiber:
6
g
Sugar:
58
g
Vitamin A:
169
IU
Vitamin C:
1
mg
Calcium:
48
mg
Iron:
2
mg
READ MORE:
Pie for Pi Day Celebrate 3.14 March 14
General Tso's Tofu: Spicy-Sweet and Healthy