Vegan Globetrotter is supported by our audience. When you purchase through one of our links, we may earn a small affiliate commission.  As an Amazon Associate I earn from qualifying purchases. Your cost is not affected.
==================
Super Greens Soup
This Super Greens Soup with Chickpeas is exactly what it claims to be: a quick and simple green soup. Not fussy nor fancy, and it is also simple to prepare. With a hint of garlic and onion, as well as a hint of bitterness from the leafy green vegetables, the flavors are light and airy. There are definitely brighter and more interesting soups out there, but if you're looking for a simple, healthy way to eat more greens that isn't a green juice, smoothie, or salad, this soup is the way to go.
This recipe soup is great for hurried lunch breaks at home. These natural plant-based soups are perfect for the celebration of St. Patrick's Day. However, this super green soup is also delicious in the summer; vary it according to what's in season. Leftovers can be stored in the refrigerator for up to two days; otherwise, freeze once completely cool. This recipe, which is suitable for all ages, is a great way to get kids to eat their greens (and beans), and no one can resist dipping some delicious bread into something equally delicious.
I swear this is gonna be your favorite vegan soup choice.
Super Greens Soup Recipe: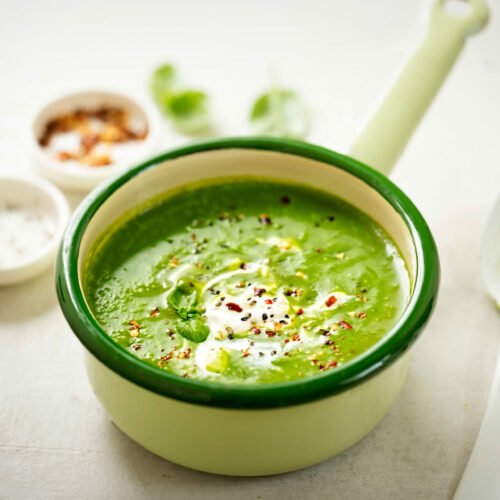 Super Greens Soup
Tender chickpeas and sweet green peas are featured in this smooth, emerald-hued soup. Puréeing the base is quick and easy with an immersion blender. This satisfying soup is seasoned with creamy tahini, dill, and lemon juice.
Ingredients
Ingredients:
8

oz.

broccoli

2

small

onion

thin cut

4

small

potatoes

cut into ½-inch dice (2 cups)

1

cloves

garlic

minced

5

cups

swiss chard

chopped with stems

3

cups

collard greens

stems removed

4

cups

spinach

fresh

15

oz

chickpeas

canned, rinsed, drained

3-4

tbsp

lemon juice

2-3

tbsp

fresh dill

finely chopped

black pepper

fresh ground, to taste

kosher salt

to taste

6

tsp

tahini

⅓

cup

pomegranate seeds

1

cup

green peas

fresh or frozen
Instructions
Instructions:
Separate the florets from the stems when cutting the broccoli into large pieces.

In a large soup pot, place the stems. Add 3 cups of water, potato, onion, and garlic. Cook for 10 minutes with the lid on.

Cook broccoli into the pot or until the broccoli is tender. Cook for another 15 when adding the collard greens and swiss chard. For 5 minutes when add the spinach. (See notes 1)

Puree the soup with a blender until it is smooth. The consistency should be moderately thick; thin with a little water if necessary. (See notes 2)

Mix 8 oz of chickpeas, lemon juice, 2 tsp dill, salt, and pepper to taste. Bring the soup back to a boil, then turn off the heat.

Whisk the 2 oz of water with tahini until smooth paste forms; stir into the soup.

To make the topping, combine the green peas, pomegranate seeds, the remaining chickpeas, and the remaining dill in a small bowl. 

Pour the soup into bowls and top with 2 tbsp of the topping. Serve immediately.
Notes
Notes:
Any

stems

that 

are 

particularly 

tough 

should 

be 

peeled.
 Alternatively, carefully transfer the soup to a blender and puree until smooth, then return the pureed soup to the pot.
Nutrition
Calories:
181
kcal
Carbohydrates:
32
g
Protein:
8
g
Fat:
3
g
Saturated Fat:
1
g
Polyunsaturated Fat:
1
g
Monounsaturated Fat:
1
g
Sodium:
67
mg
Potassium:
730
mg
Fiber:
8
g
Sugar:
6
g
Vitamin A:
3042
IU
Vitamin C:
56
mg
Calcium:
99
mg
Iron:
3
mg
READ MORE
Italian Lentil Soup, Mediterranean Cuisine
Vegan Potato Soup Recipe – Comfort Food!