Vegan Globetrotter is supported by our audience. When you purchase through one of our links, we may earn a small affiliate commission.  As an Amazon Associate I earn from qualifying purchases. Your cost is not affected.
==================
Bread and Butter Pudding
This vegan Bread and Butter Pudding is rich and creamy. It's a traditional British dessert. They're made with custard-soaked bread, juicy raisins, and a crispy demerara topping. This is beige, doughy, high in carbohydrates, and made from stale bread. This is one of the most popular British home-cooked puddings for all of these reasons. Slices of slightly stale bread are buttered and layered with fruit before being soaked in a rich custard. Sprinkled with crunchy demerara sugar. Baked slowly until crisp and golden on top and gooey in the center. What's not to love about this?
These are perfect for celebrating St. Patrick's Day. This could be one of your favorite Pudding when you taste them. These are also can satisfy your morning breakfast. You can make this festive by adding more green toppings you desired. Call me a bias, but I definitely avoid supermarket bread. Unless I'm starving, there's nothing else to eat. I'm a huge fan of good, old-fashioned bakeries that still make bread properly. Required a few ingredients needed to make a delicious loaf. To make this pudding perfect I've rounded up some suggestions below.

Expert Suggestions
Here are a few helpful hints for making your bread and butter pudding extra special including;
Allow about 30 minutes for the custard to soak into the bottom layer of bread. Some recipes call for overnight soaking, but I find that this turns the bread to mush, and I prefer a bit more texture.

Use mildly stale bread. If the bread is too fresh and soft. It will lose its texture and turn to mush. I used a sliced sourdough loaf, which is delicious, but any white bread will suffice.
Butter the bread generously! The pudding will be moister and more delicious if you use more butter.
If possible, prepare a bain-marie, which is a hot water bath that gently and evenly cooks the custard. You don't need any special tools to make this.

I 

usually 

add 

a 

spoonful of demerara sugar 

at 

a 

time, 

and 

if 

it 

isn't 

crunchy 

enough, 

I'll 

add 

another 

spoonful.
Bread and Butter Pudding Recipe: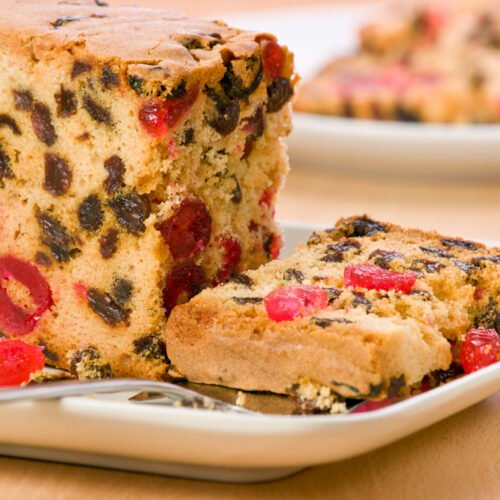 Bread and Butter Pudding
The one you've been looking forward to! Few desserts are more comforting in the winter than bread and butter pudding, and this one is vegan, made with plant-based milk, vegan marmalade, and, of course, vegan bread and butter.
Ingredients
Ingredients:
4

tsp

raisins

or dried cranberries

3

tbsp

wine

brandy or marsala

1¼

cup

cashew nuts

soaked overnight

1⅔

cup

soy milk

plant-based milk

1

tbsp

vanilla essence

4

tbsp

maple syrup

to taste

1

tsp

cinnamon

plus more for sprinkle

⅓

tsp

ginger

ground

¾

tsp

nutmeg

ground

⅕

tsp

cloves

ground

2

tsp

all-purpose flour

cornstarch, cornflour

7-8

slices

sourdough

quality

3

tbsp

butter

coconut oil, vegan

1-2

tbsp

candied orange peel

diced

2

tsp

pomegranate seeds

1

tbsp

orange marmalade

optional or coconut/date sugar
Instructions
Instructions:
Set aside the raisins that have been soaked in brandy.

Place the soaked and rinsed cashews in a blender. Add half of the soy milk, put the lid on but leave the opening on the top.

Start blending the cashews while trickling the remaining soy milk through. You should end up with a thick liquid resembling cream.

For a gingerbread-flavored custard, combine vanilla extract, maple syrup, and all of the spices. Finally, while the blender is running, add cornflour to prevent lumps from forming.

Preheat the oven to 180° F/ 355°F and grease a baking dish with vegan butter or coconut oil.

Cut the bread slices in half and spread vegan butter or coconut oil on both sides. (See note 1)

Pour a small amount of custard into the bottom of the dish and top with a few raisins and candied orange slices.

Arrange the buttered bread slices snugly in the custard, with the cut sides half immersed. (See note 2)

Allow the bread to soak up the custard for 30 minutes before serving.

To make a glaze, dilute the marmalade with a teaspoon of hot water.  (See note 3)

Bake for 30 minutes, or until the custard has thickened and the bread has taken on a nice color. (See note 4)
Notes
Notes:
Fill

the 

empty 

spaces 

with 

small 

pieces 

of 

bread)
More raisins and orange peel can be sprinkled on top. More custard should be spread on top of the bread slices, filling in any gaps
If you

don't 

want 

to 

use 

a 

marmalade 

glaze, 

brush 

parts 

of 

the 

bread 

that 

stick 

out 

of 

the custard with this glaze and sprinkle with extra cinnamon, leftover candied orange pieces, and coconut or date sugar. 
For 

a 

festive 

touch, 

garnish 

with 

leftover 

raisins, 

orange 

peel, 

and 

pomegranate 

arils.
Nutrition
Calories:
479
kcal
Carbohydrates:
70
g
Protein:
16
g
Fat:
15
g
Saturated Fat:
3
g
Polyunsaturated Fat:
4
g
Monounsaturated Fat:
7
g
Cholesterol:
1
mg
Sodium:
434
mg
Potassium:
454
mg
Fiber:
4
g
Sugar:
18
g
Vitamin A:
274
IU
Vitamin C:
6
mg
Calcium:
165
mg
Iron:
5
mg
READ MORE:
Holiday Bread, Plant-Based Delicious
Vegan Potato Soup Recipe – Comfort Food!
Delicious Peach Breakfast Bread – 3 Favorites