==================
A Caveat and Affiliates
First off, a little caveat: within my articles you will find affiliate links, meaning if you buy them, I get a small commission. Your cost is not affected. In addition, I am an Amazon Associate and I earn from qualifying purchases on Amazon.
And yes, if I say that I recommend a product here, it means I truly believe it is a good product. I refuse to recommend any product that I have not researched and believe to be a good value. Even better, I provide you with a very clear picture of the product, it's use, and the probable value. Earning your trust is important to me. I run this website myself and the commissions and donations help support the site. Sound reasonable and fair enough? Let's continue to the article.
==================
As the days grow shorter and the weather starts to cool off, it's the perfect time of year for a nice warm drink. But if you're like me, sometimes you don't want something alcoholic. That's where this vegan pear, pumpkin, and ginger mocktails come in! They're perfect for a chilly fall day!
This vegan mocktail is a great way to enjoy the flavors of fall without the alcohol. Plus, they're so easy to make that you can have them ready in just minutes and they can be made ahead of time and served chilled. Keep reading and you will learn more about this healthy and vegan drink.
What is a mocktail?
A mocktail is a non-alcoholic mixed drink. The term "mocktail" is derived from the word "cocktail", which is an alcoholic mixed drink. Mocktails are typically made with fruit juices, syrups, and carbonated beverages, and do not contain any alcohol. So if you are looking for mocktail drinks, give this recipe a try and let me know what you think!
Why you will give this drink a try?
It's time to get over with pumpkin pie latte cause this recipe oh-so-refreshing drink is a must-try and you will enjoy the entire autumn season. Oh, but why this mocktail drink you will love as much as I do? Find out why by keep reading this recipe blog post.
1. Delicious Flavor Combination
One of the best things about this vegan mocktail is the delicious flavor combination. The pear, pumpkin, and ginger all work together perfectly to create a refreshing and flavorful drink.
2. Perfect for Fall
Another great thing about this mocktail is that it is perfect for fall. The flavors of pear, pumpkin, and ginger are all reminiscent of the fall season, making this drink the perfect way to enjoy the cooler weather.
3. Easy to Make
This mocktail is also very easy to make. All you need is a blender and a few simple ingredients, and you can have this delicious drink ready in no time.
4. Healthy and Nutritious
It is not only delicious, but it is also healthy and nutritious. The pear, pumpkin, and ginger all offer numerous health benefits, making this drink a great choice for those looking to improve their health.
5. Vegan-Friendly
Also, this drink is vegan-friendly, meaning that it is suitable for those following a vegan diet. This makes it a great option for those who are looking for a delicious and healthy vegan drink option.
Therefore, this mocktail drink is sure to please. So grab the ingredients and a mug and warm up with a tasty sip of fall!
Vegan Mocktail: Ingredients!
Best of all, this drink is made with basic plant-based ingredients that are probably in your hand or in your backyard. Harvest the pear, pumpkin, and ginger, and let put them to good use by making this vegan mocktail. Below are the ingredients so grab them now!
Pear: Use ripe for a sweet flavor.
Ginger: Adds a zesty flavor.
Orange juice: Also add a tangy flavor.
Pumpkin or butternut squash: It gives an earthy flavor.
Yes, this mocktail drink is full of flavors so don't miss out above ingredients I have mentioned to make this pear, pumpkin, and ginger mocktail drink. It is a great way to enjoy these fresh fruits and vegetables in a glass. Go ahead turn on your blender, and serving glass, and prepare the ingredients!
It's mixing o'clock!
I swear it's literal a happy hour with this alcohol-free mocktail drink just enjoy the autumn vibes with this healthy drink. So get ready the blender and let's get started mixing cause it's mixing o'clock!
Peel and chop into chunks the pear, pumpkin, and ginger.
Transfer them into a blender with water and orange juice.
Blend them well until smooth and pour them into a glass.
Enjoy it with your friends and family!
That's it! You can now enjoy and share your experience with us! We are happy to know about your experience with this vegan mocktail I've shared with you. In addition, you can make them ahead of time by just putting them into a refrigerator.
Looking for more vegan fall recipes to add to your vegan diet?
Well, satisfy your tastebuds with our healthy and delicious: Mini Pumpkins Cream Puffs, Pumpkin Alfredo Pasta Recipe, Vegan Maple Pumpkin Overnight Oats, Vegan Pumpkin Pie Smoothie, Apple Cranberry Crisp, Pumpkin Alfredo Pasta Recipe, Butternut Squash Pancakes, 20-minute Pumpkin Soup, Air fryer Cinnamon Rolls, Delicious Dairy-Free Pumpkin Spice Latte Recipe, Pumpkin Spice Fudge, Sweet Potato Pie Cupcakes with Cinnamon Frosting, Autumn Salad, Apple Cinnamon Waffles, Autumn Pizza with Vegan Gouda Cheese, Pumpkin Spice Fudge, Delicious Dairy-Free Pumpkin Spice Latte Recipe, Vegan Butternut Squash Curry with Chickpeas,  Teriyaki Tofu-Tempeh Casserole, Butternut Squash White Bean Kale Stew, Vegan Spaghetti Squash with Marinara Sauce, Sweet Potato Shepherd's Pie Casserole, Autumn Carrot-Sweet Potato Soup, Apple Cider Bourbon Cocktail-Alcohol Free, Vegan Pumpkin Cream Cold Brew, Dairy-free Pumpkin Ice Cream, Pumpkin Risotto-Comforting Meal, Autumn Spice Pear Cobbler, and Roasted Butternut Squash Burger.
Given that they are fully plant-based and suited for your vegan feast, several of these recipes are wonderful for Thanksgiving and the winter. Enjoy! Please let us know how they work for you after you give them a try!
Today is the best day to make this pear, pumpkin, and ginger mocktail! So what are you waiting for? Try this now! Below is the easy-to-follow recipe card to forget to hit the start! 😉
Happy hour is the best hour: Drink a mocktail!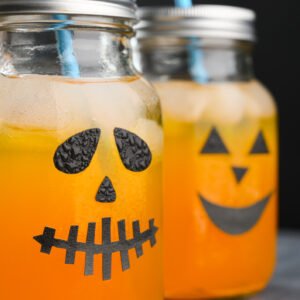 Pear, Pumpkin, and Ginger Mocktail
Enjoy the autumn season with this perfect combination of pear, pumpkin, and ginger on a serving glass. It is tangy, zesty, sweet, and easy to prepare.
Ingredients
1

small

pear

ripe:

1/2

cup

pumpkin

or butternut squash; peeled and chopped

1

small

ginger

8

oz.

orange juice

1/2

cup

water

cold
Instructions
Peel and chop into chunks the pear, pumpkin, and ginger. Transfer them into a blender with water and orange juice. Blend them well until smooth and pour them into a glass.
Nutrition
Calories:
287
kcal
Carbohydrates:
28
g
Protein:
11
g
Fat:
16
g
Saturated Fat:
3
g
Polyunsaturated Fat:
7
g
Monounsaturated Fat:
5
g
Trans Fat:
0.02
g
Sodium:
11
mg
Potassium:
743
mg
Fiber:
3
g
Sugar:
20
g
Vitamin A:
459
IU
Vitamin C:
115
mg
Calcium:
44
mg
Iron:
3
mg
For More Vegan Recipes
I've provided a list of vegan dishes that are all made completely of ingredients from plants. Additionally, they make a wonderful addition to any vegan dish. These are tasty even for meat eaters!
To Wrap It All Up
A mocktail is a drink that contains no alcohol. They are perfect for anyone who wants to enjoy a delicious beverage without feeling the effects of alcohol. There are many reasons why you will love our vegan mocktail recipe. It is made with fresh, seasonal ingredients and it is very easy to make. We hope you will give this drink a try! Thanks for reading!
Connect With Us
If you tried this pear, pumpkin, and ginger mocktail, take a 📸  and tag us on our social media: Facebook, Twitter, Pinterest, and Instagram, and subscribed to our YouTube Channel.  I'd be delighted to see it! To make sure you don't miss any recipes, remember to subscribe to our email newsletter which will be delivered to your inbox every week. 📩
Read More
Nutribullet Pro 900 Series Blender
Best Water Temperature To Drink Matters
Healthy Green Smoothies Are Excellent Drinks
Budget-Friendly Fall Activities