==================
A Caveat and Affiliates
First off, a little caveat: within my articles you will find affiliate links, meaning if you buy them, I get a small commission. Your cost is not affected. In addition, I am an Amazon Associate and I earn from qualifying purchases on Amazon.
And yes, if I say that I recommend a product here, it means I truly believe it is a good product. I refuse to recommend any product that I have not researched and believe to be a good value. Even better, I provide you with a very clear picture of the product, it's use, and the probable value. Earning your trust is important to me. I run this website myself and the commissions and donations help support the site. Sound reasonable and fair enough? Let's continue to the article.
==================
Nutritious Vegan Kale Smoothie with Banana and Pineapple
Are you looking for a vegan smoothie made of kale that has no bitter taste? Well, I have rounded it up for you! You'll want to prepare this smoothie every day since it's so good. Meet the most delicious vegan kale smoothie you've ever tasted! Yes, I understand. "Vegan Kale smoothie" sounds like an unpleasant mix. This isn't it! This one is far from it! Pineapple, banana, and green apple give it a pleasant flavor.  It tastes great while still offering a lot of plant-based nutrients from the green vegetables.
Kale Smoothie's Key Ingredients
All you'll need to make this gorgeous, vibrant green smoothie is this kale smoothie ingredient list!
Baby kale or Regular kale: You can use either baby kale or regular kale but I recommend baby kale since it has a sweeter, softer flavor. You can also use regular kale, chopped coarsely and measured loosely.
Banana: The best texture and flavor come from this fruit.
Green Apple: This is essential for a delicious kale smoothie! It has a wonderful sweet-tart flavor.
Lemon Juice: Squeezed lemon juice brings the tastes together.
Frozen Pineapple or Mango: The key to the crisp texture and wonderful fruity flavor is frozen mango or pineapple.
Ice and Water: Ice adds texture and substance, and all you need is a little water to combine it.
The Finest Kale Smoothie!
This is the finest kale smoothie you've ever made. This one contains everything you need to make an incredibly delicious green puree. Why are you making this smoothie?
It has a fresh, sweet tangy taste. You won't be able to stop yourself from drinking it! There's no resentment here.
The texture is silky smooth and icy. The perfect consistency for sipping!
It's packed with nutritious nutrients.No sugary liquids are used to enhance the flavor.
It's entirely plant-based. It's all fruit and leafy greens, no milk or yogurt is required!
Tuscan Kale, Baby Kale, and Curly Kale
This smoothie can be made using a variety of kale varieties. The following is a summary of each type:
Tuscan: The next best choice is Tuscan kale, which has a mild taste and flat, dark green leaves. It's also known as Lacinato kale or dinosaur kale.
Baby Kale: It tastes well; it's sweeter and milder flavor, baby kale works nicely in smoothies.
Curly: This also works, but it has a more peppery and bitter flavor than the other two. If you use this variety, start with a small bit and add more to the taste.
The Blending Secret
This kale smoothie has a secret to it: combine the softer room-temperature fruits and liquid first.This recipe's components include banana, apple, kale, and water. Then add the frozen ingredients, which include the frozen pineapple and ice. This makes it easier to blend: you won't have to stop, scrape, and start over and over again!
Jazz It Up
This kale smoothie is delicious on its own, but you can always jazz it up with delicious ingredients! Here are several possibilities:
Basil or Mint: For a herbaceous twist, add a few fresh mint or basil leaves.
Coconut: A handful of shredded coconut lends a touch to the tropics.
Ginger: Add grated ginger to your liking.
To jazz up, your vegan smoothie read this article: Best Superfoods to Add to Smoothies
Kale Smoothie Storing
Smoothies are best consumed right away. However, if kept refrigerated in a sealed container like a mason jar with the top on, this kale smoothie will last 1 to 2 days. It's totally natural for it to split. Just give it a nice shake and you're set to go!
Here's how to make the best kale smoothie you've ever had: bright green and brimming with flavor! It's the most delicious way to consume your veggies.
Kale Smoothie You'll Love!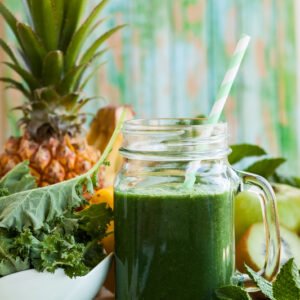 Kale Smoothie
This kale smoothie will give you a boost of vitamin C in the morning. With kale, banana, and pineapple, as well as a splash of lemon juice.
Ingredients
1-2

large

green apple

1-2

banana

2-3

cups

baby kale

leaves; Tuscan or curly kale (roughly chopped)

4

oz

water

9-10

ice cubes

2-3

cups

pineapple

or mango; frozen

1-2

tbsp

lemon juice
Instructions
In a blender, place the chopped green apple, banana, and baby kale leaves with water. Blend till smooth.

Add the lemon juice, frozen mango or pineapple, and ice cubes. Blend till very smooth.
For More Smoothies Recipe
This vegan kale smoothie is incredibly nutritious. It's filled with proteins, fiber, antioxidants, minerals and other plant-based nutrients.
If you make this  Vegan Kale Smoothie share with us your experience and tag us on our social media pages: Facebook, Twitter, Pinterest, Instagram, and subscribed to our YouTube Channel.
READ MORE: